Black History Events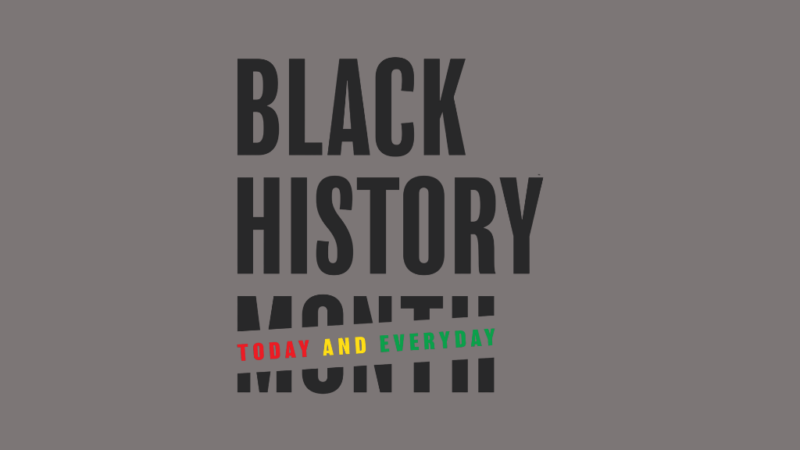 Big Dreamers Art Display Tuesday, February 1st -February 28th 5C Gallery Hallway

Come and visit the display and learn about 26 Black Canadians whose highlights and achievements are often left untold.   Akilah Newton co-authored the book Big Dreamers; the Canadian Black History book for kids, volume 1.  It was created in 2018 and the pages have been brought to life and are on display for the month of February.
Fabulous Fridays 1:00 – 3:00 pm Conrod's
Every Friday in February stop by Conrod's to connect with Black history and culture.  We'll do our best to share videos, streams, literature, food, music, and art.  Take the challenge to learn about Black history and culture throughout the year.
Unpacking the N-Word Wednesday, February 9th 3:00 – 4:00 pm- On Zoom
Unpacking the N-Word is an Anti-racism virtual presentation.  In light of the global uprising in support of the Black Lives Matter movement, this presentation was created to help people address the often-uncomfortable but necessary topic of racism.  These conversations are so important to have as racism is so very prevalent in Canada today.  The presentation discusses the origins and evolution of the N-Word.  Through an edutainment style that combines slam poetry, video content, and audience participation and interaction, participants will learn to put one of the most loaded words in the English language into proper historical context.
Registration is required.  Please click on the link below.  https://forms.office.com/Pages/ResponsePage.aspx?id=emq2trv7uEKnxXEjQglO75zxrzrr8IhKq3tD16f4WwpURDBJSU1CMEIzNlZYTklQNEVaT0tSVUtBVy4u
Black History and Culture Art Hub, Friday, February 11th 11:30 – 3:00 pm
Be a part of the community project and express your thoughts on Black History and culture.  Help bring this collage to life.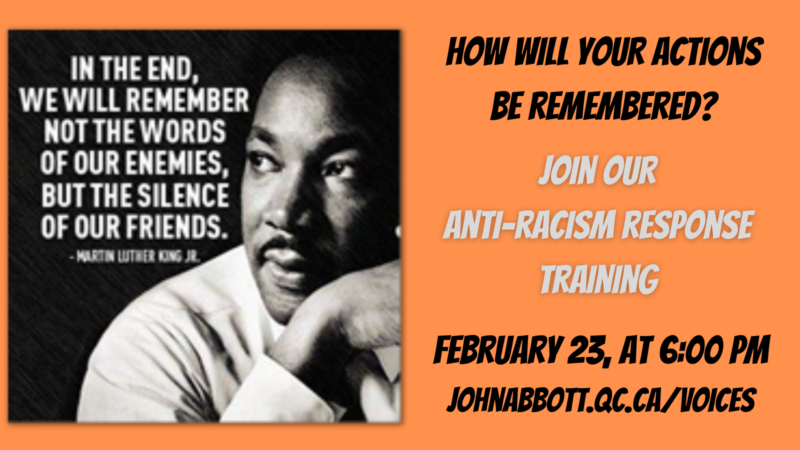 Voices: An Intercollegiate Event on Racism Interrupters and Anti-Racism Responses
Wednesday, February 23rd, 6:00 pm- On Zoom
Tovin Kareem and Charis Tazumi are leading this amazing workshop.
-Learn to become an active ally
-Explore the VOW triangle Victim-Offender-Witness
-Gain greater empathy regarding the harmful impacts of racism
-Discover the 4 levels of witnessing and 4 categories of active witnessing
-Learn and practice anti-racism responses and share some of your own
Registration is required.  Please click on the link below.
http://www.johnabbott.qc.ca/voices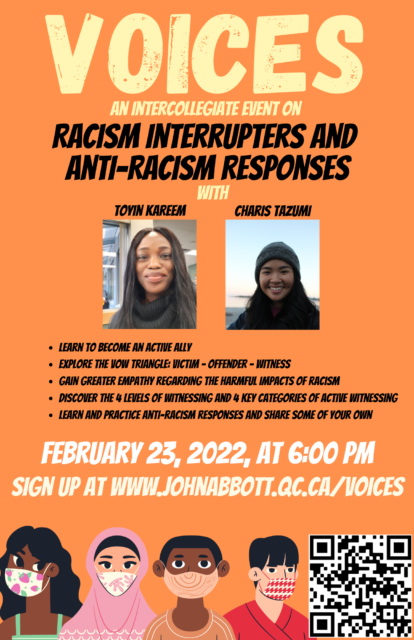 Foodie Friday, February 25th 12:00 pm – 2:00 pm Conrod's
Come and taste foods from the Caribbean and support the Divison 1 Women's basketball team at the same time.  Watch out for the pre-sale and purchase your plate.