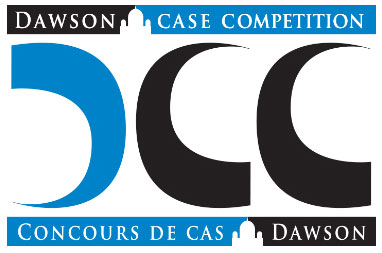 General Information
The Dawson Case Competition offers teams from participating CEGEPs across Quebec the opportunity to demonstrate their presentation skills and business acumen by analyzing, assessing and solving a business case. The Competition will take place on Sunday, April 9, 2017.
In 2017, for the first time in its history, the competition will feature four streams: accounting/finance, marketing, entrepreneurship, as well as the Alexis Nihon Business Plan contest (for Dawson students).
Teams with the highest overall scores, 1st, 2nd and 3rd place in each category, will be declared the winners and will be presented with a plaque of recognition at the Awards Ceremony.
As per tradition, the Dawson Case Competition honours every year a distinguished Canadian company by granting them the Organization of the Year Award. This year, the committee has selected Desjardins to be the recipient of this prize. Therefore, we are honoured to have company executives accept the plaque on behalf of Desjardins.

This one-day event is a great opportunity for students to apply what they have learned in the classroom to a real world situation. They will demonstrate problem-solving skills, creativity and critical thinking skills, all within a limited timeframe. Presentations should effectively convey strong technical knowledge and communication aptitudes.
Who Can Participate
Each institution may send up to three teams: one for the Accounting/Finance stream, one for the Marketing stream and one for the Entrepreneurship stream. Colleges can also send only one or two teams if they wish.
The competition will be limited to twelve qualifying Accounting/Finance teams, twelve Marketing teams and twelve Entrepreneurship teams. Anglophone and francophone schools that offer two-, three- and four-year programs in commerce, business administration or social sciences, or in any other relevant discipline, are invited to participate.
How to Participate
If your school would like to participate or requires more information, please contact the competition coordinator, Carmen Kuczewski by email at DCC2017@dawsoncollege.qc.ca.
To register to the competition, please provide the following information by completing the participants' form by November 30, 2016.
Name of the school
The list of students, and the name of their team
Payment of $40.00 per person attending all day (includes continental breakfast, lunch and cocktail) and $20.00 for those attending the cocktail reception only. There are no fees for family members and other visitors who wish to attend the presentations.
Upon confirmation of your participation, invoices will be sent out in early January 2017. Please wait for your invoice before issuing payment.
Download the invitation in PDF
If you wish to register for the competition, please download, complete, and send us the following forms by email:
Formulaire de participation Accounting/Finance
Formulaire de participation Marketing
Formulaire de participation Entrepreneurship
Sponsorships
If you are interested in being a sponsor, additional information is available: English Français
Volunteers
Interested in volunteering? Get more information about volunteering.