EWeek 2014
Dawson College is now the go-to place for Entrepreneurship Week in Montreal!
Welcome to the Third Edition of Entrepreneurship Week
November 17 to 20, 2014
EWeek 2014 Started with a Bang!
Nov 17-20: An estimated 17 million people participated worldwide in tens of thousands of events and competitions for Global Entrepreneurship Week. At Dawson College in Montreal, EWeek events included a diverse and inspiring line-up of speakers, mentors, networking opportunities, contests and activities for students, alumni and the Montreal community. Dawson College EWeek kicked off with Kalabanté Productions attracting over 400 spectators with a heart-stopping tumbling act. Yamoussa Bangoura, originally from from Guinea and now making Montreal his home, founded this innovative circus troupe. Read more
Set to coincide with Global Entrepreneurship Week, this 4-day intensive and intense entrepreneurial camp will bring together budding entrepreneurs and the business community for a series of unforgettable events.
Montreal takes the lead in race for Most Entrepreneurial Canadian City thx to @DawsonVenture – host of 20 GEW events! http://t.co/yJwtRhIkxC

— GEW Canada (@gewcanada) October 1, 2014
Proud to be a Trailblazer!
A trailblazer lists more than 10 events that support, encourage, and engage. We're pleased to be recognized as part of the entrepreneurial community, and contribute to Global Entrepreneurship Week through our many events and activities. We could not do it without the amazing contributions of our volunteers, speakers, mentors and organizations that support the events.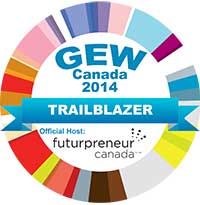 Learn more about GEW partners here.
---
This week is all about creativity, innovation, resources and networking, the early stages of starting a new enterprise whether a social, artistic or business project. Students will be inspired by hearing and meeting people who've been through it all speak about their experiences. There is something for everybody:
Information Kiosks – Entrepreneurship Support Organizations
High profile guest speakers and panel discussions (patent agents, wild and crazy entrepreneurs, venture capitalists, social entrepreneurs, women entrepreneurs, educators, creatives)
Workshops – Crowdfunding, Pitching and idea, Networking etc.
Contest – Dawson's Den
Speed-date an entrepreneur brought to you by 7 CLD's and CDECs, the Jeune Chambre de Commerce de Montréal and CEDEC
Meet a Founder– This year's special event will bring together people who need people to help found a venture.
We are looking forward to sharing the dynamism and generosity of the entrepreneurial community of Montreal.
Check out our speaker lineup and incredible calendar for EWeek 2014.
If you want to volunteer to help make Eweek 2014 a success, send us an email eweek@dawsoncollege.qc.ca
EWeek is brought to you by Dawson College and the Student Success Action Plan, Campus Life and Leadership and the DSU in partnership with the Global Entrepreneurship Week Canada and our partners: