Speed Date 2015
SPEED-DATE AN ENTREPRENEUR 2015
You do not want to miss this opportunity!!!!
How often do you get to meet an entrepreneur to pick their brain in a friendly and relaxed atmosphere? Sometimes all a future entrepreneur needs is a mentor and a nudge in the right direction. This event brings together future entrepreneurs and entrepreneurial leaders in the community. You will have 15 minutes to ask an entrepreneur your burning questions. Meet entrepreneurs from various sectors. This event is offered in in collaboration with: Futurpreneur, La Jeune Chambre de Commerce de Montreal and the CEDEC who are helping to connect mentor-entrepreneurs of various fields with you.
Cocktails will be served. Door prizes.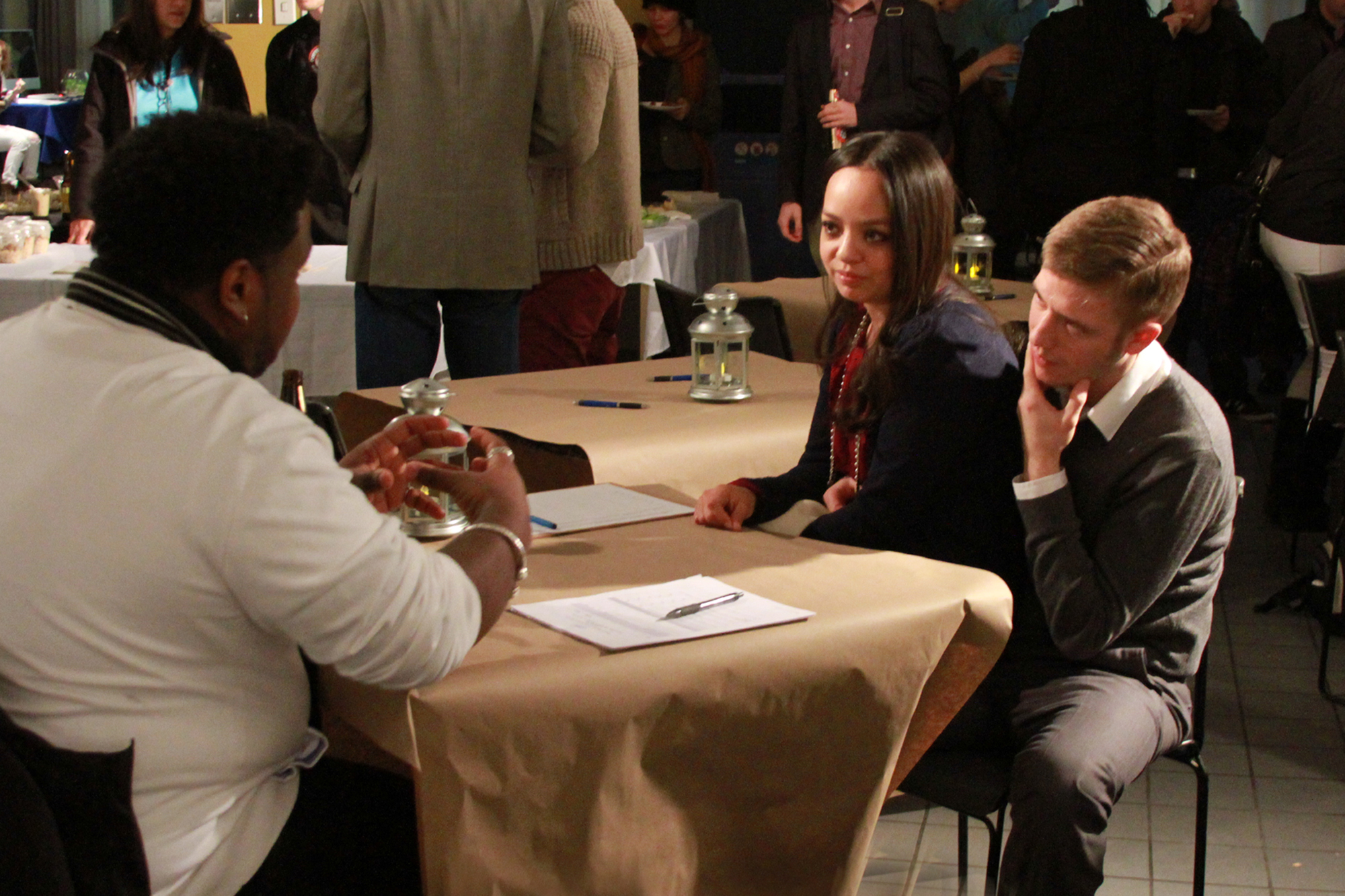 Our Speed-date partners :
---

Karine Bassette
Entrepreneur, Blogger and Interviewer
Karine Bassette aka Mlle Parker is the CEO of NETSO Media, a business that specializes in Social Media Management promoting cultural diversity in Montreal and around the world. She worked with Montreal Black History Month, Montreal Black Film Festival, Kids Help Phone, Dîner en Blanc – Haiti, Sial Canada and other companies helping them achieving their marketing objectives. She also manages a popular urban lifestyle blog inspiring positive change called Unik By Mlle Parker. She also hosts a web-series titled AmbitionTV, in which she interviews successful entrepreneurs from around Canada. She holds a Bachelor of Arts with a Major in Sociology and a Certificate in Marketing from Concordia University.
---

Geneviève Bégin 
Co-Fondatrice PopupCamp, Colorful Leader, KONGOSSA TECHNOLOGY
Geneviève Bégin MBA HEC, femme d'affaires, mère et artiste photographe. Geneviève est l'instigatrice de ce grand projet. Ayant souvent eu à faire des acrobaties pour arrimer intérêts et vie familiale, elle travaille aujourd'hui à créer la solution dont elle a rêvé. Responsable du développement des affaires et de la gestion de l'entreprise, elle est la porte-parole de PopupCamp. Elle est impliquée dans le Regroupement des technologies sociales, siège sur deux conseils d'administration, a participé à l'organisation de KWS-Semaine la technologie et de l'innovation sociale en 2014, à l'organisation de la conférence Future Collaborative en 2015, a remporté le prix Émérite remis conjointement par la Fondation Desjardins et l'Association des MBA du Québec au diplômé de l'année ayant un fort leadership potentiel pour le Québec. Elle a à cœur la cause de l'équité des femmes en gouvernance. PopupCamp a remporté en 2015 un prix « À go on change le monde » de la Caisse d'économie solidaire Desjardins et Esplanade, ainsi qu'un prix Philagora de la Fondation Bombardier..
Courtesy of JCCM
---

Lamia Boucheneb 
Lamia Bouchene editor and founder of The Montreal Fashion Society
The Montreal Fashion Society, a fashion, beauty and lifestyle blog which also offers personal shopping services. She had the chance to cover multiple fashion shows, interview interesting montrealers and produce a young professionals inspired fashion show in collaboration with the Fashion & Design Festival. Lamia also holds a CPA certification and founded Strategic Accounting Solutions, an accounting firm that believes in results analysis for continuous improvement and added value.Inparallel, she is a member and collaborator at Montreal's Young Chamber of Commerce and organizes networking events for young professionals and entrepreneurs. Connect with her on Linkedin for additional information.
Courtesy of JCCM
---
Taïna Chalifoux
Co-founder of Incas di Napoli
Growing up in an environment very far away from entrepreneurial circles, Taïna developed her passion for business on her own.
After her trilingual BAA at HEC Montreal, she worked for her former professor for 5 months during which she developed important skills. It is only 5 months after the end of her BAC that she started the business, which defines her as a bit inexperienced, but very determined.
Courtesy of Futurpreneur
---

Tasha Deane
Co-founder and Creative Director, Sociale
Tasha's passion for becoming an entrepreneur began at a very young age. From lemonade stands to dreams of inventing products, the desire to create has always been deeply rooted in her.
After studying business in college, she continued her education at Lasalle College International Fashion School and added event planning and fashion marketing to her profile. Tasha now has over 8 years of experience in the fashion industry in brand management, merchandising and product development. However, the desire to build something of her own kept re-surfacing so in 2012, she honed her design, organizational and management skills and launched Sociale with her three partners.
Tasha's role as Creative Director involves everything image related such as branding, promotional & marketing initiatives, social media guidelines, event concepts and strategic partnerships. When she is not traveling and running her business, Tasha is a freelance lifestyle writer.
About Sociale
The Sociale concept caters to Montreal women and focuses on learning, networking and socializing. The ultimate goal is to empower women in a modern way and to offer a dynamic platform to meet and connect. The company offers hands-on workshops, large scale events, conferences & PR services. In 2016, they will expand their offering to city tours and retreats. Based on a yearly membership system, Sociale exposes their members to curated products & services by both local and global companies, allowing them to experience the best of the city.
Sociale has been featured in The Montreal Gazette's online lifestyle magazine Urban Expressions, Virgin Radio, 24 Hours, Metropole.ca and many local blogs. They also won Intuit's "Small Business, Big Dreams" contest.
---
Founder of MASSIVart and Festival Chromatic
Trained in cultural management, Philippe is the co-founder and CEO of MASSIVart.
MASSIVart is an international creative agency dedicated to change the way creators, public and corporations interact. Through events, content and strategies, they develop new ways of looking at art forms as powerful creative communication tools.
Philippe is also the driving force of an annual creative gathering called Chromatic, a showcase of creative talent in both Montreal and Paris. His efforts aim to connect the arts and business sectors in order to generate opportunities for Montréal creatives and to increase their outreach.
---
JP Desjardins
CEO & Co-founder of Orangerine
JP Desjardins cumule plus de 8 ans d'expérience en entrepreneurship et planification stratégique. Après un Baccalauréat en Communication/Marketing de l'UQAM, Jean-Philippe fait un bref saut chez l'agence BOS (maintenant Dantsu BOS) pour les comptes de FIDO et Banque Nationale. Il co-fonde ensuite Orangerine en 2007 en tant que Président et directeur stratégique de l'agence. Il chapeaute différents mandats pour des compagnies tels que Librex (Québécor Média), Sobeys Canada, Groupe Dissan, Les alouettes de Montréal. En 2012, il fait ses premières armes dans le milieu des startups technologiques en pilotant la campagne de mise en marché internationale de la solution de partage de document nuagique TagMyDoc. La campagne remporte un franc succès, notamment en récoltant une vingtaine de mentions médiatiques, dont un un article dans le «New York Times». Avec les débuts de The Wallrus en 2013, Jean-Philippe s'implique sur la scène événementielle, et plus particulièrement au sein du milieu du eSport, une industrie qui connait une expansion fulgurante en Amérique du Nord. Il agit à titre de collaborateur dans le cadre de la production du Mondial des Jeux Loto-Québec (Juste Pour Rire) et co-produit l'événement mensuel «HeartStone FireSide Gathering – Montreal».
Outre ses accomplissements professionnels, Jean-Philippe s'implique au sein de différentes causes, dont la promotion de l'entrepreneurship québécois. En 2014-2015, Il est invité par Futurepreneur à donner des conférences sur le leadership aux «Action Youth Summit» à Toronto ainsi qu'à différentes tables rondes ministérielles. Il est également sélectionné en tant que Délégué canadien au sommet du G20 des jeunes entrepreneurs 2015 tenu en septembre dernier à Istanbul.
Courtesy of Futurpreneur
---

Nectarios Economakis
Co-Founder of PNR (Point of No Return)
Nectarios is the co-founder of PNR, a company that strives to help businesses align their corporate and digital strategy while facilitating execution of this vision.
In 2011, Nectarios was the first employee in business development at Google Montreal. He participated in the growth of sales and profitability of many large corporations. Previous, he held positions at Cesart Marketing and Media Experts where he led their search marketing teams.
Nectar holds a Masters of Science degree in Business Administration from the John Molson School of Business at Concordia University, where his thesis compared the effects of online advertising on consumer search behavior. Currently, he is Co-Chair of the IAB Canada Search Committee.
---
Jasmine Gervais
Co-founder and COO of Orangerine
Jasmine Gervais cumule plus de 10 ans d'expériences en gestion et administration de projets culturels multidisciplinaires. À cheval entre l'industrie cinématographique et événementiel, elle agit à titre d'assistante à la réalisation sur plusieurs projets de courts-métrages et séries télé (Les Hauts et les Bas de Sophie Pacquin III). Elle joint également le festival Juste Pour Rire à titre de coordonnatrice des concessions de 2005-2007. Jasmine fait ensuite un bref saut en distribution de Film avec TVA Films avant de co-fonder Orangerine en 2007. L'expertise multilatérale de Jasmine en gestion, administration et production médiatique lui permet de gérer avec rigueur la diversité des projets de l'agence tout en assurant un écosystème financé propice à la croissance de l'entreprise. Depuis maintenant 7 ans, elle réalise, supervise et chapeaute des mandats de diverses envergures avec des clients tels que La Vitrine Culturelle, Banque Nationale, Astral Radio (maintenant Bell Média), Bombardier Aéronautiques, Attraction Média et le CRHA (Ordre des Conseillers en Ressources Humaines).
Courtesy of Futurpreneur
---
Philippe Haché
Co-founder at Grenadine Technologies
Philippe is one of the co-founder of Grenadine Technologies, based in Montreal (Canada) and specializing in mobile apps, transactional web systems and web strategy.
He has 17 years' experience in the IT industry and he advises customers on web technology, web and mobile app architecture. He helps customers choose platforms, develops new initiatives, implements eCommerce systems and troubleshoots when they face problems or web performance issues.
His customers have included corporations that have large web and mobile systems:
– Bombardier (brp.com)
– Desjardins (desjardins.com, mobile apps)
– Metro (metro.ca)
– Yellow Pages (yp.ca, YP mobile)
– RONA (rona.ca and mobile apps)
– Vodafone Germany (vodafone.de)
– SAQ (saq.com)
– National Bank (nbc.ca)
– Maxxing (eCoupons)
– Air Canada
Specialties: Transactional websites, Mobile apps (iOS, Android, Windows 8 and BlackBerry), eCommerce.
---

Kurt Houghton
Management Consultant, Coop Interface / Yes
Kurt Houghton holds a Bachelor of Arts with distinction in environmental studies from McGill University and an executive MBA from Université du Québec à Montréal with a specialisation in collectively operated enterprises. He has over ten years of cooperative management and non-profit administration experience in the Montreal area. These experiences allow him to appreciate the complimentary roles of good governance and efficient management in a context of limited resources. With a passion for social justice and local economic development, Kurt Houghton puts people first because no organisation can develop without a satisfied clientèle and well supported staff.
As an entrepreneur, a board member of multiple organizations, a freelance consultant and a business coach, Kurt has developed a strong professional network in Montreal, giving him a detailed understanding of the challenges of operating a small business.
---

Awane Jones
Founder & CEO of Merchlar
Détenteur d'un baccalauréat en sciences politiques de l'université Concordia, Awane est un entrepreneur né et un pionnier en réalité augmentée. Fort de 10 années à évoluer au sein de l'industrie la musique où il a produit plusieurs albums et enregistré de la musique pour des émissions télévisuelles, il co-fonde avec plusieurs associés Merchlar en 2010 et obtient au fils des années plusieurs récompenses entrepreneuriales. Merchlar devient une agence digitale spécialisée en réalité augmentée, en mobilité et en Web. L'entreprise développe des expériences interactives et immersives. Les solutions proposées sont uniques et axée sur l'innovation. Déjà en 2010, l'entreprise réalise un premier concept de réalité augmentée, avec l'appui d'Astral Média. Merchlar travaille avec des clients tous aussi prestigieux les uns des autres : Desjardins, JP Morgan, STM, les Canadiens de Mtl et collabore avec plusieurs agences telles que SidLee, LG2, Publicis, Edelman et ICaxon.
Courtesy of Futurpreneur
---

Sonia Kyriacou
Co-Founder of the San Tropez Dance School

With more than 20 years of experience, Sonia Kyriacou and Moris Alvarenga are talented and renowned dancers. Leaders in their industry, these passionate entrepreneurs believe that you can "choreograph" your life!
Based in Montreal, they run the San Tropez Dance Center, one of the largest Latin dance centers in Canada, with locations in the West Island and Downtown. Organizers of the most highly anticipated Latin dance festival in Montreal, the Montreal Salsa Convention, which is now in its 12th consecutive year.
Sonia and Moris have nurtured their businesses into the successful ventures that they are today, by taking a risk and overcoming the challenges that stood in their way. They embody the philosophy that a true entrepreneur must follow their heart and instincts in order to find success and satisfaction in all endeavors. During the lecture you will discover their secret to success. Let them inspire you with their first-hand experience in turning a passion into a fulfilling career!
---
Fondatrice de l'entreprise Inspiro Média et Elsoa
Sara Leblanc est bachelière en administration des Affaires avec une spécialisation en finance. Suite à ses études, elle a joint l'équipe d'Axium Infrastructure en tant qu'analyste en finance à leur bureau de Montréal et ensuite au bureau de Toronto. Elle s'est ensuite consacrée à temps plein à un projet porteur et ambitieux, la création et la mise sur pied de l'entreprise Inspiro Média qui avait pour mission d'identifier et de mettre en valeur la nouvelle génération et la relève d'affaires du Québec. Il y a quelques mois, elle a lancé une nouvelle entreprise, Elsoa.  La première collection est maintenant en vente, ce sont des blouses en soie faites au Québec, vendue sur internet.
Courtesy of JCCM
---
François Le Boulaire
Solutions Architect – Digital Strategy – Growth Hacker, Co-Founder at Grenadine Technologies
François Le Boulaire, Solutions Architect – Passionate about the Internet since 1995 and with more than 20 years of global experience in information technologies and management, has acquired an extensive expertise in e-Business and Internet technologies applied to multiple industries. Throughout his career, he has been involved in a broad range of cutting edge projects first as the co-founder of a cyber cafe and a web agency in France then for organizations such as Kazibao.net, leader of kid's portals, La Toile du Québec, one of Canada's leading search engine. In 2001 he joined Reitmans Canada LTD , the leader among retailers of apparel and accessories for women and men in Canada as the Internet & Intranet project leader. His functions at Reitmans lead him to collaborate on very diversified projects with outstanding partners as MCI, Fusepoint, Akamai, Gosecure, Taxi, NSB, Komunik, Alogia, Cossette, Godynamo, Revolver3, S2I, CVmanager, Mapquest and Gomez.
He had the opportunity to manage IT projects in various areas such as imports, real estate, legal, distribution, finance, HR, marketing and not to forget IT. Interacting with internal customers and suppliers helped him develop the aptitude for quickly understanding business needs, from a technological perspective, and aligned with corporate business strategies.
Coupled with excellent communication and organizational skills, his analytical strengths are best used in simplifying the most complex business problems and delivering effective, innovative, user-oriented, evolutive yet cost-effective solutions. These competences are often requested for diverse challenging projects where his leadership and project management skills contribute to consistently delivering measurable results.
---
Sarah MK
Montreal singer-songwriter
Montreal singer-songwriter Sarah MK explores her vulnerability and authenticity through the medium of lyrics and sound. From her melodic compositions reflecting the thoughts and feelings of a generation to the harmonious nature of her vocal arrangements, Sarah MK strikes the balance between message and music with graceful mastery. Active on the Montreal music scene since 2008, she received a bachelor's degree in Jazz music from the University of Montreal and has gained notoriety in the music community as a member of renowned improv group Kalmunity Vibe Collective. Her passion and versatility come through in her work. Whether it be in the form of her first highly acclaimed neo-soul/hip-hop EP "Worth It", "Countreal" a country EP created in collaboration with The Skinny Bros, or performances with Klezmer/Hip-hop artist Socalled or The Brooks Funk band, Sarah MK's original sound artfully transcends genres.
Courtesy of CEDEC
---
Frédérick Perrier
Director – Project Manager for Business Consultation Services, CEDEC
Frédérick Perrier started his career in the world of advertisement sales industry. He then got involved in different youth development projects with employability community organizations such as Carrefours Jeunesse-emploi and Jeunesse rurale en forme du Haut-Saint-Laurent.
Now Frédérick is the Project Manager for business services and a certified GrowthWheel advisor at CEDEC. Fred has been working in economic development for the past 10 years, where he has helped startups and established businesses grow and thrive.
Courtesy of CEDEC
---

Anthony W. Shannon
Founder, CEO, TuneStars
Anthony Shannon makes links between people and disruptive technology. His goal is to work on game changing, niche-specific software projects that have the potential to solve big problems, while raising efficiency at a worldwide scale. He helps tech startups achieve their long- or short-term objectives in development, growth, business development/sales, financing and HR.
Anthony is driven by change and is always enthusiastic about discovering new technologies with potential for disruption.
---
Devon Smiley
Negotiation Consultant
Devon Smiley is a Negotiation Consultant for ambitious entrepreneurs who are ready to stop taking what they can get, and start asking for what they deserve.
A former corporate negotiator who knows all too well the tactics, tricks and techniques of the business world, Devon has turned her experience and passion for negotiation towards ensuring that entrepreneurs aren't getting the short end of the stick.
Devon's mission is to make sure that you're maximizing your earnings, signing fair deals, and keeping as much of that hard-earned money in your pocket as possible.
Learn more about what she can do for your business at www.devonsmiley.com.
---

Despina Sourias
Regional Entrepreneurship Awareness and Promotion Officer,
Table des carrefours jeunesse-emploi de Montréal
Despina Sourias has over 13 years of experience working in the field of community development and entrepreneurship locally and abroad. Her present mandate as a Regional Entrepreneurship Awareness and Promotion Officer (English-Speaking sector) for the Table des carrefours jeunesse-emploi de Montréal has led her to support students and budding entrepreneurs in building the skills they need to become the leaders of their own professional and personal destinies. Her interest in women's issues has inspired many of the projects she's founded, such as Glambition which empowers girls to get entrepreneurial and become changemakers. She is also the President for FEM International, a NGO focused on empowering women and girls through sustainable entrepreneurship.
---
Construction KT Inc
Kristell Tremblay détient un diplôme en génie mécanique de l'Université Laval. En parallèle à son travail, cette jeune entrepreneure est très impliquée dans différentes organisations. En plus d'être membre active des Elles de la construction, elle vient d'être élue membre du Conseil d'administration de l'APECQ. Elle est aussi membre du Comité régional de Montréal de l'Ordre des ingénieurs du Québec.
Avant de fonder son entreprise, Kristell a été chargée de projets pour le compte de différentes entreprises de construction et des firmes de génie conseil.
Fondé en 2012 par une ingénieure passionnée, Construction KT Inc. offre des services aux entreprises, en gestion et exécution de projets de construction dans les secteurs diversifiés tels qu'industriel, commercial, institutionnel et de génie civil.
Entrepreneur général, l'entreprise se spécialise également en travaux de réparation de structures de béton et en restauration patrimoniale.
Leurs services se distinguent par l'originalité de leurs solutions d'exécution et sur l'intégrité des processus impliqués dans la réalisation des projets pour leurs clients privés et publics.
Construction KT offre à sa clientèle un esprit créatif au service du contrôle des coûts, de la qualité, et de l'efficacité dans l'exécution des projets.
Courtesy of Futurpreneur
---

Jordan Whitewick
Founder of Whitewick Group
Jordan Whitewick has 5 years' experience in the IT industry in which he has worked on many projects and deployment. In 2010 after getting let go during a company downsizing Jordan was let go as he was one of the newcomer with the least sonority along with many others, as Jordan wanted to continue in the IT industry Jordan was determined to find an opportunity one did come along and they asked him to open an incorporation in order to take on contract jobs which then gave Jordan the idea to start his own IT Consulting Firm in order to help small to medium size businesses keep up to date with technology and use their current technology to its full potential also helping them cut cost in the long run as he is very passionate about what he does.
Courtesy of JCCM
---
---