Highlights 2015
From November 13th to the 20th, an estimated 17 million people participated worldwide in 35,000 events and competitions for Global Entrepreneurship Week (GEW). At Dawson College in Montreal, EWeek events included a diverse and inspiring lineup of speakers, mentors, networking opportunities, contests and activities for students, alumni and the Montreal community.
The two-day public sector strike did not deter the ETeam! They were determined to make EWeek happen by moving the Dawson's Den Initial Pitch competition to Friday the 13th as a pre-EWeek event and shuffling high-profile keynote speakers from Monday/Tuesday to Wednesday/Thursday. Moreover, there were just too many quality teams wishing to pitch for the Den this year, so it was important not to lose the opportunity to showcase our amazing students. Besides, this was a great lesson to be learned about flexibility, adaptability, perseverance and leadership.
The ETeam minus a few. They are: Ali Hassanein, Amanjot Aujla, Caroline Tran, Danica Sanchez, Daniela Souza Miranda, Eric Hughes, Felix Giroux, Jaria Rambaran, Jessika D'Oliveira Daigneault, Kadiatou Traoré, Kristen       McCartney, Lina Belabbas, Madeleine Sibthorpe, Mary Hoang-Dang, Mavesa Nguyen, Mitchell Ryan, Nathasha Nguyen, Shayne Gido Hontiveros, Stephanie Leprohon,  Stephanie Mackay,  Vicente Guzman  Barra and  Yu Xiang Ren.
The student volunteers were ecstatic that we decided not to cancel the event. It only meant that they would work harder at making it happen. And they did! This year, we recruited 22 students from diverse programs for the organizing committee. Under the supervision of Pauline Fresco, student groups were responsible for promotions, sponsorships, décor, graphics, video, photography, social media, volunteer management and portraits for the speakers. Blue Ring volunteers, who were recruited to support the various activities, were also a class act!
On Friday the 13th of November, Elizabeth Stefanka opened EWeek as our first keynote speaker. Named one of the top five women entrepreneurs to follow by Lori.biz, Elizabeth is a force to be reckoned with, making a place for herself in the male-dominated tech world. She was a finalist for Capital Innovation's Défi Mtl 9, for the Champions de la croissance at C2Mtl and for the Women in Technology contest. She is also the big winner of the 2015 Quebec Entrepreneurship Contest.
Elizabeth's personal journey disrupting the fashion industry and her message of knowing when to pivot was important for students to hear. Oftentimes, entrepreneurs stubbornly pursue a business model when all the signs are telling them to stop and take a look at what the market really wants. She emphasized the importance of being adaptable to market needs.
Her talk was followed by the wildly popular Dawson Den Initial Pitches. Friends and family cheered on 22 student teams who pitched ideas for social and commercial enterprises. Twelve student teams were selected by the audience to go to the finals the following Thursday.

Computer Science student Eric Hughes and alumus Denis Ouspenski
EWeek typically kicks off with entertainment in the lower atrium. This year was no exception. The San Tropez Dancers and dance school founders Sonia Kyriacou and Moris Alvarenga wowed the audience with their salsa moves and echoed Madeleine Bazerghi's advice to budding entrepreneurs: "Follow your passion and do what you love."
Wednesday's lineup was truly amazing with high-profile speakers such as Philippe Lamarre, founder and CEO of the design firm Toxa and Urbania. Philippe regaled the audience with his stories of the "humble" beginnings of his online magazine, Urbania. I will let the picture speak for itself.

Philippe Lamarre, Founder Toxa, Urbania
Philippe's eloquent, humor-filled and impactful presentation convinced a sold-out venue of mostly designers that audacity is the key factor to the success of a creative agency.
Following Philippe was Fady Atallah, founder of Infinite City, a company that takes Montreal creative projects – such as the musical swing installation at the Place des festivals – and exports them globally.

Fady Attalah, Infinite City
Musician, author, activist and entrepreneur David Usher was also in da house! David is the lead singer of the alternative rock  band Moist and is also very active in Montreal's entrepreneurial ecosystem, having launched a startup himself in the area of climate change and acting as an advisor to other startups. His book "Let the Elephants Run" is a testament to David's understanding of creativity, an important attribute of entrepreneurs.

David Usher, MOIST
Business Professor Robert Soroka interviewed David and moderated two panel discussions. We heard from brilliant scientists and health hackers about disruptive technologies such as wearable devices, brain-machine interfaces and biogenetics. We also heard from out-of-the-box startups that are changing the way we learn, eat and dress. Robert dug deep with his thought-provoking questions and bee-inspired puns.

Robert Soroka with the Out-of the box Startup Panel: Nathon Kong (Tailor2Go), François Poirier (Maker Bloks), Alexandre McLean (Alvéole) and Augusto Sotelo (Goowi)

Hacking Health Panel: Yannick Roy (NeuroTechX), Lise (Heddoko) Irene Pylypenk (hacking Health), Etienne Crevier (BiogeniQ) with Illustration and Design Students Ali Hassenein, Monica Cabral, YuXiang Ren

A wonderful story was told by Joey El Khoury and his lovely wife Liza Charbel. Joey and Liza shared their journey from corporate executives to social entrepreneurs and co-founders of Gardens without Borders. They left Dubai, a lucrative career and lavish lifestyle, to move to Montreal where they found a passion for ecological agriculture and social innovation. They recounted how they faced many challenges along the way, but learned a great deal about themselves, the world and entrepreneurship. Their message was simple yet powerful: "Happy is the New Rich".

Joey & Liza with illustrators Melanie Ortins and YuXiang Ren
Our special invited guest Josh Miller, CJAD's Today's Entrepreneur host and partner at Fuller Landau, presented Jenviev Azzolin at the Thursday lunchtime series. Some of you may recognize that name if you're in the G wing. Yes indeed, Jenviev is our very own Interior Design teacher, Mitchel Azzolin's daughter and co-founder at PPLCONNECT and Hotel My Phone. Her passion lies in enabling positive social change by leveraging innovation and new technology in a meaningful way.
Jenviev presented her very own path from working as an executive in a multinational to becoming an entrepreneur. The presentation focused on the advantages/disadvantages and realities of working for a company vs. starting a business. It's not about being your own boss and putting your feet up on a table. Says Jenviev "Startups are really bleepin' hard" .

Jenviev Azzolin, Hotel MyPhone, PPLConnect
On Wednesday night, Richard St-Pierre, president of C2MTL, shared C2's vision of scaling the biggest and most expensive conference in the world. This conference has seen the likes of Muhammad Yunnus and Francis Ford Coppola with next year's invitees including Martha Stewart. Did you know that EWeek was modelled after C2MTL?
Richard emphasized the importance of sticking to your organization's core values and mission while scaling globally. What a great guy he was. He stuck around during the speed-date event that followed his presentation and stayed until closing time, chatting with students and other audience members.

Richard St-Pierre, President C2 Montréal
This Eweek, three workshops were presented. Topics included content marketing by Brian Rotzstein,  how to pitch and idea by District 3's Innovation Manager Shaun Gamboa and on Growth Wheel by CEDEC's FrédéricK Perrier.

Brian Rotsztein, Frédérick Perrier with student Stephanie Lepron, and Shaun Gamboa
For young entrepreneurs who are aspiring to launch their own businesses, the popular speed-dating event offering one-on-one time with 20 entrepreneur-mentors was the perfect setting to help connect to successful entrepreneurs, students and mentors.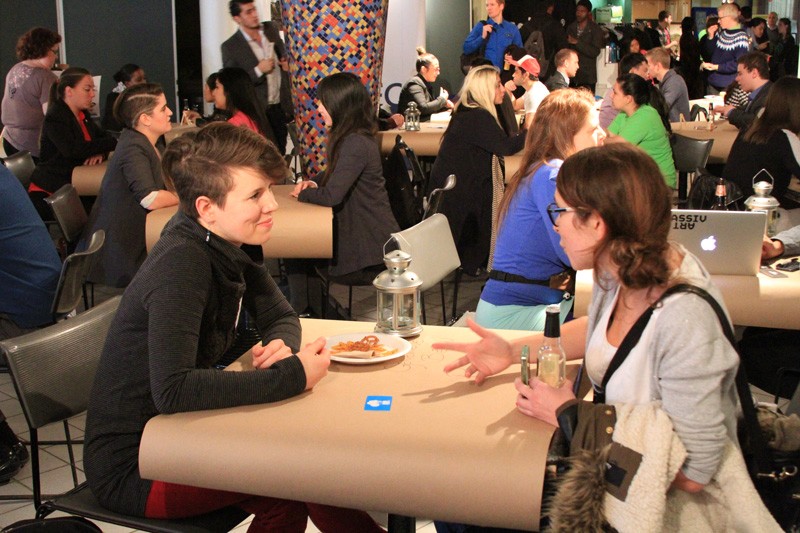 Speed-date an Entrepreneur
Thursday's grand finale was preceded by the snappiest dresser on the planet, Andy Nulman (VP Just for Laughs). He came totally unprepared in order to demonstrate how many startups usually start up; making it up as they go along! At one moment, he completely forgot what he was going say, a great lesson for anxious student-entrepreneurs in the audience waiting to pitch. One student said "If the great Andy Nulman can freeze on stage, I have nothing to worry about!"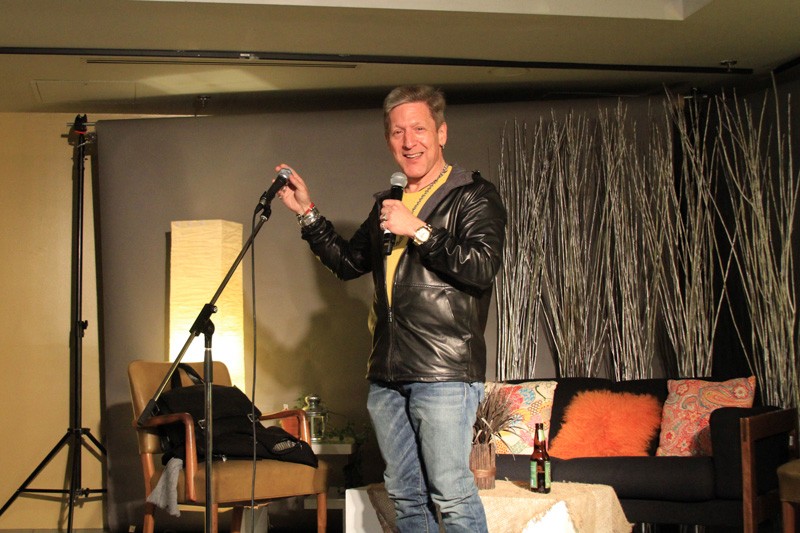 Andy Nulman , VP Just for Laughs, Co-founder and CEO of Play The Future, Inc.
This year, the Den saw two social enterprises winning first and second place. The winning pitch was by Psychology Profile student Brittnay Dalfen for Sayfespace – an online chat forum for college and university students in distress who want to share with and be supported by their peers.
Her win was truly exceptional: six months free rent at a social entrepreneurship co-working space, Salon 1861, courtesy of Gestion Immobilière Quo Vadis; 1000$ in cash, courtesy of the City of Montreal and PME MTL; a Google Chromebook courtesy of Google Montreal; Business in a Box courtesy of Biztree; a goodie bag from YES Montreal consisting of a voucher for free coaching, a voucher for a free Business Basics workshop series and a business book.

Frédéric Morin-Bordeleau, Director of Salon 1861 with First Prize Winner, Psychology Profile student Brittnay Dalfen
Our second place finalist was another social entrepreneur and a student of the Environmental Studies profile; Sarah Drouin for ALTA – An alternative artistic agency. ALTA is an emerging art promotion and production enterprise for LGBTQ artists.

Google Account Manager Marijke Hoste with Environmental studies Profile student Sara Drouin, second place finalist.
The third place went to Sorates Sotos and Chris Day for Hydroglyphik Games. Before starting school in the Dawson Independent Game Design Program, Chris and Sock designed, funded and released a card game called Kalypto through sheer power of will. Against all odds, they got their card game into nine stores across Montreal. They are now expanding their company into the mobile market.

Socrates Sotos and Chris Day, third place finalists with Guy Bazinet, Service conseils et financement, PME MTL
The pièce de résistance was the expression on our keynote speakers' faces when they walked into the venue. Wouldn't you be surprised? Illustrator Ali Hassenein volunteered his time to create all the posters of keynote speakers. Andy Nulman was so impressed that he couldn't take enough selfies. In fact Pauline's illustration class produced gift portraits of all the speakers as a token of our appreciation.

Andy Nulman with Self, David Usher with Pauline Fresco, Elizabeth Stefanka with student volunteer Kadiatou Traoré and Richard St-Pierre, president of C2MTL with artist Ali Hassanein.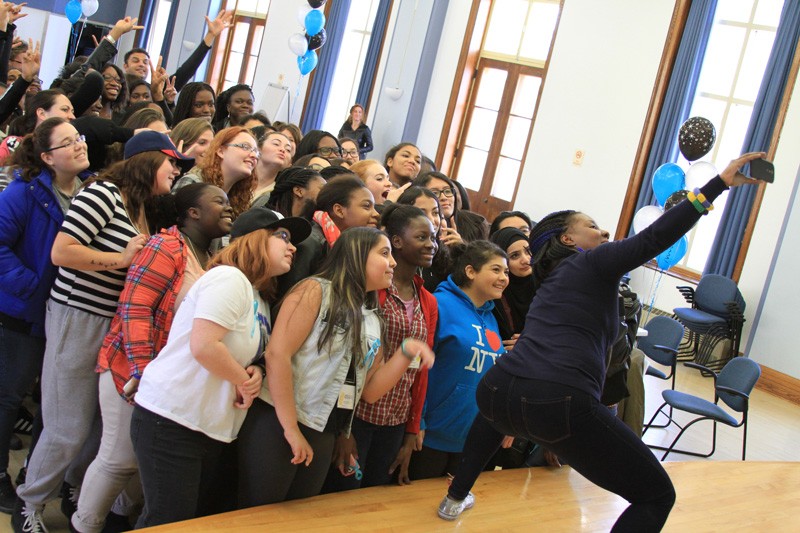 EWeek ended on Friday in 5B.16 with about 60 girls coming from nearby high schools for the annual GLAMBITION event organized by the Table des Carrefours jeunesse emploi de Montréal. They too learned about what it takes to become an entrepreneur. A full day of activities ended in, you guessed it, a group selfie.
There is so much more to tell but I think I overdid it already.  You will come next year and see for yourselves!
For more photos, check out our picture gallery.