Quebec Entrepreneurship Contest – OSEntreprendre 2017
SANDRINE CARLE-LANDRY IS THE 2017 REGIONAL WINNER OF THE QUEBEC OSENTREPRENDRE CHALLENGE
May 3, 2017: It was exciting to sit next to  Liberal Arts student Sandrine Carle-Landry  when the winner for the regional OSEntreprendre Challenge was announced in the individual and small team category.  Her submission and entrepreneurial project was recognized over submissions from all Cégeps on the island of Montreal.
I was seated with her friend Corinne Pelletier who was one of the subjects in a series of videos produced for Sandrine's project, Refus global now and, Kim Simard who coordinates the Women Studies Certificate.  We were thrilled to witness how eloquent her presentation to the crowd at City Hall was when she collected her prize of 800$.
Sandrine's entrepreneurial project  is an independent media and a pro-inter-sectional production box. Through the use of social media, the goal of Refus global now is to create media content that promotes the convergence of various social struggles and highlights causes usually ignored by traditional media. One of her videos, Parlons poils: LA PILOSITÉ FÉMININE was viewed over 345,000 times in a very short period of time !!! You can view the video by clicking on this link.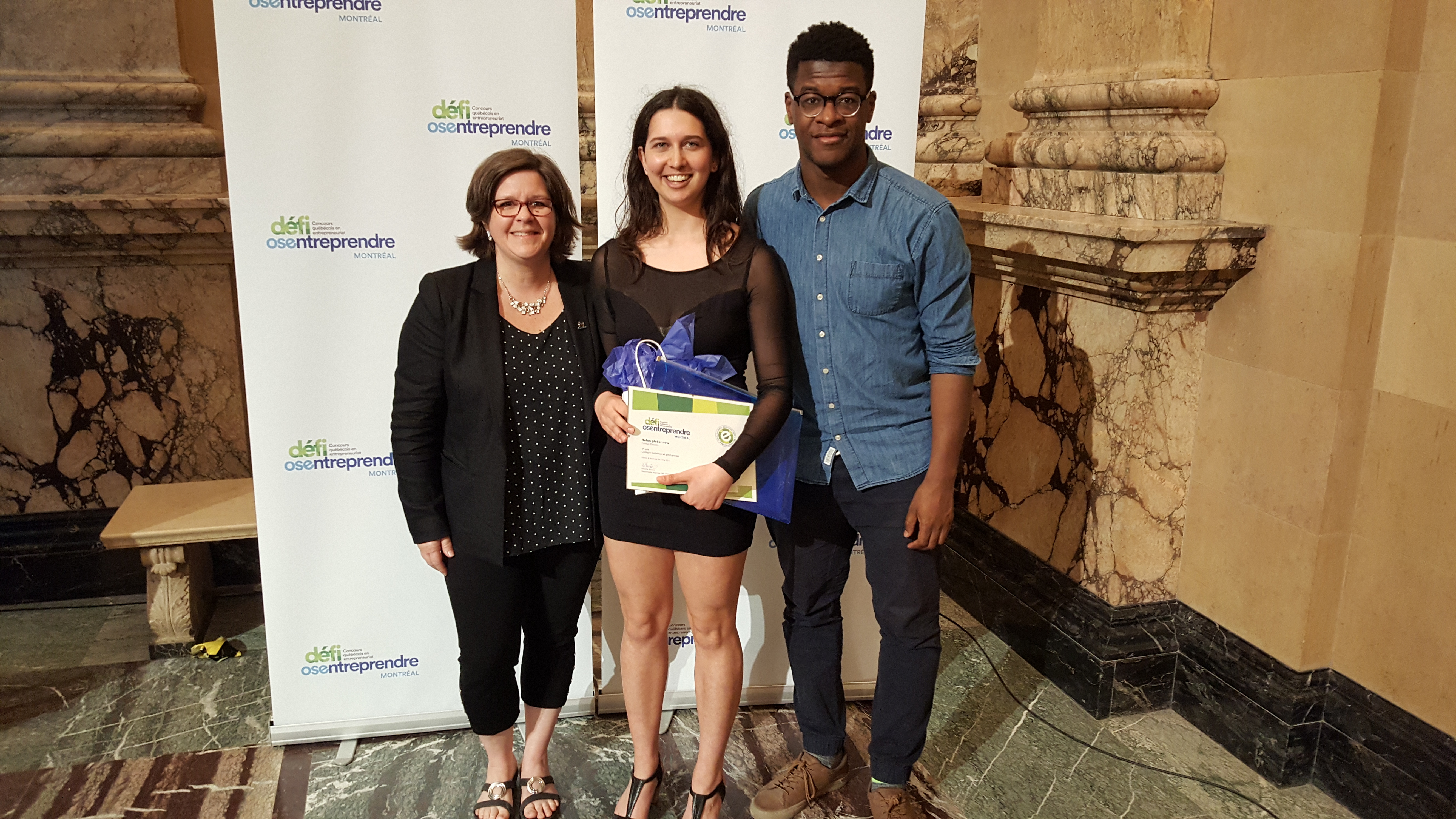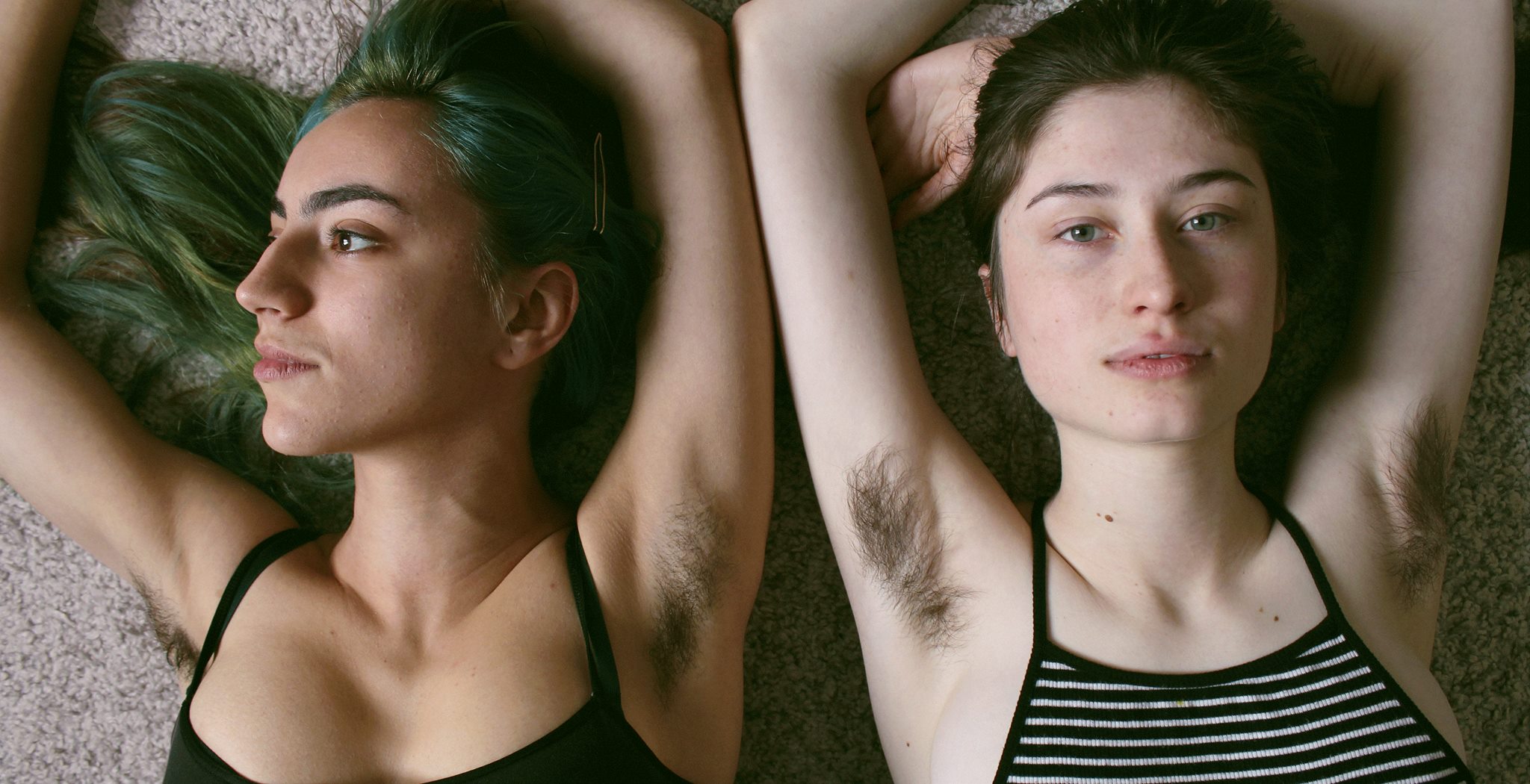 The OSEntreprenedre Challenge recognizes students who demonstrated an entrepreneurial spirit by acting on an idea and bringing it to life. Student-initiated projects were evaluated on impact, scope, originality and innovation as well as the student's capacity to mobilize resources and take the project from start to finish.
Sandrine will now compete at the national level with other regional finalists. Wish her luck on June 14th when the National winners will be announced in Québec City and, let's get those views up to a million!!!
Madeleine Bazerghi
---
Considering entering the the Quebec Entrepreneurship Contest OSEntreprendre?
Is this for me?
Throughout the 2016-2017 academic year, were you involved in an entrepreneurial project either alone or in a team?  Did you start a company or social enterprise? Did you plan an event, create a product, or offer a service? Are you in the actual midst of creating something? Then you may be eligible to take part in the OSEntreprendre Quebec entrepreneurship challenge. For further eligibility requirements, please visit the OSEntreprendre website.
According to OSEntreprendre challenge, the goal of an entrepreneurial project is to "create a product, service or event with a view to satisfying a need or demand in the community, finding a solution to a problem or improving a situation for a target audience that goes beyond the project participants themselves."
Here are a few examples of entrepreneurial projects:
Development of a product
an audio history book
a magnetic cup  holder
a short story collection
video games
mobile apps
a new line of clothing
Establishment of a service
a student café
a fitness organization
bicycle repairs
a community garden
affordable legal aid
cooking classes
Organization of an event
a show
an awareness campaign
a book fair
a conference
a fundraising night
a sports competition
What can I win?
Once you apply, the college will select two teams (single entry and group entry) to compete in the regional competition (Cégep against Cégep on the island of Montreal).  The regional winner then gets entered in the provincial competition (Québec-wide) where you can win even more.
In the past, we have seen prizes of up to 3000$ being allocated to Cégep students. Last year, our student Melissa Robertson won the local prize of 500$ for her entrepreneurial project Our Village – Bringing Togetherness back to Motherhood. In 2015, Mehgan Dove won the provincial prize of 2000$ for her company Mehgan Dove Designs and in 2014, Serena Drescher and Anne Tchiniev won the regional prize for Leucan Thrift Shop.
How do I apply?
If you are a current Dawson College student and wish to enter your entrepreneurial project (idea actually implemented) for a product, service or event, please fill out the Student Entrepreneurship form. The deadline to enter the challenge is March 14, 2017 at 4:00 pm.
Don't forget to check out the Guide to the Form of the Student Entrepreneurship for full details about the challenge. If you have any questions or need help with the application process, please contact your regional representative Madeleine Bazerghi at mbazerghi@dawsoncollege.qc.ca.