Speed Date an Entrepreneur 2017
You do not want to miss this opportunity!!!!
How often do you get to meet an entrepreneur to pick their brain in a friendly and relaxed atmosphere? Sometimes all a future entrepreneur needs is a mentor and a nudge in the right direction. This event brings together future entrepreneurs and entrepreneurial leaders in the community. You will have 15 minutes to ask an entrepreneur your burning questions. Meet entrepreneurs from various sectors. This event is offered in in collaboration with:  Mentors Montreal,   Futurpreneur, JCCM (La Jeune Chambre de Commerce de Montreal) and the CEDEC who are helping to connect mentor-entrepreneurs of various fields with you.
Cocktails will be served. Door prizes.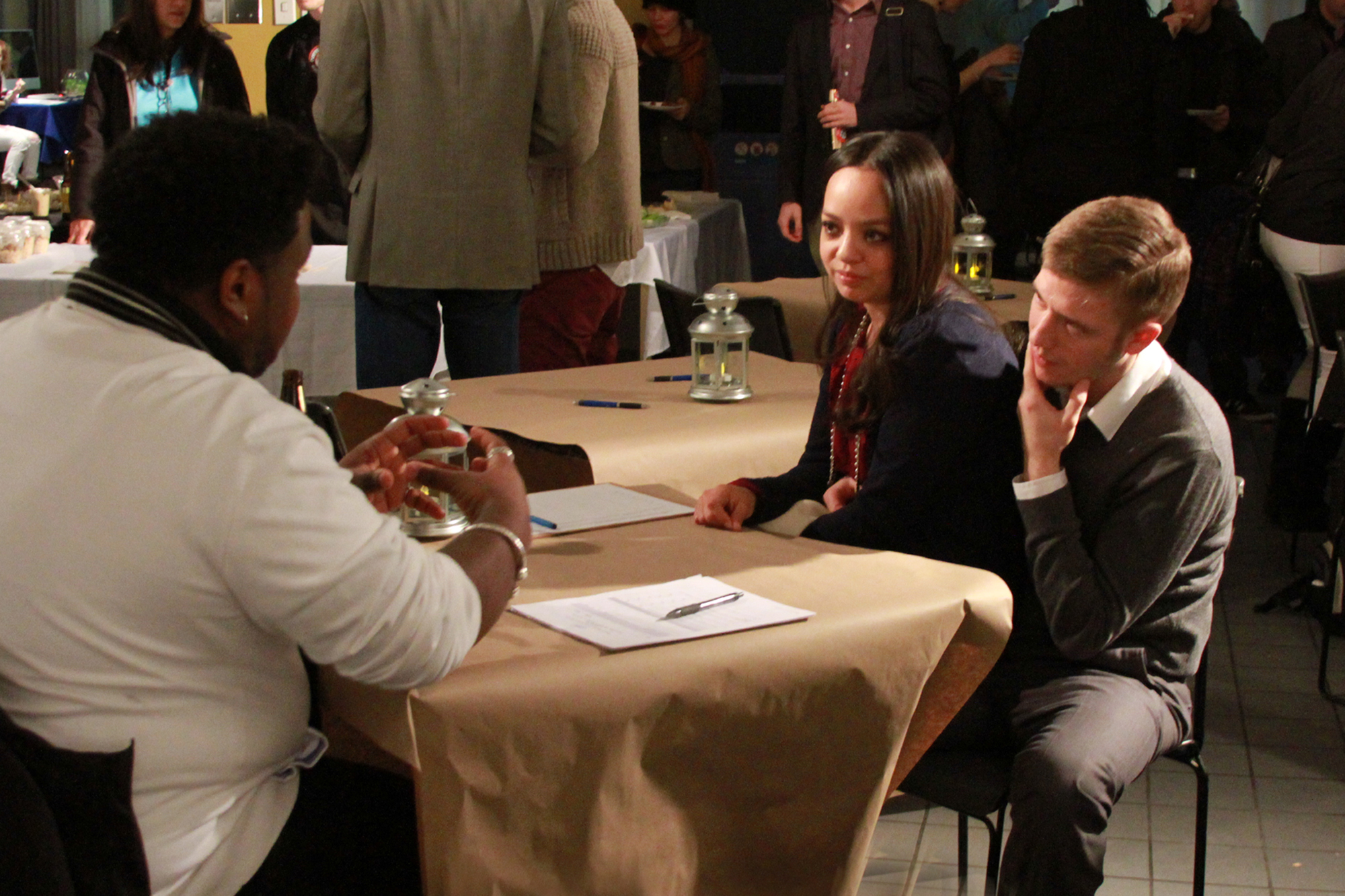 Our Speed-date partners :
---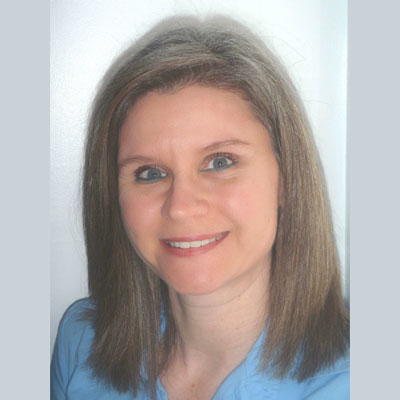 Rita Baker
Principal consultant, Baker Marketing and the Lean Startup Circle (Mentors Montreal)
Rita founded Baker Marketing to help start-ups and small businesses create and market innovative solutions using the Lean Startup approach – start lean, fail fast. She and her colleagues are now starting
to implement the Lean Startup approach in incubators, accelerators and large organisations to help
them innovate more efficiently.  Rita is deeply involved in the Montreal entrepreneurial community through her Lean Startup Circle and Mentors Montreal groups. She is also a business mentor with
Réseau M and Montreal Inc. Mentors Montreal is a partner of the Coopérathon providing mentors as well as mentoring expertise.
Rita is a friend of our very own incubator* for the creative and cultural industries – www.icmtl.ca. Together we will work on providing mentorship to patrons of the incubator.
*An incubator is place where you can take residence to start a company and where you receive help from coaches and mentors, and many other services to help you succeed.
---

 Karine Bassette 
Social Media Trainer & Entrepreneur 
Mlle Parker is a social media trainer and entrepreneur. After completing a degree in Sociology, in Marketing and Entrepreneurship, her creative savvy led her to the world of social media marketing for business. As a social media trainer, she undertake new or existing social communities, develops creative strategies and tactics, and implements a plan that benefits the brand.
Over the past 6 years, she had the chance to work with prosperous small business owners, bloggers and aspiring entrepreneurs on their digital strategy.
---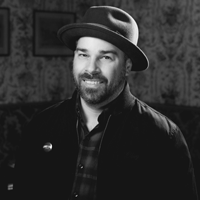 Alex Bastide
Active entrepreneur & Restauranteur, L'Gros Luxe
Alex Bastide is now the owner of eight L'Gros Luxe restaurants (Plateau, Mile-End, Vieux-Longueil and Sud-Ouest) opened back to back in less than a year in 2014! These locations were closely followed by Quebec, in November 2015, and Végé, in June 2016 (located in the original establishment on St-André street, in Montreal); then came Victoriaville, in September 2017 and Sherbrooke, in October 2017!
At L'Gros Luxe, Alex offers a playful cocktail menu as well as an accessible food menu showcasing more than 50% of the items being vegetarian and has now added a 100% vegetarian restaurant.
Each location boasts a festive yet casual ambiance, embellished by a refined touch specific to each neighborhood's personality.
L'Gros Luxe is the materialization of a vegetarian restauranteur who values the art of eating well while having fun and incessantly contributing to the community.  Soon to come to your neighborhood!
---
 Lamia Boucheneb, CPA, CGA
Founder of The Montreal Fashion Society
Lamia Boucheneb founded The Montreal Fashion Society, a shopping tour, styling and lifestyling agency with a fashion platform containing a comprehensive shopping repertoire, relevant resources for fashionistas and industry members, as well as a fashion events calendar and blog. Its mission is to unleash the inner style and fashion creativity of Montrealers and to make them fall in love with Montreal's fashion all over again. Lamia had the chance to cover multiple fashion shows, interview inspiring montrealers, produce a young professionals inspired fashion show in collaboration with the Fashion & Design Festival and co-organize a fashion business ecosystem panel in collaboration with Trends Connection & Fondation Montreal Inc. during the last 2017 M-Style.
Lamia also holds a CPA certification and founded Strategic Accounting.Solutions, an accounting firm that believes in results analysis for continuous improvement and added value with a focus on strategy and financial coaching. She had the chance to be a coach and member of the organizing committee of JCCM's Réseau Jeunes Entrepreneurs and is a business and financial coach to some Montreal startups.
In parallel, she is the content director at YBCM, Young Business Community Of Montreal, which has the mission to fuel young Montreal's inner leadership and entrepreneurial fire, through facilitated collaborations and business opportunities within the community and access to valuable resources for a turned up career and entrepreneurial journey.
Connect with her on LinkedIn to discuss entrepreneurial, fashion or youth involvement ideas, ask for advice, talk business strategies or just say hi.
Courtesy of YBCM
---

   Taïna Chalifoux
Co-founder & President, Di Napoli Caffe (Trilingual BAA from HEC)
Taïna Chalifoux is a young woman who is not afraid of boundaries. This quality allowed her learn Spanish and Italian leading her to speak 5 languages. Her unique perspective allowed her to walk out of HEC with a with confidence. She uses the knowledge she acquired to go head first and dive into the business world. She founded Di Napoli Cafe 4 years ago with the help of the tools HEC gave her. With all that in hand, Taïna and her company have accumulated over 400 clients, made an appearance on "Dans l'oeuil du Dragon" the Quebec version of the "Dragon's Den" from which she left with a very enviable deal!
Courtesy of Futurpreneur
---
  Nick Curtis
Founder & Startup Ninja, Lootopia
Nick Curtis is a Startup Ninja with experience in Health Food Manufacturing and eCommerce.
He has help develop new strategies for successful companies (David's Tea, Harmonic Arts to name a few) during various stages of growth.
Most recently Nick has taken the leap himself and become an entrepreneur with the founding of his company Lootopia Subcom Inc.
Courtesy of CEDEC
---
   Brittany Dalfen
Creator of Sayfespace, Co-founder of Psych Central
Founder of Sayfespace, a social network in development for CEGEP and University students to talk about mental health issues they are dealing with in a one-on-one, real-time and anonymous chat.
Co-founder of Psych Central, an after-school high school program that teaches students about
mental health in an interactive and discussion based setting as well as promotes mental wellness throughout the school.
Youth representative for ACCESS Open Minds, a 5 year national project to improve and innovate
youth mental health care.
 Courtesy of JCCM
---

   Erica Diamond
Founder of Women On The Fence® and HADRY™
Erica Diamond is a leading Women's Expert in Lifestyle, Entrepreneurship and Balance. A Certified Life Coach, Erica is the Founder and Editor-In-Chief of the Award-Winning Women's Lifestyle Brand Women On The Fence®, Weekly Lifestyle and Parenting Correspondent on Global TV, Award-Winning Entrepreneur, Speaker, Spokesperson, and Author of the women's entrepreneurial book, 99 Things Women Wish They Knew Before Starting Their Own Business. Erica founded the Global Get Off The Fence Movement inspiring people worldwide to get off the fence, get unstuck and thrive. In November 2015, Erica founded her fourth venture, HADRY, a patent-pending fashion invention for women.
Erica Diamond was named to the coveted list of The Top 20 Women in Canada as well as FORBES Magazine's Top 100 Sites for Women and FORBES 25 Most Influential Women in Entrepreneurship on Twitter. Erica Diamond was the Spokesperson for National Entrepreneurship Day and is a Huffington Post contributor.
An advanced yoga student for over 18 years, Erica recently completed her Yoga Teacher Training to bring a physical component to her work with women.
---
Vincent Gagnon
Co-founder / CEO, m2go.ca
Vincent Gagnon, co-founder of M2GO, an online furniture store based in Montreal, QC, has a long family history with entrepreneurship. Although he didn't expect to fall into the family business, this young entrepreneur found a way to take a traditional market and give it an innovative twist. After graduating with a B.B.A in entrepreneurship from Bishop's University, Vincent launched his first business, M2GO. The company is now one of the largest affordable online furniture retailer in Quebec.
 Courtesy of Futurpreneur
---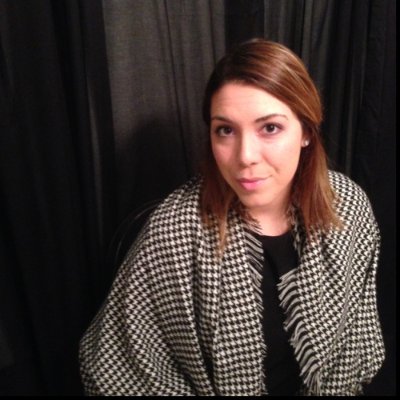 Paige Gold
Graphic Designer, Micanan Systems Inc., ICMTL
Responsible for all in house creative and marketing work
Coordinating and overseeing all outsourced creative work and production
---
George Grant

Co-Founder of Brossard Bagel and Anancy

George Grant moved from Jamaica to Montreal in 1980, He attended Dawson College's Pure and Applied Science Program and was VP of Dawson's Student Association. He went on to University of West Indies (Natural Sciences) and Concordia University (Management and Accounting). George was a Chartered Real Estate Broker by 2000. Since then he has also co-founded Brossard Bagel and Anancy (authentic Jamaican food) Restaurant – both with two locations. George Grant has the distinct honour of having been appointed as Honorary Consul for Jamaica in Quebec by the Jamaican Minister of Foreign Affairs and Trade.
Courtesy of CEDEC
---

Abraham Gusman
Vice President, Wise Men's Care

A trailblazer and beat maker with financial and operational skills to boot, Abraham has been determined to only get involved with projects that do good and produce exceptional quality. From a thriving Montreal based organic beverage company to international music projects, Abe's focus and determination are an inspiration to all and a guarantee that no stone is left unturned.
Courtesy of Futurpreneur
---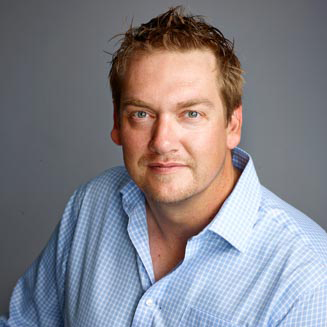 Bob Hendriks
Founder, Branding & Visual Communications Consultant, Bob Hendriks Concepts Inc.
Bob is an entrepreneurial octopus, with knowledge and experience in almost all aspects of entrepreneurship, business and creativity. The former IBM consultant transformed Bob Hendriks Concepts into a full-service branding consultancy firm, consulting corporate and startup clients on their branding and visual communication needs, strategies, production and integration. In addition, Hendriks founded several other companies. Bob Hendriks still functions as an advisor and speaker to several media companies and events in North America and Europe.
---

Kurt Houghton
Management Consultant, Coop Interface / Yes
Kurt Houghton holds a Bachelor of Arts with distinction in environmental studies from McGill University and an executive MBA from Université du Québec à Montréal with a specialisation in collectively operated enterprises. He has over ten years of cooperative management and non-profit administration experience in the Montreal area. These experiences allow him to appreciate the complimentary roles of good governance and efficient management in a context of limited resources. With a passion for social justice and local economic development, Kurt Houghton puts people first because no organisation can develop without a satisfied clientèle and well supported staff.
As an entrepreneur, a board member of multiple organizations, a freelance consultant and a business coach, Kurt has developed a strong professional network in Montreal, giving him a detailed understanding of the challenges of operating a small business.
---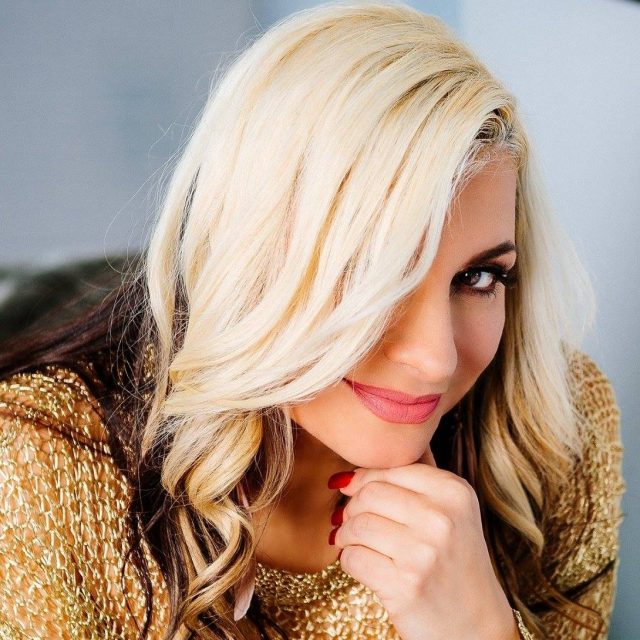 Sonia Kyriacou
Artistic Director, & founder, San Tropez Dance Center Artistic
Director & organizer of the Montreal Salsa Convention

With 25+ years of experience, Sonia Kyriacou is renowned dancer, who has graced stages all across Europe and North America. Coaching from basics to big productions, she trained Penelope Cruz and Paul Walker in the movie Noel. She directs the San Tropez Dance Center, one of the largest Latin dance schools in Canada. She also hosts thousands of dancers every year at the prestigious Montreal Salsa Convention. Sonia has nurtured her businesses into successful ventures by taking risks and overcoming challenges. At the speed dating, you will have the chance to discover her secrets to success!
---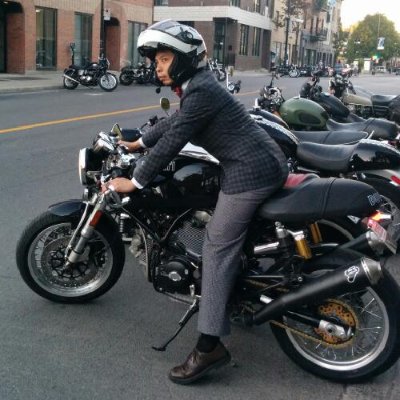 Alex Leung
Creative Entrepreneur at IC MTL
---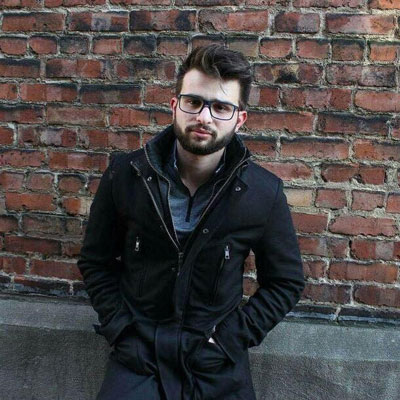 Nick MacIssac
Director of Sales, BizBiz Share
Nick is a 23-year-old serial entrepreneur. After Dawson College and while a student at Concordia University, Nick launched his first business: AllFit Fitness, a personal training company which rapidly evolved into an eCommerce consulting company (now known as AllFit Holdings) for businesses in the fitness niche. In that same year, Nick played a pivotal role in the founding of a multi-million dollar Montreal Tech Startup called BizBiz Share, where he's currently acting as Director of Sales. Nick is also a Dawson alumni, and coaches young creatives on how to monetize their talents.
---
Amélie Morency
Entrepreneur, Speaker, Hustler, Food Lover, Founder of The Food Room
À la tête d'une entreprise de traiteur dès l'âge de 20 ans, Amélie Morency fait face à des problèmes pour sécuriser un espace de production pour ses opérations et se voit dans l'obligation de fermer boutique. Graduée du chapitre Montréalais du célèbre incubateur d'entreprises technologiques du Founder Institute, elle lance The FoodRoom, le premier centre de coworking culinaire en Amérique du Nord et la plus grande cuisine du secteur privé du grand Montréal (à l'exception de quelques hôtels et CHSLD) en août 2016 et ce, après près de 2 ans de préparation.
Parmi les seuls entrepreneurs à avoir reçu une offre et un investissement des 5 dragons à la populaire émission «  Dans l'oeil du dragon », l'entreprise est la solution qu'elle aurait aimé avoir à sa disposition quelques années plus tôt. Une cuisine entièrement équipée, un véritable guichet unique pour les entrepreneurs du secteur alimentaire. Avec près d'un million de $ de financement levé pour mener à bien le projet, son impatience a été son plus grand atout, la forçant à user de créativité pour faire bouger les choses dans des circonstances où le passé d'une industrie entière jouait en sa défaveur.
---
   Rhonda Morisson
Director & Project Lead, Youth Entrepreneurship, CEDEC
She has 17 years' experience in economic development and entrepreneurship. Ms. Morrison has supported over 400 youth in their pre start-up phase of business development. Our CEDEC Youth Start-Up team which offers advisory services and workshops for young entrepreneurs aged 18 to 39 operates province-wide.
 Courtesy of CEDEC
---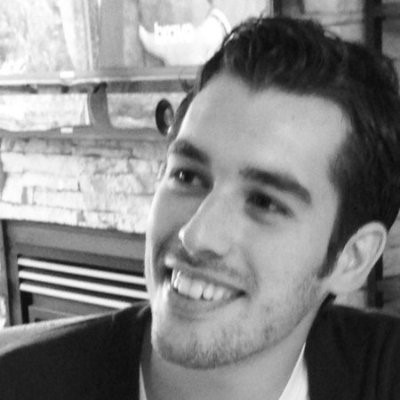 Christopher Olimpo
Creative Director at 5th Wall Agency
Chris Olimpo is a graduate of the Illustration and Design program. His stint as an Eweek volunteer three years ago changed the course of his career. Eweek brought Chris and Armando Gomez, the VP of advertising at Askmen.com together. Armando's mentorship led Chris into the world of startups that landed him many opportunities to grow his career. His first immersion in the world of startups was as Art Director with Flatbook where he was part of a team of four. The company grew to 102 employees in just 6 months and reached 35 cities worldwide. Moving on to a career in advertising, he's pitched and closed contracts with Universal Studios and is currently working on three major VR projects for two huge franchise films. He works closely with the Biz Dev and Production teams to develop pitches and bring them from ideas to final products, the road of every entrepreneur.
He is currently building the creative team at the 5th Wall Agency – they produce ad campaigns in Virtual Reality (VR), 360 Video and Augmented Reality (AR)
Producing Ad Campaigns and Creative Content for VR & AR. Notably Co-VR Director of Universal Pictures Cinematic VR Experience entitled:
Fifty Shades Darker – The Masquerade Ball
The Mummy – Zero Gravity Stunt in 360
---
Valérie Pelletier (FP)
Legal Tender
Legal Tender the artist is nothing short of a human jukebox, offering a repertoire of several hundred songs across all genres in 4 languages. She is using her various artistic practices to get people interested in her end goal: Opening the Legal Tender Community Center, a non-profit self-managed center offering various affordable quality public health service and secular support groups. She is also a counselor with the homeless and helps prostitutes leave the trade.
---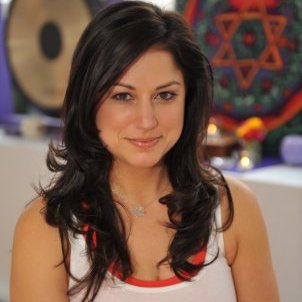 Melanie Richards
Founder & Director at Yoga HappyTree
Founder and Director of HappyTree Yoga Studio in Montreal, Melanie leads Hatha, Yin and Gentle Yoga teacher trainings. She is a passionate speaker, writer and workshop leader (TEDx Montreal Women, RVH Foundation, MUHC Conferences, Cirque du Soleil, Wanderlust Tremblant, Expo Yoga blog) on the topics of yoga, mindfulness and health. She was recognized as an outstanding citizen by CTV's The Power of One for her work in the community with cancer patients and underprivileged youth, and is the winner of a Quebec Notable Award for social entrepreneurship. You can follow Melanie's personal blog at melanierichards.yoga/
---

Monia Poncik
Brand Marketing Specialist
Speaker, facilitator, agency veteran, 1/3 of a freelance marketing team, Monia is no stranger to the start-up world. She seamlessly moves between cultural insights, business strategies and creativity and she is equally passionate about observing viral cat videos on social media as she is about inspiring innovation thinking through creativity. Monia holds a seat on the leadership team for Design Thinking MTL and her day job is to build brand marketing communication plans.
---

Paul Shenouda
Wilder Harrier, Co-founder & VP Innovation
Paul is the co-founder of Wilder Harrier, a Montreal startup that develops, manufactures and sells
eco-friendly pet food products made with innovative and radically sustainable protein sources. The company's mission is to accelerate the transition towards an abundant and sustainable food system by commercializing mass market eco-friendly pet foods through radical innovation. Wilder Harrier's dog treat line contain sustainable superfoods such as cricket powder and algae. Paul holds a Master's degree in Innovation Management and a Bachelor's degree in Mechanical Engineering from Polytechnique Montréal."
---
Devon Smiley
Negotiation Consultant
Devon Smiley is a Negotiation Consultant for ambitious entrepreneurs who are ready to stop taking what they can get, and start asking for what they deserve.
A graduate of the McGill University BCom program, Devon is an 'accidental negotiator' having discovered her love of the art (yes, it's an art…) over the course of a career in procurement. The realizations that i) Negotiation isn't just for lawyers, ii) Negotiation isn't always all about the money, and iii) You don't need to be a jerk to get great results, spurred Devon on to launch her own consultancy.
Currently, Devon works with entrepreneurs & small business owners to help them ask for what they want, need and are worth in business, and also partners with London-based firm advantageSPRING to deliver negotiation training to corporate clients in industries ranging from investment banking to chocolate manufacturing.
The work Devon is most proud of is her pro bono training and consulting with non-profit organizations including UN Women, The Clinton Foundation & God's Love We Deliver.
You can find Devon online at devonsmiley.com and on Twitter & Instagram @DevonMSmiley
---
Michel Théroux
Coordinator, CEDEC
Michel D. Théroux joined CEDEC, the Community Economic Development and Employability Corporation in 2013. Since then, he has been involved with CEDEC's Small Business Support Team helping small and medium-sized enterprises with their growing needs. More specifically, Michel has been the mentoring Program Coordinator, working closely with Réseau M, Quebec's premier mentoring network, offering mentoring services to new entrepreneurs. Over 1500 experienced business owners provide mentoring using their valuable experience to help new entrepreneurs deal with the everyday challenges they face as entrepreneurs.
Courtesy of CEDEC
---
Ariane Thibault
Partner / Digital Marketing Strategist, OVRGRND Agency
Ariane Thibault is a 27 years old Dawson Alumni, Digital Media Strategist and owner of the OVRGRND Social Media Agency and 66AGENCY influencer agency.
Her role is to help brands take control of their web presence and present themselves in a way that inspires, impresses and solidifies customer loyalty. She helps North American businesses ramp up their visibility both locally and internationally using her expertise, creativity and incredible roster of influencers.
As an influencer, Ariane works with some of the largest companies across Canada such as Jagermeister, Monster Energy, Under Armour, Ford, Air Miles, Dynamite Clothing etc.
Ariane looks forward to taking her digital marketing business to new heights and educating businesses and entrepreneurs across North America about the best social media practices.
---

Jordan Whitewick
Founder of Whitewick Group
Jordan Whitewick has more than 5 years of experience in the IT industry and has worked on many projects and deployments for various companies including CIBC and Labatt Breweries.
In 2010, a newcomer with the least amount of seniority, Jordan was laid off during a company downsizing. Being very passionate about what he does, Jordan wanted to continue in the IT industry and was determined to find an opportunity in his field. When he did, Jordan was asked to open an incorporation in order to take on contractual jobs and this gave him the idea to start his own IT Consulting Firm, Whitewick Group.
Whitewick Group helps small to medium sized businesses keep up to date with the latest in technology and to use it to its full potential helping to cut costs in the long run.
Courtesy of JCCM
---
MORE MENTORS TO BE ANNOUNCED
---