Testimonials
RentProof – Matchmaking Platform for Landlords and Tenants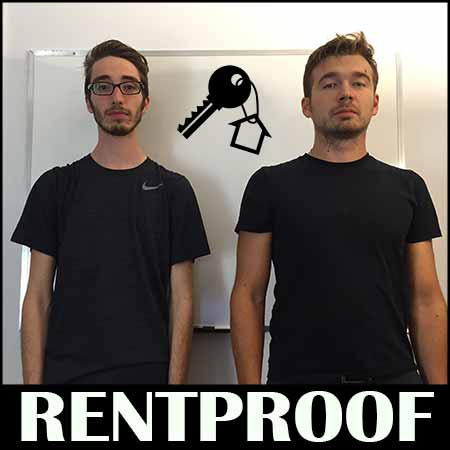 Eric Hughes & Denis Ouspenski
http://notable.ca/fusionstartuplab/en/montreal/
I moved to Montreal from Ontario to study Computer Science.  I signed up as a volunteer for Dawson Entrepreneurship Week (Eweek) in 2014 in order to do the social media campaign for the event. I attended quite a few presentations and learned a great deal. At the time I had an idea but was reluctant present it at the pitch competition because I was afraid to have my idea stolen. Madeleine from the Entrepreneurship Centre tried to convince me that people will not steal an idea but I didn't believe her. After doing more research,  I eventually discovered that my idea already existed and is called mojio.  An OBD sensor for vehicles and analyzes the car's computer data.  During the pitch competition I met Denis Ouspenski, we exchanged contact information.  We met up a couple of times and realized that we shared the same dream to start a company and we were both in the field of computer science. We instantly became friends and began brainstorming ideas that shaped into the idea of RentProof.
To read the full testimonial click here.
We owe a lot to Madeleine Bazerghi and the Dawson Eweek team.  Eweek was an amazing experience that allowed us to
really collect our thoughts and focus the message of our game.  Writing our presentation forced us to distill the content of our game into a short punchy presentation and ultimately make decisions about what the ultimate purpose of the game was.
Applying to the Quebec Entrepreneurship contest had a similar but more detailed effect.  We were able to reflect on our game, how far we've come as individuals and as a team, and appreciate how much we've grown and how much further we have to go on our journey to mastery.
Perhaps the most pivotal moment in our development throughout Eweek was during our presentation at the finals for Dawson's Den.  Half way though, we had a malfunction in our PowerPoint that completely threw off our flow.  Interestingly enough though, Andy Nulman, the VP of Just for Laughs had given a presentation just before the competition about how it really didn't matter what you did on stage and demonstrated his adaptability by doing a completely improvised presentation.  In the moment when our flow was broken, Chris took this lesson and instantly applied it, leading us to complete the second half of our presentation ad Lib.
We are very grateful to have been a part of this.
Sock Jones and Chris Day
"It was not long after Dawson's Den that I began work on an engineering project to design a self-sorting dishwasher that would take less space, use less energy and clean dishes faster with less effort than the standard dishwasher. It is with this self-sorting dishwasher design that I won second place at the 2013 Dawson Case competition against other students across the province. The problem was that without a working model and without the massive amount of testing required to prove my assertions the idea would remain an idea. What I needed was something that I could not only design but something that I could execute as well. "
Read the rest of Alex's story.
During Eweek 2013, it was hard not to notice all the energy coming from the events happening. I didn't know anything about it and had barely thought about what entrepreneurship is. The day of the first round of Dawson's Den, I finally decided to present a project I was working on: the Leucan Thrift Shop. I ended up winning the third place, but that is not the only thing that had an impact on me. The day I decided to go to Dawson's Den, I learned what entrepreneurship is by listening to the tips and experiences of the speakers. I met Madeleine Bazerghi from the Centre for Innovation and Entrepreneurship Education a couple of weeks later because I wanted the pictures of the event and a letter confirming my third place win. Again, I did not imagine where this would lead me. At that point, I was really interested in entrepreneurship and started to participate in entrepreneurship contests and events. Madeleine helped me with every one of them. Actually, most of them would simply not have happened without her helpI participated in the Social Venture Challenge in Brussels in March 2014 and I literally could not have been properly prepared without Maddy's help. Later, she proposed to me to participate in the Quebec Entrepreneurship Contest and prepared all the paperwork submission with me. I am really proud to have won the regional contest and it would not have been possible had I not received the help I did. She also introduced me to the International Startup Festival to which she gave me the chance to volunteer in. Finally, thank you Madeleine Bazerghi, my "entrepreneurship mentor", for having brought all of those experiences and events to my life.Anne Tchniniaev
I went to Entrepreneurship Week 2012, when Beyond the Rack CEO Yona Shtern spoke about his entrepreneurship journey: raising his financing rounds; missing car payments because the company was on its last dollars; using the company's last $4k to catch the last plane to Geneva to meet a super-angel. This Angel invested $500k in his company, and that's how Beyond the Rack took off. They are now worth over $100M. A few of the great lessons Shtern passed on are raising more money than you think, and that things take more time and more money than you expect. What an inspiring guy!As I was picking up my diploma this fall, I happened to catch an Eweek panel presentation and met with Madeleine, one of the organizers of Eweek. I told Madeleine that last year, I had the chance to meet the same investor who invested in Beyond the Rack from Montreal, and he has become a mentor to me and my company, TuneStars. As soon as I finished Dawson I was able to work on TS full time, and I raised my first investment round. Today, nine months later, we have solid partnerships across Canada and the US with major artists and executives, and an award-winning technical team. We are now seeking an additional $300k in funding to further our initiative of becoming the ultimate social network for music. TuneStars is a free app that connects with all your friends and allows you to discover the best of music online.Anthony W. Shannon (Dawson Graduate – Social Science)
Founder & CEO, TuneStars
About TuneStars
The one & only place where fans, artists, and executives meet, discover and create the world's best music. 

Fans access the best music and shows from their favorite artists. 
Artists access an unmatched viral promotional tool. 
Execs access awesome artist stats and campaign management tools.
I'm still reaping the rewards of attending Eweek 2013


Since last November, the value I got out of EWeek at Dawson is immeasurable. As a volunteer I was offered coaching on professional Social Media practices, by Natalie Riviere, founder of Virtual Resources, that I currently use for my own business and offer to clients. As a guest I had the chance to meet a great wealth of entrepreneurs in the Montreal startup scene!Being a creative entrepreneur myself, this petri dish of awesome speakers allowed me to naturally create fruitful connections. I acquired two quality freelance clients who still call me for my creative services, Louis-Martin LeBlanc,founder of Glossbar and Roger Huang, founder of Thought Basin. I also had lunch with one of the speakers that I personally admired before the event, Jason Della Rocca, indie game evangelist, whose acquaintanceship, made possible at Eweek, was of great value to me as he introduced me to some key players at other video game events. I also had the chance to be introduced to another speaker, Armando Gomez, Senior Director of Advertising at AskMen.com. What started out as a simple coffee with Armando after the event, has grown into a great mentorship and friendship. Armando lets me in on some industry leading marketing advice and shows great interest in my passions. We grab lunch, attend conferences and he has even gone as far as to pitch me as an editorial illustrator for AskMen.com – the first time the online publication would use any artwork since its founding 15 years ago!In all honesty there's even more juice I managed to squeeze out of Eweeks fruit, but it's too long to write it all here. Go and find out for yourself. If the unbeaten path is a necessary adventure for all independent professionals hungry for a successful career, one of the stops you're going to have to make is Dawson's next Eweek!!Christopher Olimpo, Dawson Graduate (Illustration and Design)
Ms. Bazerghi,
Congratulations on an excellent Entrepreneurship Week program. I particularly enjoyed participating in the Meet-up of all Meet-ups, speaking with students and entrepreneurs, and listening to Ms. Nowak.
The U.S. Consulate General in Montreal would like to help support Global Entrepreneurship Week more next year and would love to partner with your excellent program. For example, we may be able to facilitate U.S. speakers, provide an informational seminar on exporting goods to the United States or help answer questions about doing business across the U.S.-Canada border. These are just some ideas, and we look forward to discussing next year's event more with you. Congratulations again on this year's successful program.
Sincerely,
Andrew J. Zvirzdin
Political/Economic Officer | Consul politique et économique
U.S. Consulate General Montreal | Consulat général des États-Unis à Montréal