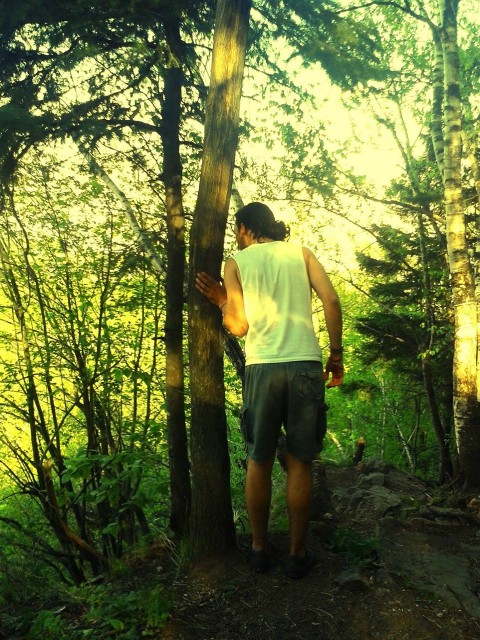 Meet Vince Giampalma, A 2014 Senior Intern
We would like you to meet Vincent Giampalma, a Dawson College graduate and former Environmental Studies profile student, as a 2014 Senior Intern. Welcome, Vince!
From his bio:
Living, thinking and creating; I perceive as a method of building on the greater practices and wisdoms conceptualized by the some of the great minds that came before. I experience and live by a wealth of lessons in what I understand as a symphony of symbols amongst a complex matrix of an infinite collection of consciousness and awareness that resonates fiercely throughout the elements that become known to us as spoken word, writing, art, knowledge, culture, nature, beliefs, values and lifestyle choices. The self, the artist; paints a picture and practices the art of life by his or her own values and beliefs and in turn is a product of how well they can observe, learn and make lifestyle choices based on some of the great feats and mistakes that preceded them personally and as a species.
At this point of awareness I think there isn't a better time to shed some skin and dig deep within, listen to the lines that came before,  learn as if there is always more, dance like there's nobody there to watch, sing like there's nobody there to listen, love like it doesn't hurt, and live like it's heaven on earth. I also like to think that if you're not a part of the solution you're a part of the problem.
I'm a Human Environment Major at Concordia University making a transition to Agricultural & Environmental Sciences at Mgill Unversity. I was born and raised In Montreal, and have been passionate and curious about a variety of environmental issues since they first came to my attention in 2007. I love the complexity and richness of life in the universe and I like a challenge, and like Paul Staments said; saving the planet is a good one.
One of my professional goals is to create strongly interconnected education based cooperative agriculture models that cultivate community networks in schools and in neighbourhoods across the developed and developing world that would work to diversify, decentralize and democratize food systems, and also secure agricultural resources around the world. This is essential so that producers can offer fresh, local, healthy, organic and affordable food; that introduce new socially and environmentally conscious business models that promote small scale organic farming, fair trade, environmental sustainability principles and community outreach strategies that empower the people. Ultimately, these projects would serve to cultivate the socio-economic wealth and physical health of the consumers, individual suppliers and help invigorate the overall civic life quality.
For that reason, I've been involved in urban agriculture initiatives with the City Farm School and student food sovereignty initiatives like the Concordia Food Coalition. And of course, this is what brings me to the Dawson rooftop garden project and I'm glad to be a part of it.
Lively up yourself,
Vincent Giampalma