Silver Maple
Acer Saccharinum L.
The Silver Maple is a rustic an indigenous tree of Quebec1 commonly found in marshy forests in southern Quebec2. It is intolerant to shade and is sensitive to harsh wind and ice storms1. It is a fast growing tree with a magnificent foliage; it is therefore quite popular in cities for aesthetic purposes1. In spring, it is the earliest of all the maple trees to flower3.
Habitat and Distribution 
The Silver Maple thrives in rich and moist soil; it is often found bordering streams, swamps and lakeshore. It is intolerant to shade3, 4.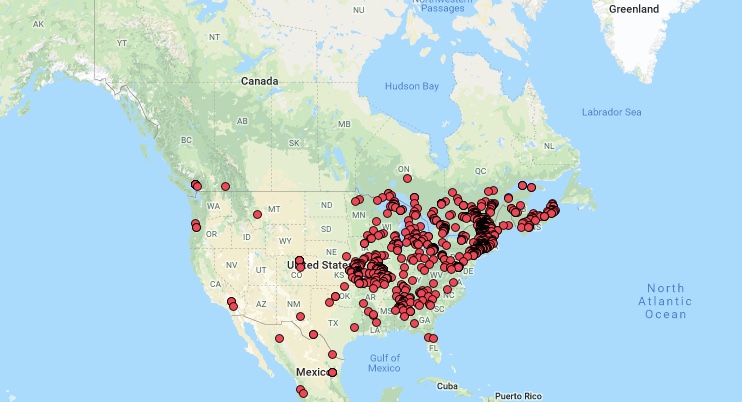 Physical Characteristics
Size and Form: It is a fast growing tree; it can reach up to 35m in height with ascending branches and crown is high and open. Larger branches from an "S" shape going downward at first and then curling upward. An adult tree can have a trunk of 50-100 cm in diameter. It can live up to 130 years 3.
Leaf: The leaves are about 15-20 cm long and widest above the base. It normally has 5 lobes3 with 3-5 deep sinuses2. It is simple and opposite. The leaf shape is palmate with  a sharp coarsely toothed margin. The venation is palmate as well. It has a light green upper surface and a silvery-white underneath3.
Trunk and Bark: Stems release an unpleasant odour when bruised3. Young bark is smooth and grey. Adult bark is dark-reddish brown  and is composed of long, thin and narrow flakes curling upwards on both ends thus giving the trunk a shaggy appearance3.
Flowers and Fruits: The flowers are found on short stalks; they are small and greenish-yellow. The flowers blooms in late winter3 and the fruit matures early in the summer2. The fruit uses wind dispersal to spread its seeds. The wings are about 5 cm long and from a 90° angle between them. The seedcase is ribbed. Oftentimes, seeds develop in just one of the paired keys3.
Ecology
Its wood is used for cabinetry, floors, veneer, plywood, pulpwood and even railways5.
The trunks of Silver Maple are often hollow. These cavities provide shelter for generalist species such as squirrels and raccoons as well as nesting spaces for wood ducks and other birds3.
References
1- Sokolyk, Michel. Decouvrir La Flore Forestiere. Les Éditions De L'Homme, 2001.
2- Leboeuf, Michel. Arbres Et Plantes Forestières Du Québec Et Des Maritimes. Éditions Michel Quintin, 2006.
3- Farrar, John Laird. Trees in Canada. Fitzhenry & Whiteside, 1995.
4- Silver Maple map: "Silver Maple." Encyclopedia of Life, eol.org/pages/583072/maps.
5- Rouleau, Raymond. Petite Flore Forestière Du Québec. 2nd ed., Les Publications Du Québec, 1990.
Contributors
Environmental Science Students: Stéphanie Gangnon