Sandbox
The icon below on your desktop points to a network folder (/software/sandbox) which contains various applications that you can run without needing to install on your computer:

These applications may be copied to your local drive, or USB key for offline use.
Launch menu
Because some packages may include more than one application, a menu such as below may appear. Just choose the application to proceed.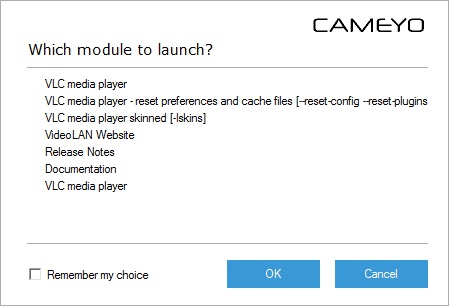 Settings
Although never installed on your computer, these applications settings are saved to your profile (AppData) so your preferences should be kept.
List of applications
| | |
| --- | --- |
| Algodoo | |
| Audacity | |
| Cameyo | Use this to find more open source applications online. You will be prompted to create an account with Cameyo the first time. |
| CCleaner | |
| CDBurnerXP | |
| CDF Player | |
| ChemSketch | |
| DisableScreenSaver-30mins | Launch this in the classroom to prevent the screen lock to occur for 30 minutes. |
| Eclipse | |
| FileZilla | |
| FirstClass | |
| Foxit Reader | |
| GeoGebra | |
| GIMP | |
| GOM Player | |
| Google Chrome | |
| Google Earth | |
| ImgBurn | |
| Inspiration | |
| IrfanView | |
| LibreOFfice | |
| MovieMaker | |
| Notepad++ | |
| OpenOffice | |
| Picasa | |
| ProjectL | |
| R for WIndows | |
| Recuva | |
| RStudio | |
| Safari | |
| Scribus | |
| Sketchup | |
| Skype | |
| Stories Matter | |
| TeXnic | |
| TurningPoint | |
| VLC | The popular media player |
| VMWare Horizon | To open a remote session |