Moodle Day 2018
Important
In order to participate, please register using the following link: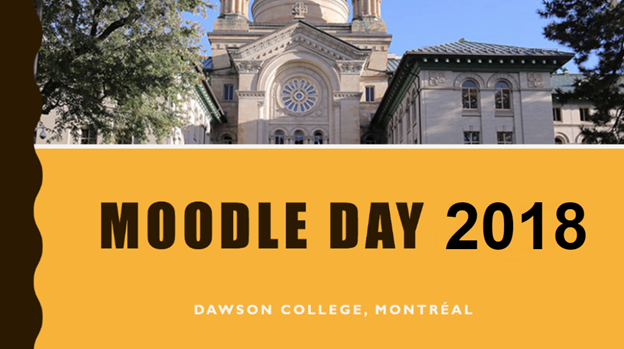 May 25th, 2018 in Room 5B.13 (Boardroom)
Agenda
Breakfast: 8:30 – 9:00
Welcome speech: 9:00 – 9:10
Presentations: 9:10 – 12:30
Wine & cheese: 12:30 – 13:30
Presentations Schedule
How a redesigned Workshop activity spiced up my course and made my life easier.
By Orzu Kamolova (University of Montreal)
9:10 – 9:55
9:55 – 10:10: The question-answer period.
Moodle Workshop activity is the best powerful peer assessment activity. The students participating in the workshop activity submit their own assigned work and then given the task to assess the other students work based on the teacher's specifications. It is primarily a student focused activity. But the workshop activity has its own big learning curve and it may be pretty difficult to use the workshop activity first time. Development team of Université de Montréal, in Québec, figured out the steep learning curve for the workshop activity in Moodle and came up with a new Assessment Workshop activity. Similar to the Moodle core workshop activity, the new Assessment Workshop activity is for both self-assessment and peer-assessment pedagogical approaches made easy for the teacher to configure and make it available to students.
---
From Moodle 3.2 to Moodle 3.4 – What's new?
By François Lizotte (DECclic-Moodle)
10:10 – 10:30
10:30 – 10:45: The question-answer period.
With every release of Moodle come some new features improving user experience. We'll go through the main changes that will occur from upgrading from version 3.2 to version 3.4.
---
Moodle's Question Bank: The Heart of the Matter
By James Roberts & Carlos Catino (Dawson College)
10:45 – 11:05
11:05 – 11:20: The question-answer period.
Moodle is often confusing. For new users (whether a teacher or a student), it has many features/options – "activities", in Moodlespeak. Moodle's most important feature is arguably its "Quiz Activity" and this activity involves something called the Question Bank. Note to Advanced Moodle users: This presentation will also show you how to use the Question Bank better.
---
H5P: Using an Interactive Assessment Tool in Moodle
By Rafael Scapin (Dawson College)
11:20 – 11:40
11:40 – 11:55: The question-answer period.
H5P makes it easy to create, share and reuse HTML5 content and applications. H5P empowers everyone to create rich and interactive web experiences more efficiently – all you need is a web browser and a web site with an H5P plugin. The content created can be easily embedded into Moodle.
---
Moodle and Experiential Learning in a Hybrid Format at École nationale de police du Québec (ENPQ)
By Roman Barba (École nationale de police du Québec)
11:55 – 12:15
12:15 – 12:30: The question-answer period and the closing speech.
Moodle is a personalized learning environment that plays a crucial role in formal and informal learning process of ENPQ's clientele. ENPQ's training programs are based on the competency-based approach. We develop the "know-how" for a future work environment by offering practical activities in various simulated contexts.
---
Wine & Cheese