Moodle Day 2019
Important
In order to participate, please register using the following link: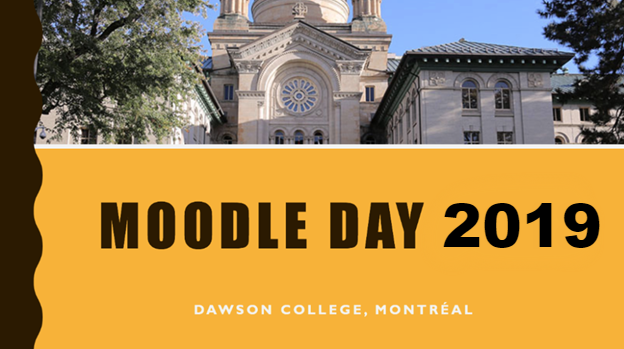 May 24th, 2019 in Room 5B.13 (Boardroom)
Agenda
Breakfast: 8:30 – 9:00
Welcome speech: 9:00 – 9:05
Presentations: 9:05 – 12:25
Closing Speech: 12:25 – 12:30
Presentations Schedule
Using Moodle to Support Blended Learning (when the instructor is also the entire production team)
By Dr. Saul Carliner (Concordia University)
9:05 – 9:45
9:45 – 9:55: The question-answer period.
Thinking of flipping your class—that is, adopting a particular pedagogy that applies the concept of the blended classroom? This session presents one instructor's experience. It identifies what was flipped, explains why flipping was expected to benefit learning, describes how the course was flipped with labor solely provided by the instructor—including the general features of Moodle used as well as tools in and out of Moodle—and closes with practical lessons learned from the experience.
---
New Features Coming Soon in your Moodle
By François Lizotte (DECclic-Moodle)
10:00 – 10:25
10:25 – 10:35: The question-answer period.
Next Moodle upgrade will bring new features, such as an improved dashboard, a new messaging interface, audio and video recorder in Atto, question tags, better quiz statistics, and more. We'll have an overview of the main changes coming up for next year.
---
Creation of UdeM Moodle Courses in Agile World
By Orzu Kamolova (University of Montreal)
10:40 – 11:05
11:05 – 11:15: The question-answer period.
I will be talking about a new way to develop online courses by using Agile methodology and how it facilitates the project management cycle. The examples of the practice will be introduced which helps with team and project evolution in a public sector.
---
E-Learning Courses in the Healthcare Sector
By Jason Maur (McGill University Health Centre)
11:20 – 11:45
11:45 – 11:55: The question-answer period.
We'll give a high-level overview of what a SCORM module is and how it is created. Then we'll give a demonstration of some real-world examples of online courses available to McGill University Health Centre employees, as well as some complimentary learning tools and job aids we provide. Finally, we'll take a glance at H5P and some of our plans for the future.
---
How to Use Learning Analytics in Moodle
By Rafael Scapin (Dawson College)
11:55 – 12:15
12:15 – 12:30: The question-answer period and the closing speech.
Learner interaction in Moodle leaves a lot of digital traces behind. The measurement, collection, analysis, and reporting of data about learners and their contexts, for purposes of discovering patterns, understanding and optimizing learning and the environments in which it occurs is known as Learning Analytics. This presentation will show you different ways to implement Learning Analytics in Moodle in order to improve teaching and learning by the description, diagnosis, prediction and prescription based on the collected student data.