Teaching Excellence Awards
Over the past 25 years, more than 75 individuals have been honoured with the Director General's Teaching Excellence Awards, established by then-Director General Patrick Woodsworth to acknowledge the outstanding work of faculty members. In 2007, the entire faculty was recognized for extraordinary compassion and commission during the academic year following the 2006 tragedy.
With a teaching staff of some 700 dedicated faculty members, it might be difficult to identify those 3, 4 or 5 faculty members who have gone above and beyond to make a difference in the lives of their students and their colleagues. So each year, students and peers are asked to nominate those faculty members who exemplify the qualities of not only teaching excellence, that is teaching excellence through outstanding teaching performance in the classroom, lab and/or field work, but also those who have engaged positively in the life of the College, of their departments and programs and with their colleagues, to lead by example and to inspire.
This year, after receiving several hundred submissions, the nominee pool was narrowed down to the following five recipients of this year's awards:
Ian Cuthbertson, Humanities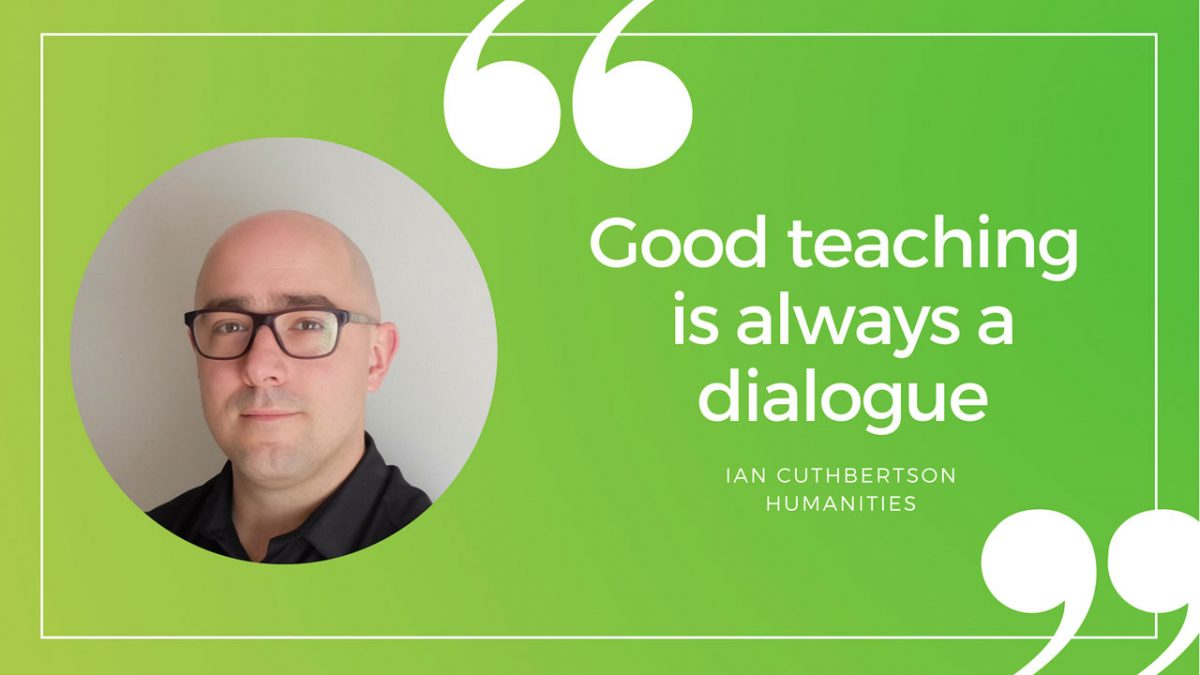 Ian grew up in Montréal where he completed a BA in Religious Studies at Concordia University before moving to Kingston, Ontario to complete an MA in Religious Studies at Queen's University. While completing his studies, Ian also worked as an instructor at the Montreal Children's Theatre, where he wrote and directed plays for children with autism spectrum disorder.
After completing his MA, Ian spent two years teaching English and History at Ratihén:te High School in Kanehsatà:ke before returning to Queen's where he completed a PhD in Cultural Studies and was later a Flora Jane Baker Postdoctoral Fellow and Adjunct Assistant Professor at the School of Religion.
Ian began teaching at Dawson in 2016 and continues to be impressed by his students' intelligence, enthusiasm, and humour.
What his students have to say about him:
He values all of our opinions and inspires us to think out of the box.
He is enthusiastic about what he is teaching and he tries his best to make the students understand the class material by doing little experiments. He also gets students involved by asking questions and answering questions throughout the lesson.
Ian is great!  He is one of the reasons why i love Dawson College!  Always a mind opening lecture on philosophy which he makes very interesting!
Since the course content involves who we are, and how we think, it is very interesting to be learning new things about our brains during every class. He also has many experiments in class, which keep things in perspective which is useful for studying and understanding content.
In this course he helps us expands our knowledge about philosophical theories, thoughtful questions are raised and helps us understand with the tools provided. I didn't like philosophy before now I do because I have better understanding of the course content and since then, I've been getting good grades.
He is funny, makes a class more interesting. He encourages students to come to school and do their best, he is the best!
Teaches us beyond the expectation, expresses himself by comparing the courses content to today's society.
He is very good at making meaningful relationships between the course content and everyday situations. He keeps the class motivated and interested during the full four hours (which is difficult to do). He is also very patient with student questions and concerns.
Mariam Sambe, Humanities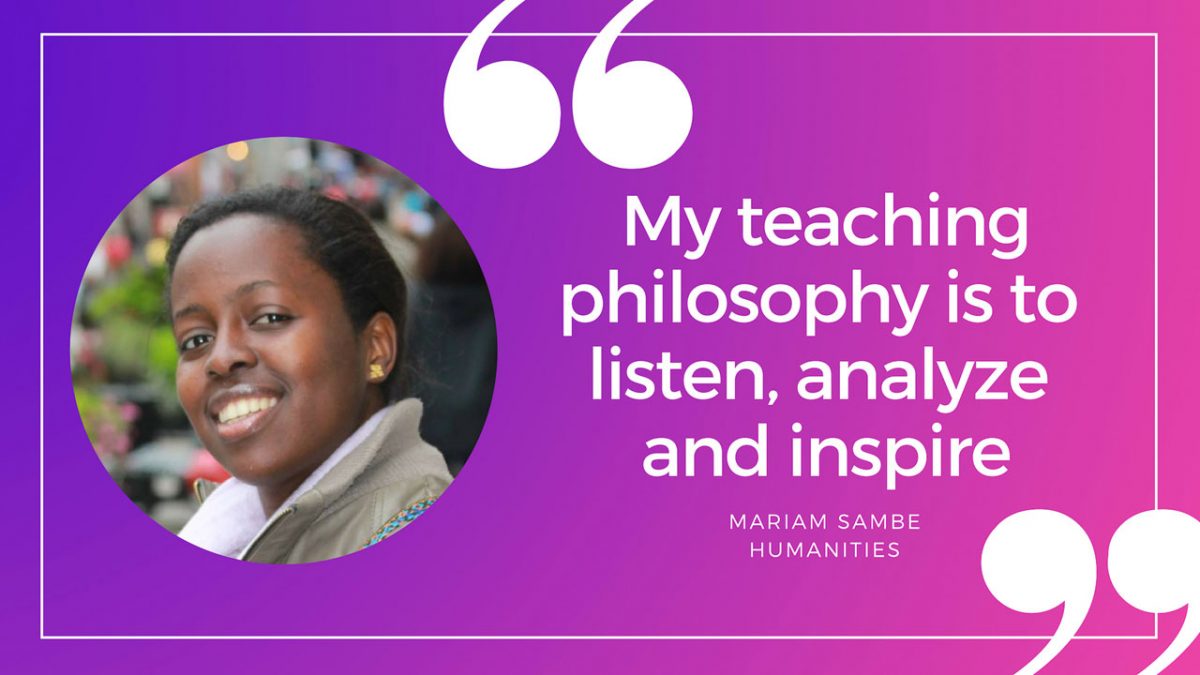 Mariam started being involved in the field of education at a very young age when she started tutoring students in grade one, while being a grade-two-student herself. Since then, she has worked in all levels from preschool to university in Canada, Ethiopia, France, and the United States. She is an experienced teacher, workshop animator, classroom facilitator, curriculum builder, and instructional designer.
She completed her Bachelor's degree in Humanities at Université Lumière in France, her Master's in Communications at Hawaii Pacific University in the United States, and her PhD in educational studies at Concordia University. Her teaching philosophy is based on the principles of critical pedagogy and alternative schooling. This is one of the reasons why she became a Humanities professor at Dawson College. Outside of academia, she loves traveling, playing music, and having delicious cups of hot coco whenever she can.
What her students have to say about her:
She always makes class enjoyable. She manages to teach us important topics in a fun way.
She makes learning captivating and she is very good at explaining the bigger picture in life and how everyone matters
She has a lot of strengths including her ability to light up the room when she walks in, her ability to make everyone feel comfortable around her, her ability to have fun but also control the class really well.
I can tell that she loves what she does and it really makes the class a lot more enjoyable. She makes sure that we are never stressed and are always ready for our tests.
She is very enthusiastic. She really makes the entire class participate and we are all, in my opinion, very willing to learn with her by the way she teaches.
She allows for independent learning all the while guiding the students to specific goals and appreciations for academia as a whole.
Mariam is very enthusiastic and her passion for teaching and the topic shines through. She knows how to get the class participating and she always creates a positive learning environment.
She is very friendly and creates fun activities to help us learn better and to participate. She creates a sense of family in her class.
She is passionate and funny. She really cares about her students. She makes her class very interesting
Mariam is amazing in every aspect. She makes me look forward to every class. She is easily the best teacher I have ever had. I have literally, with no exaggeration, never felt more comfortable in a classroom than with her. She is the best person at her job I've ever encountered.
Varuzhan Ohanyan, Mathematics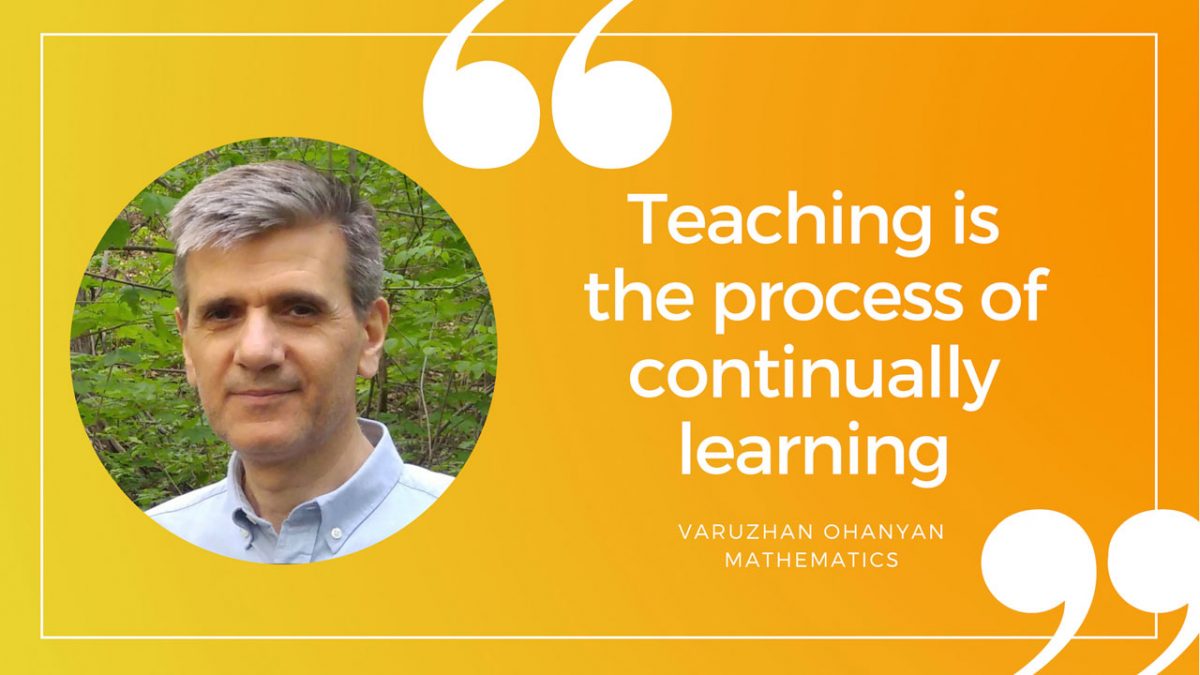 Varuzhan Ohanyan completed his graduate and PhD degrees at Yerevan State University in Armenia and joined Dawson's Mathematics Department in 2002. He is an avid contributor to the mathematics community at Dawson, going beyond classroom teaching to involve students in broader mathematics projects. In 2009, Varuzhan initiated the Dawson weekly math challenge, allowing countless students to complete research projects and attend the Canadian Undergraduate Mathematics Conference.
He also started the students-helping-students free tutorial sessions, which are open to both current students and Dawson graduates. In May of each year, Varuzhan organizes the annual ceremony of awards and presentations, where students present their achievements in math activities.
What his students have to say about him:
He's great at taking step by step approaches to questions to allow every student to follow along clearly. Is very open to helping others and will not give up helping until the student finally understands.
He is SOOOOO nice!!! I was having a lot of trouble with Calculus in the beginning of the term, and he helped me out a lot as to how to figure how I could still manage to get a good grade and how I should not lose hope! Great teacher!!!
He is great at encouraging his students, he is very patient. He makes an effort to answer all his students' questions.
This teacher encouraged learning extra material even outside of the class through his weekly math challenges. Also, he encouraged me to do research into topics outside of class that could then be published. He has done this with many other students whom certainly would not have been able to have conducted pre-university research without his guidance and encouragement.
He cares a lot about his students and he wants them to succeed. He is very helpful.
His teaching is unique and he makes everything seem easy. He is funny and works hard for his students.
Yann Brouillette, Chemistry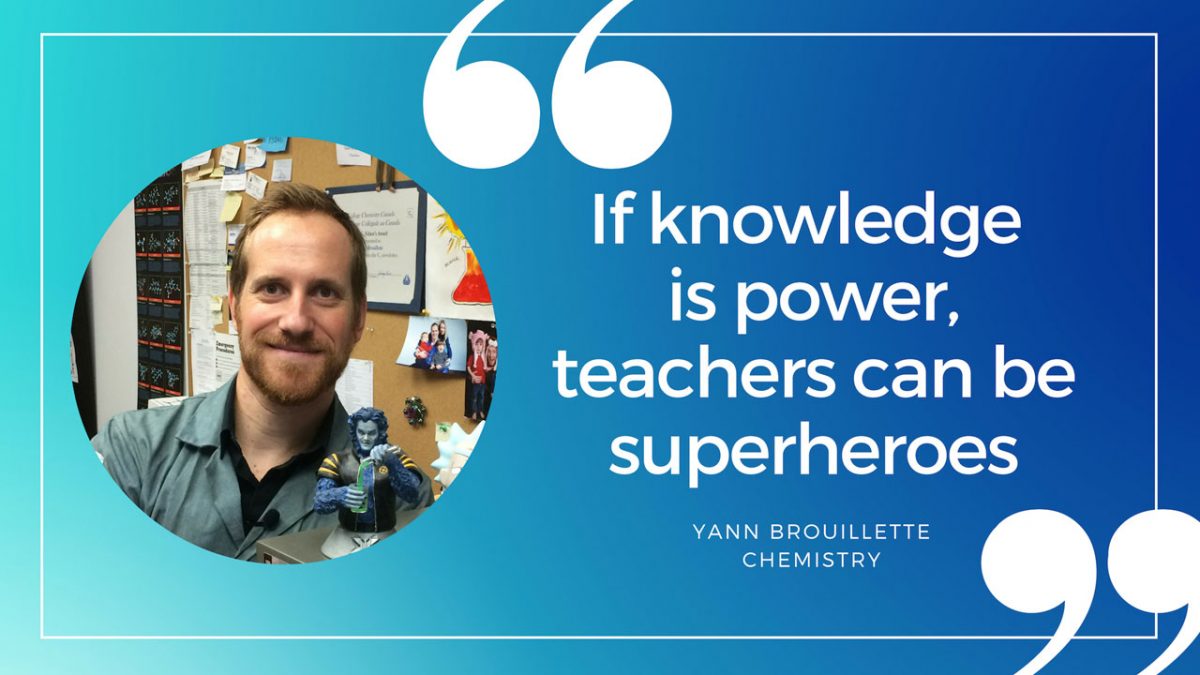 Yann Brouillette obtained his Master's in organic chemistry from Université de Montréal in 2005 and his PhD in organic chemistry from Université de Montpellier in 2008. A Chemistry professor at Dawson College since 2009, Yann has been a devoted member of the Active Learning Community, an online pedagogical tool developer as well as an educational researcher.
Quebec regional director of the College Chemistry Canada Association, guest-lecturer and creator of the YouTube channel "Chem Curious", Yann is always looking for new ways to engage students in the learning of science. In January 2014, he created the new complementary course for non-science students entitled "Comic Book Chemistry" that uses situations depicted in graphic novels to explain basic chemistry. With the help of student illustrators, he created last year a free Periodic Table Colouring Book for all ages.
Overall, Yann Brouillette is not a mad scientist, he's always happy to do science. He loves teaching and is proud to be part of the Dawson College family.
What his students have to say about him: 
His ability to pass on knowledge and information to students is remarkable. Organic Chemistry has always been viewed as one of the most difficult courses in science. Yet, he made it so easy to understand and entertaining. It's funny to say this, but he makes me look forward to coming to class and learning something new. I wish I had him for next semester, too!
RRROLL UP THE RIM TO WIN! I made a caffeine molecule out of Tim Hortons Cups
He has taken so much time and made so many things available to us to help us learn (half the class hours dedicated to problems, class notes, long office hours).
The true definition of a teacher. He motivates, guides and gives us the tools necessary to succeed. Yann fits this definition perfectly.
He is able to share with us the love that he has for chemistry. He is really enthusiastic and he makes sure that we understand. He cares about your success and that is why I believe that he is an excellent teacher.
The best teacher in the world. His way of explaining is amazing, he explains until you understand it and it doesn't matter how many times.
Dynamic, uses tools available to optimize the teaching. Makes sure his students understand to the best of his ability. Positive attitude.
I understand much better after his simple and patient explanation. He is always so friendly to everyone in class.
He always keeps a highly positive attitude, keeping everything light and tries his best to make Organic Chemistry easy and interesting. He gives examples of real life situations where the subject is applicable. He encourages studying at home and communicating with as a class. Organic Chemistry wasn't scary anymore.
Lise Charbonneau, Graphic Design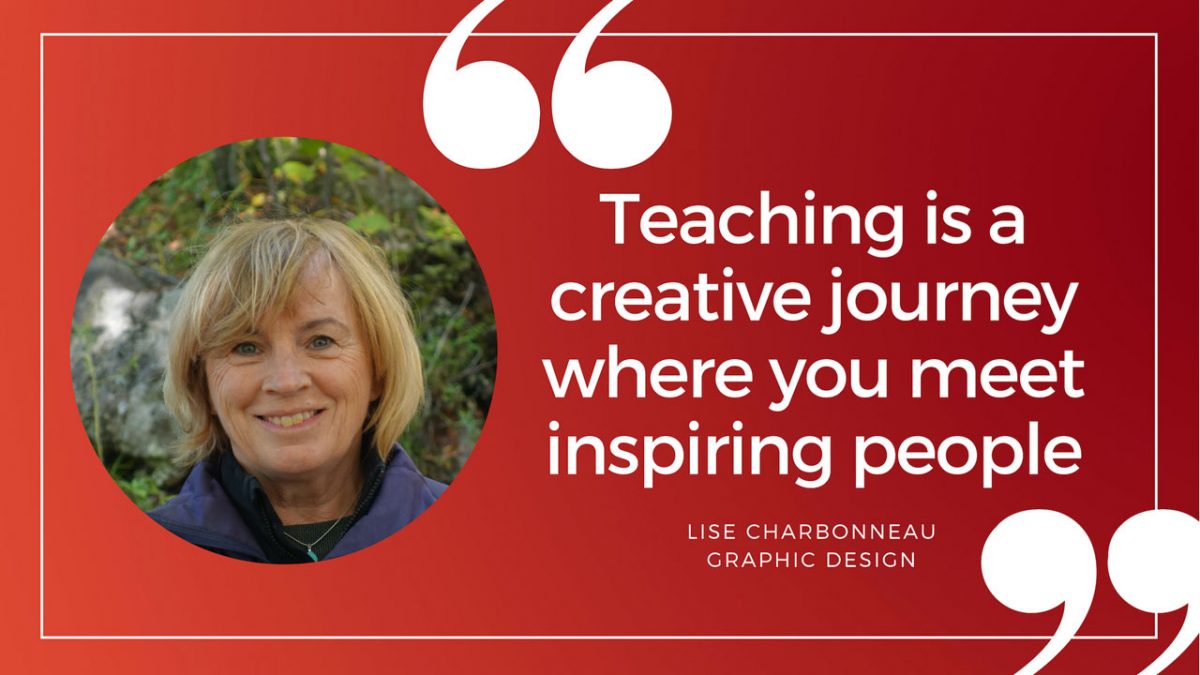 Lise joined the Graphic Design Department in 1997 as a part-time teacher for a year and resumed teaching here in 2002.
She was creative vice-president, creative director and artistic director in a well-known design agency. Working for an international company, she used her conceptual approach by working on major cultural and corporate projects. She has a diploma in graphic design, and took undergraduate classes in fine arts at the Université du Québec à Montréal.
Throughout her career, she continued to develop her considerable skills by participating in workshops in various disciplines. Lise has received national and international design awards, and has been a jury member in Toronto as in Montreal, and an invited guest speaker. Her career has been recognized in books, magazines as well as TV shows. She also took part in several group exhibitions, and in 2007 had a solo exhibition at the Warren G. Flowers Gallery of Dawson College.
Her passion for traveling motivated her to study Japanese language at McGill University. After several Compostelle journeys, she was involved in the creation of two documentaries. 
What her students have to say about her:
Lise has consistently given me confidence in myself for a subject that I truly thought I disliked and struggled in. Amazingly I have grown more confident in my abilities thanks to her teaching and encouragement.
She is always very helpful and will push everyone to do the best project that they can. She won't hesitate to tell students if something is wrong with their project and she will help them to get to the intended result. She is also very understanding and funny.
Lise takes the time to really sit down with each and every student and help them excel. I am a much stronger student because of Lise, and as her final year, I think nominating her for the director general's award, will encapsulate Lise as a teacher and individual.
She is very knowledgeable on many subjects as I had her for more than one class. She motivates her students and puts a lot of time into helping us during class and during her office hours.
She allows students to adapt our work to our own style, making sure that every work is personalized and unique. In this manner, we get to explore and develop our design style depending on our personality and capacities and stretch our capabilities to their maximum potential. This is evident through the results of the works of her students including myself.
She has inspired me in one of my favorite projects. As a strong and successful woman, she inspires me to keep working harder. As someone that is very knowledgeable she keeps pushing me to improve my work.
At the beginning of the semester, I was given a very hard subject to portray and could not come up with anything for the first few weeks. Lise noticed my troubles and always tried to suggest things without giving me an answer to help me find my own path to it. Every week she would sit with me and ask and when we ran into each other in the hallway, she would stop me to give me advice or tell me something that she thought about and wanted to share with me. I thank her a lot.
For the particular subject that she taught me (Animation), she spent so much time and dedication on each student. Since it's such a case-by-case subject, problems that arose were often different for each student, and yet, she always have tricks up her sleeve or documents prepared out of school to help individuals. She spent the most time with people who needed it the most. She is caring and incredibly human. I felt comforted and embraced, while still always being pushed to my potential, which I have never felt in my entire education.