Communications Policy and Digital Guidelines for Dawson College now in effect
In order to ensure the reputation and logo of the College are well-represented externally, Dawson College has prepared a Communications Policy under the Office of the Director General. It comes into effect this week.
Read the full policy in English and French.
The usage of an institutional logo or insignia like Dawson's on any printed or digital materials must always be done with care because their appearance conveys that Dawson endorses or supports the content of those materials. For this reason, many other CEGEPs in the network and almost all universities have similar policies in place.
In addition, any visual misuse or distortion of Dawson's logo or insignia can convey the wrong message and/or appear unprofessional, such as the examples seen in this image: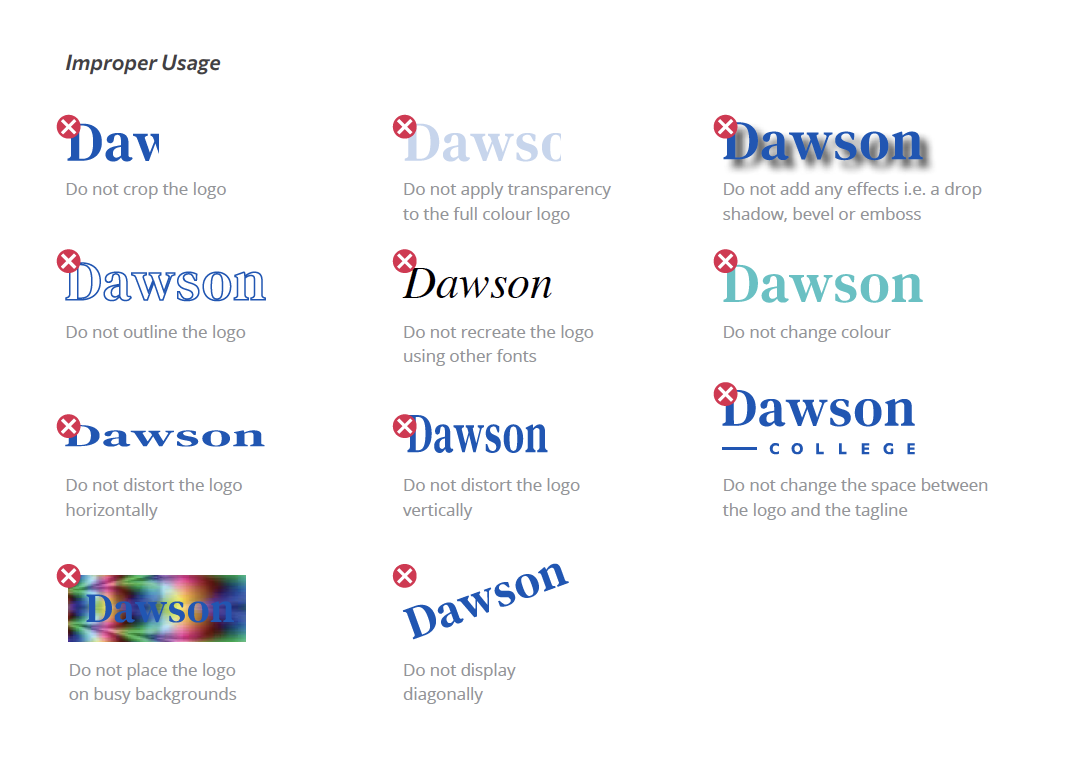 Among other things, the Communications Policy addresses:
The role of the Communications Office
Who is authorized to speak to the media on behalf of Dawson College
Who can send out internal mass emails to employees (only managers or their delegates)
How external groups/partners can or should go about using our logo
How to go about setting up a departmental social media account
Unacceptable behaviour on social media for those who identify as a Dawson employee
Prohibited content on all printed and digital materials
As a reminder, instructions on how to create visual content with our logo are included in our Brand Guidelines released in 2022.  All branded templates, including the recently-produced program and profile logos, are available under Omnivox -> Non-Academic Services -> Branding File Templates.
Digital Guidelines: a framework for collaboration
In addition, in collaboration with Information Systems and Technology (IST), the Communications Office has developed new digital guidelines. These guidelines are not a policy but rather an adaptable framework to ensure all websites on our servers and social media representations are well-managed and properly resourced.
Our IST department, in collaboration with colleagues across the College, maintains and continuously adds to a very large amount of digital content available to the public. Managing it all centrally would be a herculean task, and a decentralized approach will always be necessary with multiple members of the community contributing content to and managing these platforms.
However, the Digital Guidelines were created in order to add some structure and boundaries when we work together as a community on digital content. The guidelines establish, for example:
Minimum requirements: Branding, Accessibility. No prohibited content.
Web publishing protocols: Categories of content, levels of financial and human resource support provided to each, deadlines for the expiration of content and guidelines for content hosted on sites or servers.
Conditions for major projects: Major change to main site architecture, creation of a microsite.
Best practices: External linking, creation of Social Media accounts, use of photography.
The policy and guidelines were reviewed by and presented to all members of Management as well as all Program and Profile Coordinators of the College.
Looking ahead, the Communications Office will be offering training to Support Staff in June to highlight available resources and best practices for communicating at Dawson.
Read the new digital guidelines in English and French.