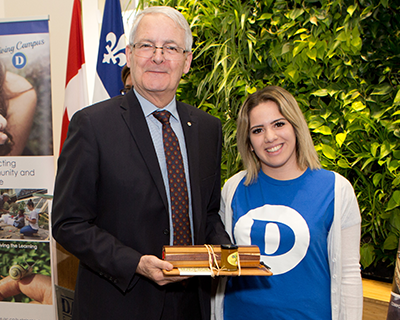 Carbon Neutral Forever celebrated by community, two levels of government
As the Honourable Marc Garneau, Minister of Transport, said when he visited on Friday, February 8, it's nice to make funding announcements for infrastructure improvements, but it's even better to come back once the improvements have been made and a whole community is reaping the benefits.
Speaking on behalf of the Honourable Navdeep Bains, Minister of Innovation, Science and Economic Development, along with Youri Chassin, Parliamentary Assistant to the Minister of Education and Higher Education (Higher Education), on behalf of the Quebec Minister of Education and Higher Education, Jean-François Roberge, Mr. Garneau congratulated Dawson for its efforts in using the funds to not only enhance and modernize the College's facilities and improve their environmental sustainability, but to gain momentum in pledging to become Carbon Neutral Forever.
This project, part of Dawson's initiative, has helped improve the College's energy efficiency by optimizing and modernizing lighting and HVAC equipment to ensure the environmental comfort of the student body and staff. It benefited from a $1.24 million investment allocated through Canada's Post-Secondary Institutions Strategic Investment Fund and a $1.42 million contribution from the Government of Quebec as part of its Québec Infrastructure Plan.
The Board of Governors of Dawson College at its October 24, 2018 meeting unanimously voted to continue bold greenhouse gas emission reduction and declare Dawson Carbon Neutral Forever.
In the presence of some 50 guests and participants including students, faculty, staff and partners, the Director General Richard Filion reiterated Dawson's commitment to helping solve environmental and societal issues. "This commitment defines a core value of this College: well-being for all, sustainably. I am proud to represent a community of positive action that simultaneously cultivates hope for the generation we serve."
Mr. Garneau echoed the Director General's sentiments, adding that enhancing teaching environments serves society as a whole: "The Government of Canada recognizes the important role played by post-secondary institutions in Canada. As a result of our investment here at Dawson College, students, teachers and researchers will work in the best facilities to advance the country's best research. Today's event demonstrates our commitment to support the continued growth of innovation and research, as well as the environmental sustainability of our buildings."
Although the funding was originally announced under the previous Liberal government of Quebec, Youri Chassin, Parliamentary Assistant to the Minister of Education and Higher Education (Higher Education), reaffirmed his government's support of education and educational institutions: "Investing in facilities and infrastructure at our higher education institutions is of prime importance to our government. This project fits perfectly with our desire to provide the best possible learning environments for our students and teaching staff. Thanks to this project, now completed, the students and staff of Dawson College will be able to benefit from improved energy efficiency and a high level of environmental comfort. This is excellent news!"
Healthier Environment
Less pollution is going into the environment as the College's greenhouse gas (GHG) emissions have been reduced. Since 2010, GHG emissions from natural gas consumption has been reduced by 50%, electricity by 68% and 343 tons of CO2 (e) has been eliminated from the atmosphere. The remaining emissions will be absorbed by thousands of trees planted and monitored yearly by partner, Taking Root, on marginal land in Nicaragua.
Cost Reduction
The ongoing upgrading of equipment and energy-saving measures over many years, made possible in part thanks to important investments by the governments of Canada and Quebec, have led to long-term improvements and a $1.4 million in savings in energy costs over eight years.
Increased Comfort
Computerized air flow monitoring, temperature systems and new efficient LED lighting have reduced energy needs and provide a comfortable learning and working environment.