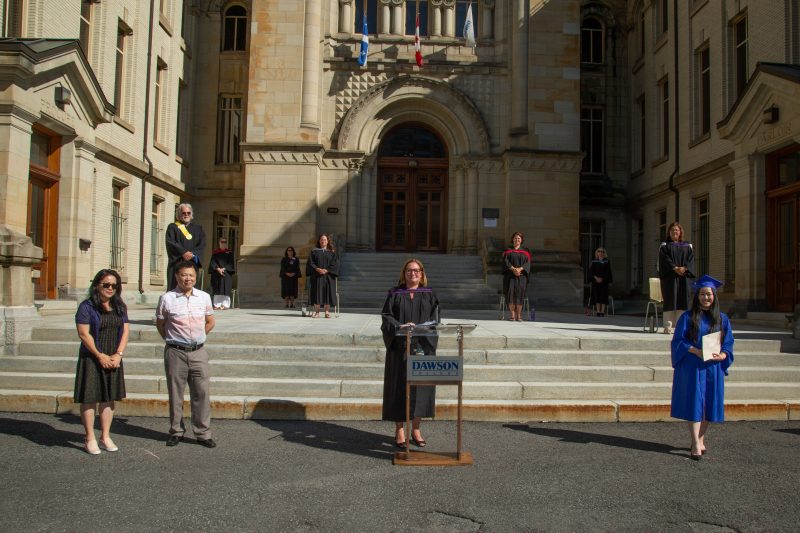 Congratulations to the Class of 2020!
The alumni of Dawson College now includes 2,600 graduates from the Class of 2020.
It is the first time in the history of Dawson College that Convocation was not held in June to celebrate the academic achievements of our graduates with the pomp and circumstance they deserve.
Pandemic graduation
"You are the first class to graduate from Dawson during a pandemic," Director General Richard Filion said in a special Virtual Commencement Speech video. "You managed to persevere and complete your DEC while our education system was in lockdown."
The video addressed to graduates includes a message from teachers, a message from fellow graduates and remarks by the Director General and the Academic Dean.
In the coming weeks, graduating students will receive an envelope in the mail that contains the items they would have received at the graduation ceremony: a ceremonial diploma, any honours letters or awards certificates and a small keepsake. Graduates are invited to check out a web page created for them .
Awards Ceremony Aug. 12
The College arranged an outdoor, intimate and socially distanced Awards Ceremony on Aug. 12 for award recipients of the Class of 2020. About 35 graduates attended along with a few guests. A photo gallery of the event has been posted here.
The pared down platform party, which included Director General Richard Filion, Academic Dean Diane Gauvin, deans, directors and a representative of the Dawson College Foundation, spent the afternoon under a hot sun so they could stand up and salute each award recipient as they received their ceremonial diplomas and awards.
Saluting all our graduates
"We were standing for all our graduates," Richard Filion said. "We are so proud of them."
Diane Gauvin addressed the new graduates and said they fill her with hope and inspiration.
"The COVID-19 pandemic, the Black Lives Matter movement and the environmental crisis show that there is a high level of interdependence that connects people," she said at the Awards Ceremony. "Inequalities impact all of us. You have the power to create a more just and healthier society."
Touching moment captured on video
One especially touching moment occurred when Bradley Heaven came forward to receive his diploma in Social Science and the Lieutenant Governor's Youth Medal.
Brad and his assistant and business partner Danny O'Connor made a video to capture the graduation and Brad's feelings and shared it on their All Access Life channel.
Farewell graduates of 2020 and welcome to the big family of Dawson College Alumni!