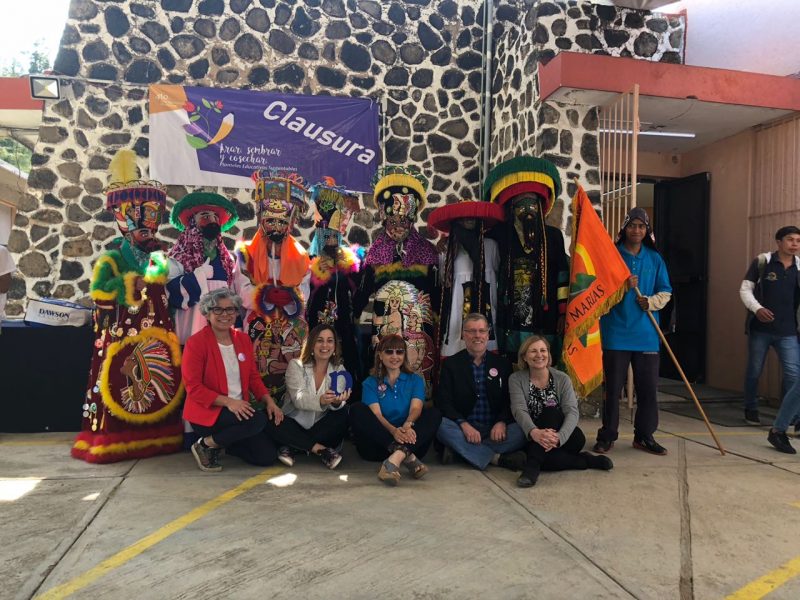 Dawson Staff, Students and Mexican Partners Changing Education
The Sustainable Campuses project: For 6 years Dawson has partnered with Mexican universities and a college on action research projects that benefit individuals, communities or the environment. Through the arts, sciences, plenty of goodwill and a strong sense of responsibility, students and teachers from both countries express joy and satisfaction in transformative learning that makes a difference. We are helping define one of Dawson's core values of well-being for all.
The Sustainable Campuses project has anchored Dawson's strategic plan goal #7 which states that Dawson strives to become a leading post-secondary educational institution in sustainability in all its endeavours.  Dawson, through a SSHRC grant, supports over 20 participatory research projects at the university level in Mexico resulting in many innovative projects. We have witnessed transformations of school grounds into living labs, the creation medicinal plant gardens and educational murals, adobe brick house construction and community theatre presentations with messages of change. These projects are showcasing high-impact educational practices.
Sustainable Campusestackles the social, political, environmental, and interpersonal challenges that invariably occur within the drive for positive change. Dawson staff and students work with their Mexican counterparts on finding solutions to real-world problems. The result is that the entire team experiences the goals of our graduate profile: social responsibility and engagement, health and well-being, critical thinking & creativity, team-work & communication.
When individuals, community and the natural environment benefit from the Dawson/Mexico partnership activities, the result is a path towards well-being for all, sustainably and most definitely a College that is leader in this field.
Learn more about Sustainable Campuses at:
https://www.dawsoncollege.qc.ca/sustainable-campuses/page/5/