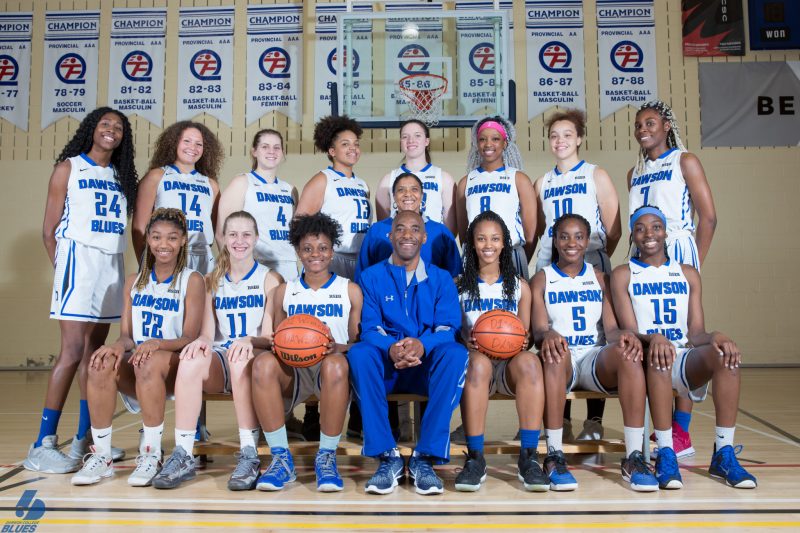 Division I Women's Basketball Team Earns Silver at Nationals
For the second year in a row, the Division 1 Women's basketball team made it to the finals of the CCAA Championships. The Blues were defeated by Lethbridge one year ago in the finals. Ranked No. 2 in Canada this year, the Blues entered the final game with an eye-catching perfect record of 18-0 and had won the Quebec RSEQ Championship with a 70-63 victory against No. 3 Montmorency.
Dawson advanced to finals after a 73-69 overtime win over Capilano in the quarter-finals and a 65-53 win over Mt. Allison in the semifinals. In the semis, the ACAA champions and home team, Mount Allison Mounties had the support of a large and loud crowd. Dawson showed their experience and talent by remaining calm and playing their game. With the victory, Dawson moved onto the Gold medal match, where they faced the No. 1 ranked Humber Hawks.
Meeting for only the second time this season, in first game on October 6, 2017, Humber beat Dawson 64-50 at the Montmorency tournament. The only time these two sides have met at the Nationals came in the 2002 quarter-finals, where Dawson came away with an 82-66 win.
Things started well for the Blues as they used a 9-2 run at the end of the first quarter to take the lead. Their defence was stellar, frustrating Humber. The Blues continued to be trouble on the glass for Humber in the second, using their size to finish the half +15 in rebounds. At half, Dawson led by a slim 36-35 margin.
The third quarter saw Humber take charge with a 13-5 run to start things off. Humber took a 10 point lead into the final quarter and was able to hold off Dawson for a 7 point victory, 68-61.
The Blues were led by Dahomee Forgues who notched 14 point and 5 boards. Eleanore Marciszewski and Roxane Makolo added 13 points each.
Player of the Game: Eleanore Marciszewski, Dawson Blues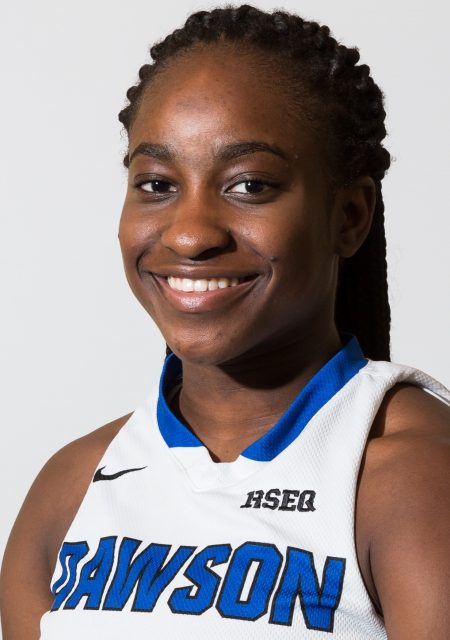 Roxane Makolo was named to the All-Canadian team. The RSEQ Player of the Year and CCAA Player of the Year nominee led the Blues to a 14-0 record and first-place finish in the conference. Makolo, a third-year guard, was third in the conference with 16 points per game. She is also a member of the U17 provincial and U17 Canadian National teams. Makolo sees the court extremely well and involves all her teammates. Her leadership qualities can be seen in the way she prepares for games and how she pulls her teammates along.