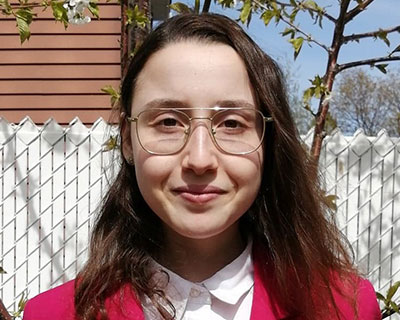 Hard-working student committed to social justice awarded Lieutenant Governor of Quebec's Youth Medal
Within her first month of arriving at Dawson College, Enriched Health Science student Sara Boubekri had become a class representative and was recruiting students to join her efforts to support education for girls in developing countries.
Over her time at Dawson, which is set to end when she graduates at the end of this semester, Sara has been very involved in her program and has gone above and beyond the program requirements by taking online courses at Harvard University, participating in Dawson's Neuroscience Research Group and the McGill University Health Centre's Student Training and Education Program as well as the International Day of Mathematics.
The Change Makers initiative
Beyond academic pursuits, she has established an initiative that has come to be known as The Change Makers fundraising initiative that benefits Oxfam Canada. The goal is to raise funds to support education for girls and to engage and raise awareness among young people.
Sara is one of two Dawson students to be awarded the Lieutenant Governor of Quebec's Youth Medal, a fitting recognition for her "well-rounded academic brilliance, her inspiring influence within the Enriched Science Program and her volunteer actions at the community and social levels," wrote Chris Whittaker, Co-Coordinator of Enriched Science and faculty member, Physics, in his nomination.
What her teachers say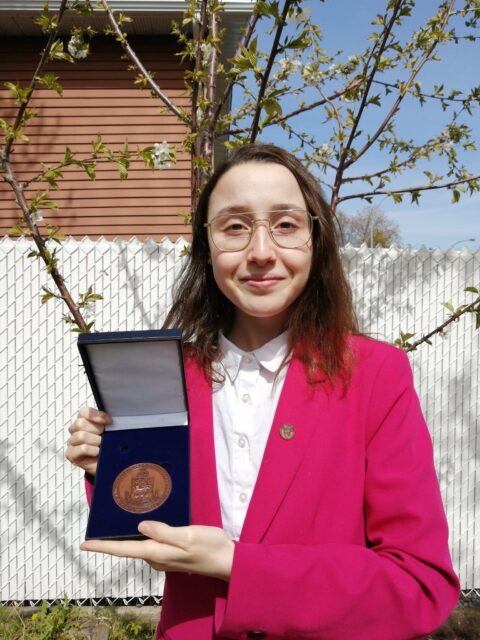 Sara's teachers describe her as "meticulous, analytical, insightful, a rare intellectual, an exemplary student leader, and a brilliant and hard-working student with a powerful commitment to social justice."
This medal means that "I have succeeded in acting as a vehicle for change in my local community. Through my actions, I aim to externalize this passion for education and this drive for equity that I have in me," Sara said in an interview with Dawson's Communications Office.
Sara is proud of The Change Makers initiative. For the past two years, she has spent over 100 hours promoting the benefits of women's education through conferences and inspiring students to join the fight.
"The project that had the most important impact on my direct community is the #PictureTheWorld Contest, in which both my CEGEP and high school communities were encouraged to use their scientific and photographic knowledge to support the economic empowerment of women," she said. "More than its humanitarian objectives, my project allowed teenagers and young adults in my community to develop a feeling of self-accomplishment. I succeeded in creating an inspiring vision of the future and shared it with members of the new generation."
Determination and perseverance
English is Sara's fourth language, and the choice of pursuing higher studies at Dawson was a challenge. She had her heart set on taking paired courses in Reflections but needed to work on her English first. "I sought support in the Academic Skills Centre and attended weekly meetings with Dr. Rashmini Segarajasinghe-Ernest, an Education Advisor who was so inspired by my perseverance and my remarkable improvement that she recommended me for peer tutoring. It goes without saying that I got into Reflections. The message that I want to transmit through this experience is that you, students, are stronger than you think you are."
Throughout her time at Dawson, Sara has been living with a severe chronic disease. The stress of the pandemic led to a relapse and a three-month hospitalization last summer.
Committed to her own health and to helping others
Health is the most valuable thing for Sara. "I decided to take some time for myself and my family," she said. "I discovered watercolour painting as a stress management technique, and I exhibited my artwork in the hospital. My little sister has a rare genetic condition that results in learning disabilities. I took some time that I would habitually dedicate to my studies to help her with her academics. I tutored her in every class, and I offered her emotional support in her fight for social acceptance. These actions demonstrate that I know when to recognize my limits and establish my priorities according to my values. This is what I am the proudest of."
Inspiring parents
Sara is most grateful for the example and support of her parents, "who transmitted their resilience to me. Both of my parents were born in Algeria in underprivileged communities. My parents are my source of inspiration and every time I look at my medal, I think about how they shaped the person that I am today."
Sara is enthusiastic about her next chapter. "My passion for science will meet my drive for helping people in a personalized manner. In August 2021, I will start my medical training at Université de Montréal," she said.
The 19-year-old is planning to pursue her humanitarian work through The Change Makers: "My initiative will continue to grow at Dawson. I am in touch with first-year students who are enthusiastic to act as representatives of The Change Makers. I have many projects in mind!"