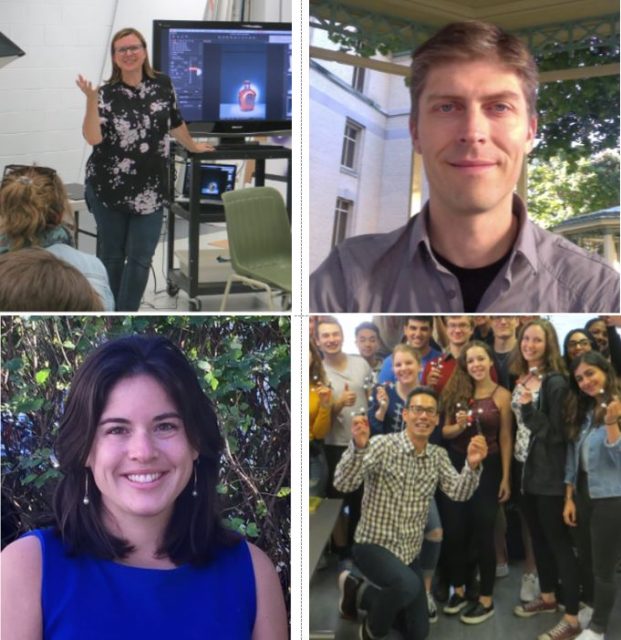 Teaching Excellence Awards 2017
In 1993-1994, the very first Director General's Teaching Excellence Awards were handed out. Established by then-Director General of Dawson College, Patrick Woodsworth, to acknowledge the outstanding work of faculty members, these awards have honoured more than 75 individuals over the years, and the entire faculty in 2006-2007 in recognition of its extraordinary compassion and commission during the academic year following the 2006 tragedy.
For the third time in its history, the awarding of these honours takes place at the closing of Ped Day. Dawson College has a teaching staff of over 600 dedicated faculty members. Each year, students and peers are asked to nominate those faculty members who exemplify the qualities of the Teaching Excellence Awards, teachers who embody teaching excellence through their outstanding teaching performance in the classroom, lab and/or field work, but also those who have gone above and beyond to really make a difference in the lives of their students and their colleagues.
This year, after receiving several hundred submissions, the nominee pool was narrowed down to the following four recipients of this year's awards:
Laurel Breidon, Professional Photography
If you had asked Laurel what she wanted to be when she grew up, neither photographer nor teacher would not have made the list. In her first photography course, she put the first roll of film into the camera, sure that she had followed all of the instructions. It didn't go well. The film didn't attach to the spool and she clicked through 36 frames of nothing. It had to be a sign that this was not meant to be. The second roll did go through the camera and her world was changed. After completing the Professional Photography program at Dawson, Laurel embarked on a career primarily as a fashion and portrait photographer that spanned more than 30 years. When she received a request from then-program chair and coordinator Liz Charles to take on a replacement teaching position, she reluctantly accepted as it was just temporary. That was in 1991. After teaching in the AEC Commercial Photography program for 23 years, 10 as the program coordinator, Laurel has been teaching full-time in the DEC program for the past 5 years and is a cherished member of the Professional Photography program, as her students can attest:
"Laurel has a very hands-on way of teaching, which I really appreciate. Her enthusiasm is contagious and she gives her 100% every class. She's also honest and gives constructive criticism, always keeping in mind the improvement and well-being of her students."
Brian Redekopp, Philosophy
Brian was born and raised in rural Saskatchewan. From the prairies, he headed east and completed his Masters in Philosophy at the Memorial University in Newfoundland, after which he ventured to Montreal to obtain his PhD at McGill. Upon completion, he joined Dawson's Humanities department in 2011 and into the Philosophy department where he now teaches interesting courses ranging in subjects from ancient philosophy and logic to the philosophy of love and even the philosophy of comedy. When Brian joined Dawson,  he became involved on many levels, serving on the Dawson Research Ethics Board and is currently the Philosophy Department Coordinator. He also organizes the Dawson Philosophy Club, a philosophy discussion group for faculty and students. Brian is an avid cyclist, baseball fan and proud father of a 2-year-old boy.
"Brian is not only an incredible teacher in the classroom but takes the time to work one-on-one with every student to make sure they understand the content. His strengths include making extremely complicated content simple and comprehensible. He is kind and intelligent and it shows in his teaching methods."
Yoon-Seo Uh, Chemistry Department
Yoon began working in the Chemistry department in the summer of 2007. He completed his undergraduate degree at Mount Allison University and his graduate studies at Queen's. Since joining the College, Yoon has become an active member of the Dawson Community, participating in the Writing in the Disciplines initiative and the Dawson Active Learning Community – all of which challenged him to become a better teacher.  Yoon is the department chair and a member of the Science Program Committee for which he is deputy coordinator. He is clearly loved by his students, who had this to say about him:
"He motivates students to understand rather than just memorize the material. Chemistry is a challenging discipline to teach, and having taught me for both Chemistry of Solutions and Organic, Yoon truly inspires students to do their best. He takes the time to make sure students fully grasp the material, and explains it in great detail"
Eliza Wood, Humanities
Eliza was born and raised in Portland, Maine. She moved to Montreal in 2007 and has been at Dawson since 2013 after having completed her undergraduate degree at McGill in History and Political Science, and then her Master's degree from McGill in History. She currently teaches courses on Equality and Race, Communist World Views, and the Ethics of Resistance. She is yet another Teaching Excellence Award recipient who goes above and beyond the call in her teaching, while also serving on committees such as the Humanities Department executive as Curriculum and Professional Development coordinator. Her students certainly appreciate her breadth of knowledge and the way she shares that knowledge with them.
"She makes topics that can be somewhat bleak into very interesting conversations, and is very knowledgeable in what she is teaching. She clearly loves what she is doing, which made us as students want to get involved in the conversation and do our best in class. She is amazing at teaching. She makes everything sound interesting and she makes a 2 hour class feel like 10 minutes. She made learning about communism fun."