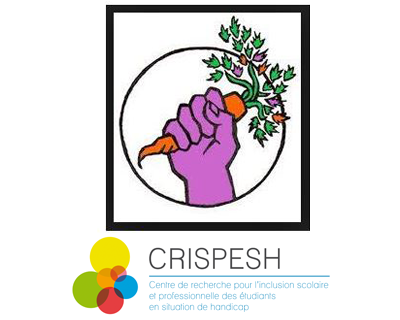 Two major grants for Dawson researchers: CRISPESH and food justice & sustainability
Dawson College is pleased to announce that two major projects have received significant grants through the Community and College Social Innovation Fund (CCSIF). The CCSIF funds aim to stimulate social innovation by providing local organizations with talented people, facilities and resources offered by colleges and polytechnics across Canada to respond to research needs. These funds will be administered by the Natural Sciences and Engineering Research Council (NSERC) in collaboration with the Canadian Institutes of Health Research (CIHR) and Social Sciences and Humanities Research Council (SSHRC).
CRISPESH to create support systems for inclusion of Indigenous people with disabilities into the job market
The first announcement is for the Research Centre for the Educational and Professional Inclusion of Students with Disabilities, or CRISPESH as it is known by its French acronym, a CCTT (College Technology Transfer Centre in Innovative Social Practices) awarded jointly to Dawson College and Cégep du Vieux-Montréal in 2010.
The financial support for CRISPESH comes in the form of a $240,000 grant earmarked for the project that supports the professional inclusion of Indigenous persons with disabilities. Within this context, project partners will develop an offer of service for inclusive employment to respond to the need for support and stewardship of these persons in order to increase their social participation by better integrating in the job market, as well as providing adequate tools for their sponsors to offer support. Along the same lines, these person can contribute to the eradication of a significant labour shortage being felt across the country. This applied research project stems from an anthropological approach combining the knowledge-base of all partner organizations to play a key role.
Transformations Social Innovation Hub in Food Justice and Sustainability
The second announcement is for a project led by Anna-Liisa Aunio (Sociology, Environmental Studies/Travel and Tourism) on food justice and sustainability.
Over the past several years, food has been on the main menu of the urban agenda in Montreal. In order to transform these promising strides towards justice and sustainability in the local food system into the systemic and scalable change needed, the project will build a social innovation hub to develop collaborative capacity to work for food justice and sustainability. This will be done by transforming tools, technologies and opportunities for collaboration developed as part of the food justice and sustainability project at Dawson College into a sustainable framework for social innovation in the local food system.
The Transformations Social Innovation Hub for food justice and sustainability will nourish emerging research-community partnerships in the Montreal food system to build and sustain collaboration across neighborhoods, research institutions, organizational types, and policy domains that foster innovation in building a more just, sustainable food system.
To achieve this, the project will:
Build capacity for community organizations across Montreal to access data about their local food system as well as track and evaluate their missions, objectives, and actions in food justice through the co-creation of accessible and adaptable online tools to support their work.
Foster research and action that is responsive and responsible to community partners by developing a community-research collaboration community of practice that effectively includes local organizations' perspectives in establishing its goals, objectives, and practices.
Produce research that feeds the community of practice and development of tools through in-depth study of food policy collaboration in two Montreal neighborhoods to understand the interplay between research models and implementation of action based on them in local food policy.
This project, funded by a $239,234 grant addresses the need to build avenues of action to the challenges and costs of inequality in the current food system through support for communities and organizations that is responsive to their needs and responsible to the community.
These announcements were made earlier this month by the Hon. Kirsty Duncan, federal minister of Science and Sport, along with 94 other projects that hope to help all Canadians at the local and national level.