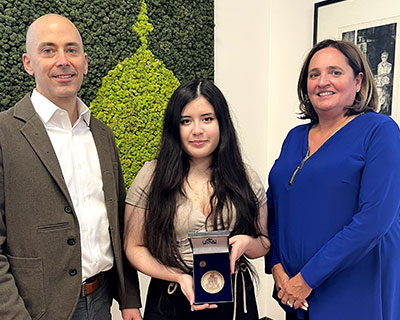 Active and caring International Business Studies student receives Lieutenant-Governor Youth Medal
Shirin Hinojosa-Violante feels that receiving the Lieutenant-Governor of Quebec's Youth Medal is recognition for everything she has done up until now.
"Being nominated by my peers among so many talented students was an honour," she told Dawson's Communications Office in an interview. "Being selected and winning the award went beyond my expectations. Community service and being able to help those around me has always been a passion of mine."
Involved in campus life
At Dawson, Shirin has been very involved in service and campus life since she began the Social Science Program (International Business Studies Profile) in the fall of 2020.
Currently, she is Vice-President of Services and Sustainability for the Dawson Student Union and she has been an active member of Campus Life and Leadership and the health promotion team as well as a peer mentor.
"Shirin is a kind, thoughtful student," said her English teacher Leanne D'Antoni in her nomination. "She is dedicated to helping others and resolving issues in concrete, tangible ways. Shirin is dedicated to positive change and is continually looking for ways to improve the lives of her fellow students. Shirin has a joyous, optimistic attitude. She is thoughtful and polite, and, has a welcoming attitude with everyone she meets."
Always someone to help you at Dawson
Shirin came from a French high school and started CEGEP during the online learning phase of the pandemic. Despite the challenges, Shirin enjoyed Dawson. "What I liked best about my time at Dawson was the people that I met here," she said. "Dawson College has a tight community that helps each other out. Be it a teacher or a student, there's always someone here to help you out."
Shirin is looking forward to graduating this semester and attending HEC this fall where she will be pursuing a bachelor's degree in business administration.
Shirin's advice to fellow students: "Do good things for others, it might come back to you in better and unexpected ways."