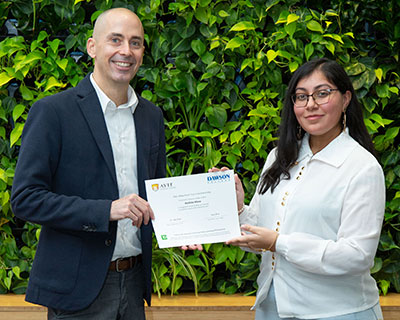 Pictured: Radhika Khera, one of the 2021 recipients of the Aditya Youth Trust Fund Scholarship, with Academic Dean Rob Cassidy.
Celebrating our Fall Awards Recipients
We are proud to celebrate our Fall 2021 Awards cohort of 35 exceptional Dawson College students. Their involvement in student life, commitment to community service and determination to succeed at CEGEP enrich the Dawson community and make us hopeful about the future. Congratulations to our students! Thank you to all the donors, teachers and employees who make the awards possible.
In lieu of an Awards Ceremony, all recipients were invited in late November to have professional photos taken with the Academic Dean and pick up their awards and a small gift.
Meet the other award recipients on our Awards Celebrations Page featuring quotes and photos of each recipient: https://www.dawsoncollege.qc.ca/awards-scholarships/award-recipients/