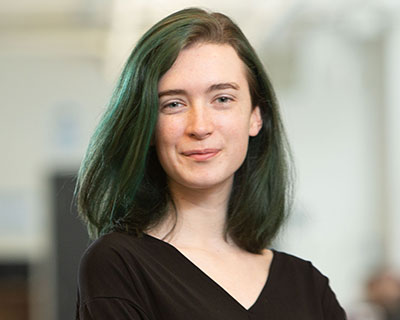 Dawson student Kathleen Collins honoured with Lieutenant Governor's Youth Medal
"A perfect volunteer" was a key phrase used in the nomination of Kathleen Collins for the Lieutenant Governor Youth Medal, awarded by Quebec's Lieutenant Governor to students who "demonstrate a sustained voluntary action at the community and social levels."
"Kathleen came to Dawson College with a wealth of experience and knowledge of running community projects," the nomination read.
Natural leader
"As an intern (in the Communications Office), she was enthusiastic, passionate, reliable and dedicated to every project big and small. As a natural leader, Kathleen comfortably took the lead on various projects throughout the school, supporting causes close to her heart, such as the environment and cultural activities like the St. Patrick's Parade where she helped organize a float with 75 people encouraging school spirit and the college's connection to the anglophone community of Montreal."
The 19-year-old from Deux-Montagnes is about to graduate from the Community Recreation and Leadership Training (CRLT) Program and is accepted into the Community Development program at Acadia University in Nova Scotia.
Future plans
"I plan to pursue a career in Sustainable Event Planning/Management," Kathleen said. "As much as I'll miss Dawson College and Montreal, I know it's the skills I learned in CEGEP that will help prepare me for the next chapter in my life."
Kathleen thoroughly enjoyed her three years at Dawson: "The best part about Dawson College is all the opportunities that they give to students – all the clubs, volunteer opportunities, and supportive teachers who truly want to see you succeed. Not only my program, but the whole of Dawson, was committed to supporting me in achieving my goals and advancing in my future career."
Active in Dawson community life
In her first year at Dawson College, she won the A. Ross Seaman Memorial Scholarship for students who embody the positive qualities of leadership and volunteer work, and kindness to those around them. She also volunteered for the Dawson Elections Commission, a group that oversees voting for over 10,000 students. Kathleen is a valued member of Dawson's Blue Ring Society, student ambassadors for the College. She has participated in and lead aspects of Open House, which sees 14,000 visitors and Artists in Bloom, an annual fundraiser.
During her free time, she continues to volunteer at the West Island Association for the Intellectually Handicapped and the Moran Academy of Irish Dancing. As a young activist, she has also acted as an animator for the WeMovement.
Hoping others will get involved too
Kathleen hopes that her recognition will encourage others to get involved too. "Getting involved at Dawson and in my community changed my life – and I didn't need a medal to tell me that," she said. "If you have the opportunity to try something new, do it. And if you have the opportunity to volunteer and do what you can to make a difference, DO IT. It will always and forever be worth your time."
Kathleen is a firm believer in the value of getting involved: "Not every action will get rewarded (or even recognized, in most cases) but it's active community members who really change the world.
The power of a ripple
"I firmly believe in the power of a ripple, the idea that the ripples from throwing a pebble into the ocean can cause a tidal wave on the other side. As improbable as it seems at times, it's our little actions that come together to become a big change. So, do what you love, and do it with pride. Because it's your small actions, and small changes, that will eventually become something much larger than yourself."