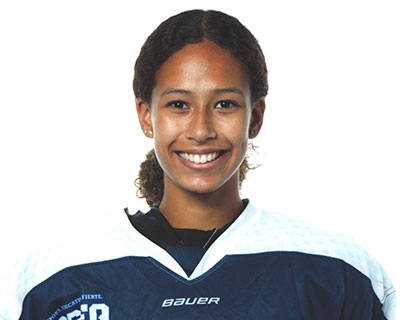 Sydney Kormos-Springer wins award given in her uncle Rob Springer's memory
Long before she arrived at Dawson College, Sydney Kormos-Springer decided she would aim to win the Rob Springer Memorial Award.
"When I learned that Dawson was having a memorial game in honour of my uncle, I wanted to make it my goal to go to Dawson College and play for him," the Health Science student said in an interview with Dawson's Communications Office. "I wanted to be able to keep his legacy alive and honour him as well as my family. My uncle, in a way, taught me how to persevere and accomplish anything I set my mind to."
Last month, Sydney learned that she had accomplished her goal as she was named the 2022 recipient of the Rob Springer Memorial Award, given annually to a hockey player on the Dawson Blues Div. 1 Women's Hockey team who demonstrates a sense of True Blue spirit, commitment, encouragement, and integrity.
Award is bittersweet
"It means a lot to me," she said. "I am so incredibly thankful and appreciative that the Blues Community honours my uncle every year. It means a lot to me but also to my family. We lost my uncle very suddenly and being able to see his memory kept alive is incredible. I am always told how much of an impact he made within the school. Receiving this award is bittersweet."
Rob Springer was an employee of the Dawson Helpdesk/Information Systems and Technology who lost his life in February 2015. He was larger than life, through his roles in IST and at P.A.R.C. where he was known as Bear for his tireless support of and help to the teams, especially the women's hockey team. His legacy lives on through this award.
Dawson community is special
His niece Sydney will be graduating this spring and spent her first year at Dawson online. "This year was the first year I really got to see what life is like at Dawson College," she said. "I think what was most special about my time at Dawson was the sense of community I felt. I really enjoyed how friendly and accepting everyone was.
"Being in the Health Science Program, I entered CEGEP thinking that I would be alone since the program I chose is quite competitive. To my surprise, I was delighted when I realized everyone is extremely nice and helpful."
Sydney says that being a Blue shaped her into a hardworking player. "I learned to never give up and to give it my all. If, as a team, we put our minds to something, we can achieve it. I believe this concept is a big factor that contributes to the player I am today. Entering into CEGEP with the Blues permitted me to forge friendships that will be lifelong," she said.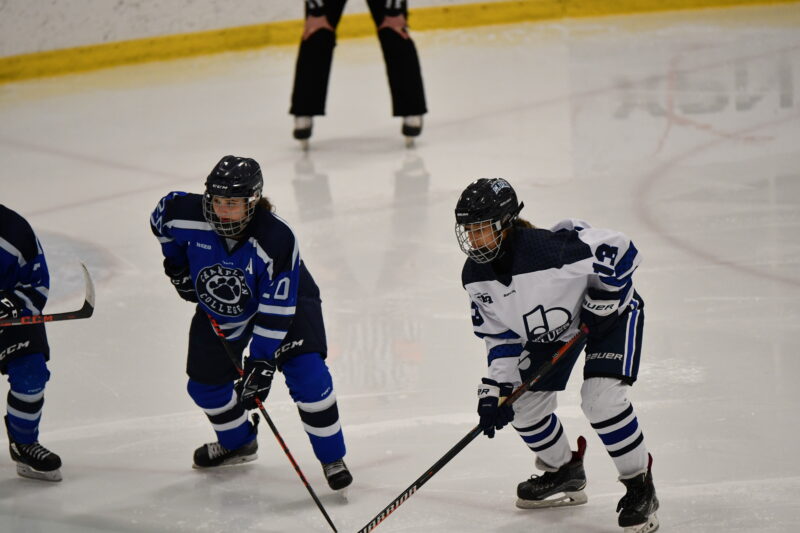 So many resources at Dawson
"Dawson supported me to help me advance… There are so many different resources at the school. I sought help from the academic advisors, the recreational activities coordinators, and past teachers from Dawson, specifically Lionel Geller, who helped me navigate through my scholastic journey during my time at Dawson."
Sydney believes she has set an example for remaining committed to academics while playing high-level hockey. Her strength as a player is that she is a good team mate who can adjust to other players' styles and work with them on the ice. She identifies her weakness as her emotions, which she uses as fuel. "If I am angry, I won't let it show. Rather, I'll use that anger to push myself harder while playing," she said.
Sydney is waiting to learn what her next chapter will be. She has already received an offer of admission to McGill University's Bachelor of Science (Physiology major) and she will be interviewed by Université de Montréal for their pre-medicine program.
Sydney's advice for students: "Anything that you do, make sure you do it with commitment, but also make sure you are having fun while doing it."