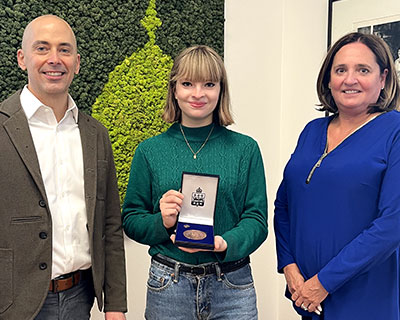 Student with passionate desire to make a difference receives Lieutenant-Governor Youth Medal
For Arwen Low, it was very meaningful to receive the Youth Medal from the Lieutenant-Governor of Quebec and it was also inspiring to see the service of other youth leaders throughout the Montreal region be recognized at a ceremony in early April.
"I feel so lucky for the support from the Dawson community," she said in an interview with Dawson's Communications Office, adding that serving at Dawson has been "such a joy. I am so grateful for the incredible friends and mentors I have found in the Dawson Student Union (DSU), the Dawson College Model UN (DCMUN) team and clubs, who inspire me to push myself further and take on new projects."
Nominated by Liberal Arts Coordinator
Arwen will graduate from the Liberal Arts Program at the end of this semester. Liberal Arts Coordinator Beverly Sing nominated Arwen: "Arwen is an exceptionally intelligent and empathetic individual whose inspiring combination of creativity, global awareness, and a deep commitment to her community is matched by a passionate desire to make a difference in the world. …
"Her interest in political and civic activism is reflected in the astounding number of causes she has fought for so diligently: environmental issues, gun control, mobilization of the student vote, gender equality, etc. She has assumed leadership roles in the Dawson Student Union, the Dawson Feminist Union, the Green Earth Club and the Dawson Model United Nations team."
Time at Dawson special because of the people
Arwen says her time at Dawson was special because of all the people she met. "I have received so much support from my teachers, who have encouraged me both in the classroom and in community work, as well as administrators and staff. I'm particularly grateful for the support of my two DCMUN faculty advisors, Julie Johnson and Caroline Chochol, as well as that of the DSU's administrative director, Rina Alma Arlegui."
In the fall, Arwen will be studying political science at university and plans to pursue a career in law.
Her advice to fellow students: "I would encourage all Dawson students to get involved in community life, whether that be at school or not. It can be an amazing way to meet new people, help out others, work on exciting initiatives and find personal fulfillment."