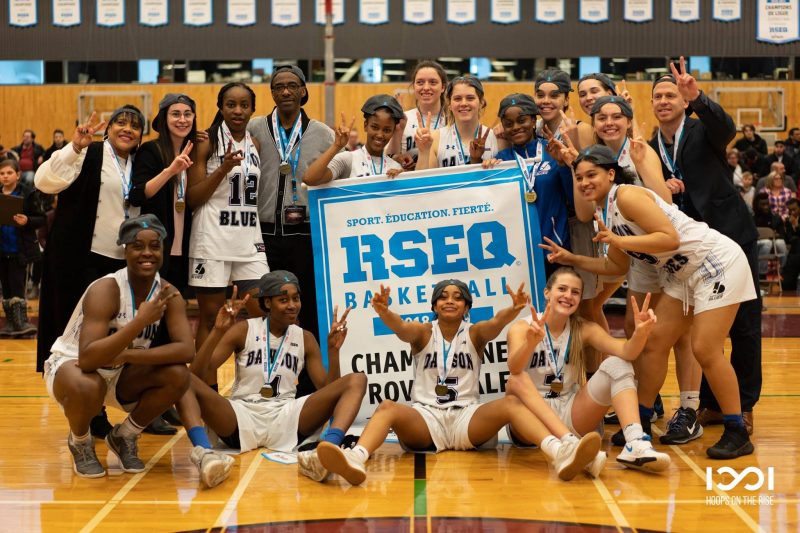 #1 in Quebec for Dawson Blues Women's Basketball Team
For the second year in a row, the Dawson Blues women's basketball team are Provincial Champions in the D1 Women's RSEQ Conference Basketball!
They won the final 75-60 against the Champlain St-Lambert Cavaliers after beating les Nomades du Collège Montmorency in the semi-final 72-57. Player of the final game was Roxane Makolo and the semi-final was Sorelle Ineza.
All-Star team of the Championship was: Roxane Makolo and Taisha Exanor. MVP of the Championship was Dahomée Forgues. Roxane Makolo also has the distinction of being named an "All-Canadian" player, one of only two in Quebec and 10 in Canada.
To celebrate their big provincial championship win on March 2, the College is displaying the Blues' championship banner in the atrium for everyone to see.
The season is not over though. The Women's Basketball Team will be in Ste-Foy next week to play in the nationals. On Thursday, March 14 at 1 p.m. they will face the St-Clair Saints of the OCAA (Ontario Collegiate Athletic Association) and hopefully advance to play more games.
You can catch these games live here: http://ccaa.ca/sports/wbkb/championship/videos/index