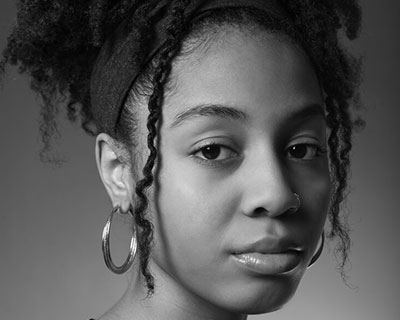 Asia Mason: On the Road to Major
Asia Mason knew early on in her life that she wanted to be a photographer, but now the Photography major (Dawson, 2021) is not so sure.  Collage, film clips, and sound are making their way into her work.
If you have been in the college and wondered about the work in the display cases outside the art gallery, it may surprise you to know that it is the work of Dawson student Asia Mason.  The third year Photography student was one of only four student artists selected for the Peace Centre/Art Gallery's online exhibition, Resistance and Resilience.   Two months later, when the Art Gallery Committee decided to reinvigorate its display case exhibits, Asia was a clear choice for the maturity and poignancy of her work.
Asia came to Dawson in 2017 from Lasalle Community Comprehensive High School, an I.B. school where her interests in writing, law, and National Geographic photography were transformed by a teacher who suggested she look at the work of legendary photographers Lorna Simpson and Carrie Mae Weems.
Their influence is seen in the work she proposed for Resistance and Resilience http://www.resistanceresilience.com/, and the large collage now in the atrium display case, where she delved into her family archive in order to document the life of her maternal grandmother, who emigrated from Trinidad and Tobago  to Canada.   The project, titled 201972n loosely gathered and layered images, letters, and ephemera in a rumination on the 'generations of history and love,' which embody the strength and resilience of the women who survived this experience, and more.
As both Asia and Photography faculty member Peter Berra have remarked, her work has been changing.  Following Berra's suggestion, there is a sculptural/installation work—black fabric cascades out of an empty picture frame.  Beside it is a recent image of Asia's grandmother, and beside that her sister, seen from the back gazing at a portrait of their grandmother's grandmother, her arm dripping with a substance similar to oil (Trinidad has one of the largest global deposits of bitumen).  This informal trilogy brings in more direct political readings, which will doubtlessly inform Asia's practice as she moves forward at Concordia in the fall.