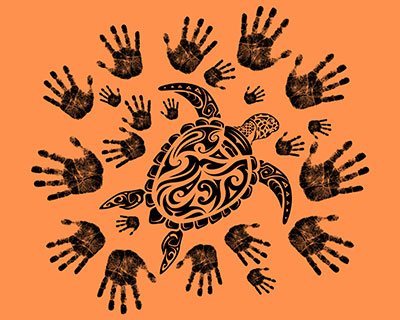 Beyond Orange Shirt Day at Dawson
In September, a series of activities to bring awareness of the legacy of Canadian colonialism was launched leading up to and Beyond September 30th, the National Day of Truth & Reconciliation and Mourning for the victims and survivors of the Residential School System.
These events, which have been running through the semester, emphasize our roles and responsibilities in dismantling and disrupting the legacy of colonization on Turtle Island and reminds us that our work does not begin nor end on Sept. 30.
Fall events
Events, focusing on decolonization and highlighting Indigenous Resurgence, included weekly library displays featuring Indigenous authors; the I-Pledge tables in the upper atrium; in-class Blanket Exercises facilitated by Indigenous Elders; Decolonization of Research with Dr. Ioana Radu of Concordia University; Storytelling with Kanien'kehà:ka Elder Niioie:ren; professional development workshops on Land Acknowledgements with Dr. Donna Kahérakwas Goodleaf, Senior Director of Indigenous Pedagogy at Concordia University; and the PED Day reading group led by Charlie O'Connor, Métis Lab Tech for the Journeys Program.
Students and staff noted that this year felt different from previous years leading up to Sept. 30. The presence of the different activities, giant Truth & Reconciliation Calls to Action posters, and library resources created an atmosphere where people were talking and engaging in the critical conversations around the Residential Schools and the legacy of colonization. Perhaps there is no bigger indication of this than the 1,300 Pledge signatures as well as the myriad of students from the ETCETERA Club; Green Earth Club; Feminist Union, and First Peoples' Centre as well as faculty and staff members who sat at those Pledge tables to connect with their fellow Dawson community members.
Thank you to all of the students and employees who showed up, pledged, tabled, attended the events, and marched.
More to come in the winter semester
Events and activities will continue beyond Sept. 30 and into the Winter Semester, with a Reading Group Series (a continuation of the PED Day offering), additional opportunities for faculty to book in-class Blanket Exercises and more!
The committee members, Tim Gauger & Vicky Ouimet (Library); Yimaj Baharun & Alexandrah Cordona (DSU); Laura Shea, Ben Lander and Cory Legassic (Faculty); Billi Jo Poirier & Charlie O'Connor (Student Services); Ildikó Glaser-Hille (Research Office); Karina D'Ermo (Office of Academic Development) and Diana Rice (Peace Centre), want to extend a thank you to all the services and departments who supported this initiative.
A special thank you to the Sector Deans and Academic Dean who encouraged faculty members to provide accommodations to Dawson College Indigenous students so they could choose how to spend Sept. 30 without concern of penalty for missing classes. Niá:wen, Tchiniskuumiten, Miigwetch, Nakurmiik, Marci, Merci, Thank you to our Indigenous colleagues who generously took the time to consult, guide, promote and participate in these events.
Get involved
For anyone who would like to get involved in campus organizing around these and related issues, First Peoples' Centre coordinator Tiawenti:non Canadian and other staff members will be hosting an open meeting to begin planning for First Peoples' Week 2022. First Peoples' Week is an annual celebration of Indigenous knowledges and cultures on campus. This year it will take place from Monday, March 28 to Friday, April 1. The first planning meeting will be in the Rose Lounge (7C.5) at 10 a.m. on Tuesday, Dec. 14, 2021.
-Submitted by Diana Rice (Peace Centre) on behalf of the committee