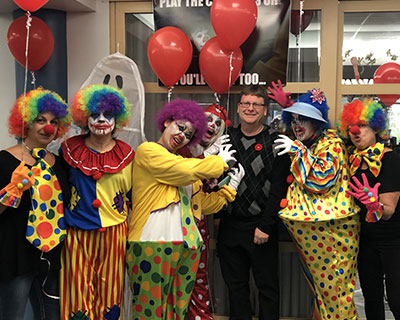 Campus Life and Leadership continuing to offer activities for students
The Campus Life and Leadership team of Gianna Di Giacomo-Smith, Michelle Lee and Billi-Jo Poirier and their Blue Ring student volunteers have redefined success this semester.
"At the beginning of last semester, we felt that we had to fill every day with programming because we thought the students needed daily activities during this isolation time," said Billi-Jo. The team learned that students are not rushing to their computer to do activities after more than their daily dose of screen time in classes.
"It has been a big learning curve," said Billi-Jo. "We have lowered our expectations and are planning less activities. We have redefined success. The students who attend the activities enjoy them."
Shifting toward self-directed activities
One of the changes they have made is shifting from directed activities to self-directed activities. When things are happening online, some people attend the live event and many more stop by and watch a recording later.
Last semester, the CLL team discovered that students still really like contests and that contests seem to drive the best participation and engagement of students. Michelle said a popular event was a costume contest for Halloween. "We also ran contests for Geek Con Week, Kahoot trivia, fan art, costumes, photo scavenger hunts and simple stress-free colouring," she said.
What students enjoy
Colouring activities were the most popular. "Students find colouring to be relaxing," Michelle said. Inktober was a colouring activity for the month of October. Students were invited to draw the theme of the day.
One of the neat things the Blue Ring students did was create a series of videos called Welcome to Montreal as a guide for students who are new to the city.
This semester, the CLL team have planned more contests, such as a winter scenery photo scavenger hunt, events for Black History Month, Intercollegiate Speed Friending and more.
"We now try to tie our events to other activities already planned so that there is a momentum," said Billi-Jo. "We join other colleges or link to other activities in the community. Students are more likely to participate when their friends are there."
An example coming up is the Climate Change Student Panel event on Feb. 18. That event is open to all students, but will take place during the Environmental Seminar.
Coming up
The CLL team is still offering the staples that are part of their core program and they are always open to giving opportunities to students to lead their own activities.
Apart from Black History Month, other upcoming events include a Lunar New Year painting workshop on Feb. 12, Pink Shirt Day on Feb. 24 as well as some activities during Spring Break week, beginning March 15.
To keep up with CLL activities, go to the CLL webpage or follow CLL on Instagram.