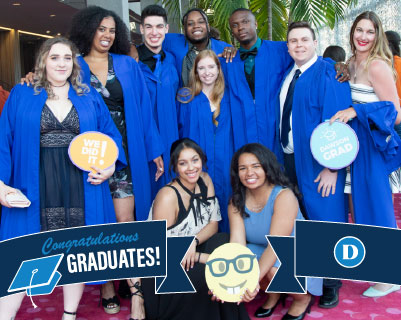 Congratulations to Dawson's Class of 2020
Class of 2020, you did it! You have completed your CEGEP studies despite a pandemic and a historic closure of Dawson College!
Your efforts and success are worthy of a great celebration this year. Your teachers and all employees of Dawson College feel sad that we can't hold our Convocation at Place des Arts.
Surprise video for our grads
To mark the end of the semester, the Communications Office of Dawson College has pulled together a surprise video tribute to our resilient and inspiring Class of 2020. We hope you will feel recognized and honoured by an assortment of Dawson graduates and students who have messages to share with you.
Later this summer, our graduates will receive a special package in the mail. We plan to celebrate Convocation more officially as a College community online at a later date.
2,700 new members of Dawson Alumni Community
This year about 2,700 students will be added to our community of Dawson alumni.
Some of you are already working in careers you trained for at Dawson. The Nursing and Diagnostic Imaging graduates from the Class of 2020 are contributing to our healthcare system.
Others are completing the last learning activities of the semester this week on campus.  Some of you have won impressive scholarships and are preparing for new adventures in new cities.
Proud of you
Wherever your path leads you, we are all proud that you will be bringing the learning, experiences and values of Dawson along with you. We are confident that you will find innovative solutions and help make our world kinder and more sustainable.