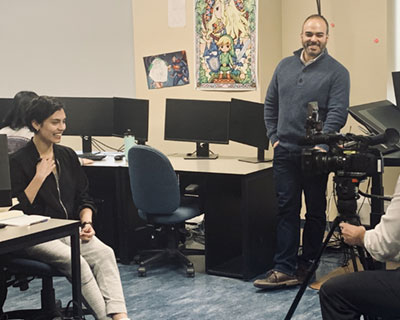 CTV News features 3D Animation and CGI Program
When CTV News Montreal was looking into a story about the local digital effects industry, employers said they should come to Dawson College to meet the next wave of digital artists.
Every major company in Montreal has hired graduates of the 3D Animation and Computer Generated Imagery (CGI) Program of Dawson College. "Our network has grown over the last 10 years and it continues to grow," said Charles Le Guen, Program Coordinator. "Our teachers and grads are connected to the industry and help our students find work."
"At the end of the program, they are trained filmmakers," said teacher Raymon Fong. "In 3D Animation and CGI, they can make a whole film with the skills they learn here at Dawson. They can write, direct, illustrate, produce, and act in (through their characters) animated productions."
CTV aired a story Feb. 8 about the industry, which included the program at Dawson College, in the lead-up to the 2020 Academy Awards.
Several graduates have been involved in Oscar-winning films and big-name productions. Three alumni worked on Blade Runner 2049: Ian Cooke Grimes, lead lighter for MPC (lit Rachel in the movie); Sabrina Poirier and Niomie Papatens-Rochon worked on camera tracking for the film, which their employer framestore won the Oscar for VFX. Ian was also nominated for a VES award as part of a four-person team from MPC for his work on Blade Runner.
It is the only program of its kind offered in English in Quebec.
During the three-year program, students learn:
art fundamentals such as drawing anatomy, drawing in perspective, gestural drawing & figurative sculpting in clay
to create digital drawings, designs and painting using Photoshop
to design characters in 2D and in 3D
to sketch characters in dynamic poses
to design props and environments in 2D and in 3D
to create storyboards
to create animatics and layout for animated projects
to model characters, props and the environments in 3D, using industry standard tools for digital modeling and sculpting
to apply textures and colours to the 3D models using tools like substance painter
to create skeletal "rigs" for their 3D characters to be able to move
to animate characters in 2D and in 3D
to add lighting to a 3D scene
to composite layers of images, using node-based industry software
to work with motion capture data, using our motion capture equipment as well as specialized software
to edit sound and movies using industry software
to analyze the characteristics and requirements of a project, and understand the pipeline tying all the different stages together
Check out these links for more about the program: