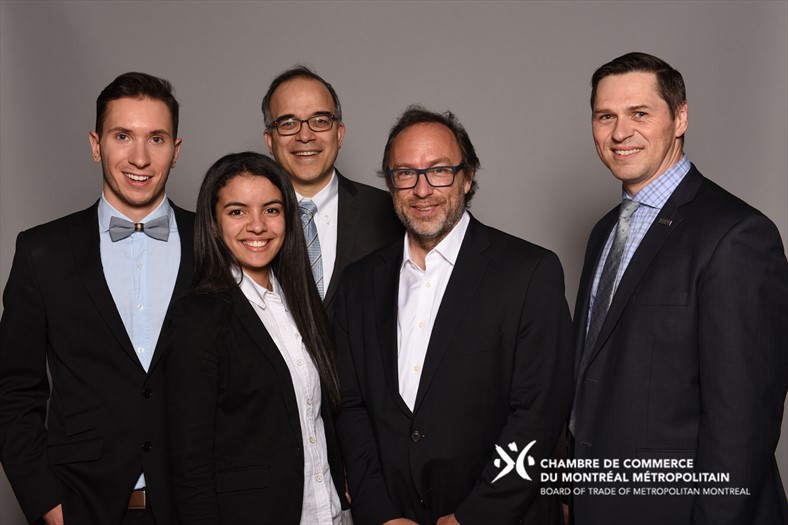 Dawson College Foundation arranges meet between students and Wikipedia founder Jimmy Wales
A large contingent of Dawson students with an interest in entrepreneurship was present at a blockbuster business event organized by the Board of Trade of Metropolitan Montreal on Monday, on April 11 at the Centre Pierre-Péladeau.
The Chambre de commerce du Montréal Métropolitain (CCMM) is well-known for featuring celebrity speakers, having hosted Hillary Clinton, Chris Hadfield, Steve Wozniak, Richard Branson and Arnold Schwarzenegger in the past. The CCMM's Bell International Leaders series' special guest was Wikipedia founder and web revolutionary Jimmy Wales. Thanks to an outstanding collaboration between the CCMM, the Ministère de l'Économie, de la Science et de l'Innovation (MESI), the Dawson College Foundation and the Entrepreneurship Workshops, more than 25 Dawson students from programs ranging from Business Administration to Computer Science were able to attend. Computer Science faculty members Patricia Campbell and Alex Simonelis, and the organizer of the workshops and summer business incubator, Madeleine Bazerghi, also joined the group.
Students Lina Belabbas (Health Science) and Félix Giroux (Business Administration) were two of the students in attendance who had the chance to meet Jimmy Wales personally. The two have expressed entrepreneurial aspirations of their own with Belabbas' plans to establish a social enterprise aimed at helping youth learn time management skills, and Giroux who is preparing to launch a clothing line.
"Jimmy Wale's presentation on where he wants to direct his vision for Wikipedia was not only humbling, but truly convinced me of his passion for free open source knowledge to anyone that wishes to learn from it," said student Eric Hughes, co-founder of RentProof. "He has ignored the corporate mindset and showcases quite breathtaking philanthropic morals. As an aspiring entrepreneur, it makes me happy that Jimmy and others like him value their impact and reputation they will leave our history, more than personal gain."
The President of the Board of Directors of the Dawson College Foundation, John Mavridis and its Executive Director, Francis Lessard noted that this is just the beginning of the Foundation's affiliation with solid partners in order to provide great opportunities to students and the College. "The Foundation is very committed to provide our students with innovative initiatives that stimulate intellectual and personal growth that transcend the traditional classroom," said John Mavridis. "The bridges we are building will create these new opportunities that will further their development and help them prepare to succeed in life."
Following the success of this event, an even larger group of Dawson students is expected to attend the CCMM's next innovation-themed event "InnoBahn: the Fast Track to Innovation" scheduled for June 7, where innovative starts-ups will get the chance to accelerate their business by meeting innovation challenges posed by big companies like Ubisoft and L'Oréal. The students will have the opportunity to network with stakeholders from the city's business community focused on innovation, including entrepreneurs, business executives and financial backers. For those who cannot attend the event, it will be streamed on Periscope, the popular Twitter video streaming app, just as it was for the Jimmy Wales conference.
Dawson has, in recent years, become a hub of entrepreneurship, with students in a variety of programs honing their business skills in their chosen fields. The College's Centre for Innovation and Entrepreneurship Education, led by Madeleine Bazerghi, also hosts the annual Eweek, one of Montreal's premier entrepreneurship conferences, which invites important members of the business community to speak to students about creativity, courage, motivation and opportunity in the business world.
More information about the Dawson College Foundation can be found at www.dawsoncollege.qc.ca/dawson-foundation/.
More information about the Centre for Innovation and Entrepreneurship Education can be found at https://www.dawsoncollege.qc.ca/centre-for-innovation-and-entrepreneurship-education/.