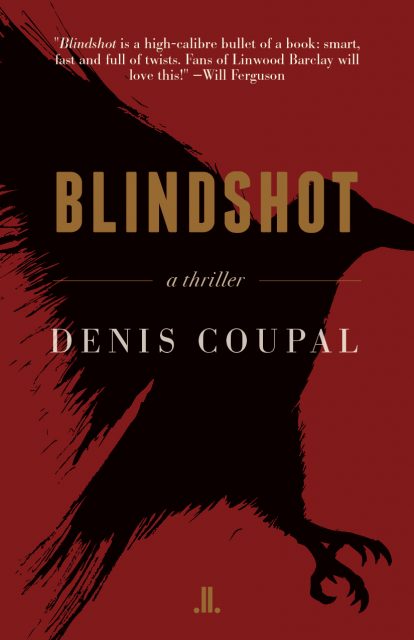 Dawson grad and Foundation President Denis Coupal will keep you guessing in his debut novel BLINDSHOT
"Two young brothers lose their father in a mysterious shooting, so they go to war for the truth." This is how Dawson College Foundation's President Denis Coupal (Pure & Applied Sciences, 1987) describes his debut novel, a murder mystery entitled BLINDSHOT. The book will be in stores March 16 and is already generating praise.
"I have wanted to be a writer since I was seven years old," said Denis. "I always wrote, and I still write, every day. As an architect by training, I take a design approach to writing. First, I create a foundation then build up on it. Everything has to work together organically."
As a teenager, Denis wrote screenplays and came close to getting a few produced. His screenplays were funded by FUND (Foundation to Underwrite New Drama for Pay Television) and SODEC. "Years later, when finally settling down to write a novel I had quite a backlog of film ideas to fish from. BLINDSHOT came from that. It was inspired by an experience I had when working as an architect in the Eastern Townships. I heard gunshots, from the office, in the middle of the afternoon, and this local recreational hunting culture got my imagination going."
Goodreads summarizes the book: "When financier Paul Carignan is hit by a stray bullet and killed in Beaufort, Quebec, the town leaders seem reluctant to investigate. Running out of patience, his teenage sons, Jack and Noah, take justice into their own hands — and kidnap the locals they suspect are responsible. Things soon erupt and the boys find themselves besieged in their house with their captives. In the middle is their mother, Catherine, not sure which side to take. For Tom 'Brooder' Doran, Beaufort's Deputy Chief of Police, the investigation has just gotten very complicated. One thing's for sure, this sleepy town is in for a fiery shakeup."
"The book I wrote is a socially-conscious thriller in which the characters and their emotions are everything," Denis said. Fans of early Stephen King, John Irving and Robert Ludlum, some of Denis' favourite authors, will enjoy the book. BLINDSHOT has received positive reviews by some well-known Canadian authors.
Will Ferguson calls it "a high-calibre bullet of a book: smart, fast and full of twists."
Sheila Kindellan-Sheehan says: "BLINDSHOT, a controlled thriller, introduces a strong new voice. When a businessman is shot outside his home, his sons hunt for the truth and find corruption and betrayal. Author Denis Coupal writes, 'Truth had its price.' But, truth in BLINDSHOT remains as elusive as a bullet."
"Yes, please get a copy of BLINDSHOT, enjoy it and let me know what you think!" says the enthusiastic new author.
Denis will be signing copies of his new thriller at various Indigo-Chapters locations this spring, He will be one of several writer-panelists invited to participate in the Blue Metropolis Festival in early May. In his professional life, Denis is a business strategist with BDO Canada and is the President of the Board of the Dawson College Foundation. Besides making himself available for speaking engagements, he is the father of two, and remains forever grateful to Dawson for helping him on the path to success as a young person.
The Dawson College Foundation supports students in need and the vision of the College to be innovative, sustainable and a centre of excellence in CÉGEP education, for the benefit of young people and Quebec society as a whole.
For more info on Denis Coupal and BLINDSHOT, please visit: www.deniscoupal.ca
For more info on the Dawson College Foundation, please visit: https://www.dawsoncollege.qc.ca/dawson-foundation/