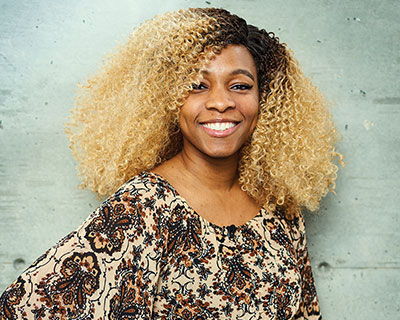 Dawson grad is candidate to watch on Star Académie
Queenie Clément (Class of 2017, ALC- Cinema | Communications) is a candidate to watch on the upcoming season of Quebec talent show Star Académie.
On one of the first shows of the season, well known Quebec musician and host Ariane Moffatt exclaimed "mic drop!" in response to Queenie's performance. Another host of the show, Gregory Charles, was impressed and said: "c'est beau."
Dynamic performance had them dancing
Queenie had chosen to perform one of her original songs, Blood Water, written during a week that she was feeling down and gave herself the challenge to write a new song every day. During her performance, Queenie had all three Star Académie hosts, "professors" as they are called on the popular show, up and dancing. The third professor is Belgian-Canadian superstar Lara Fabian.
You can watch Queenie's performance of Leonard Cohen's Hallelujah and her own song Blood Water on Star Académie in this video. Queenie starts at 6:51.
"I am very excited," Queenie said in an interview with Dawson's Communications Office. Queenie will be one of 21 finalists who will perform live during the Gala episode this Sunday, Feb. 14 at 7 p.m. on the TVA network.
Could sing before speaking
"Music is a big part of who I am, she said. "I could sing before I could speak. My mother knew I could speak when I sang along to music on the radio."
Queenie has a unique style that is a blend of Gospel, R & B and rap. "We love music in my family and our family is big on Gospel," she said. Queenie's mother tongue is French but she grew up speaking French, English, Spanish and Créole. The family moved to Florida for Queenie to attend a special arts high school with a program in theatre and music.
Cin | Comm grad makes her own videos
Queenie came to Dawson for the Cinema | Communications Profile of the Arts, Literature & Communication Program. "I was able to take what I learned in cinema at Dawson and music at the New World School of Arts in Florida to write my own lyrics and shoot my own videos," she said.
When asked which video she would like to share with the Dawson community, she chose her self-produced Blood Water video: https://www.facebook.com/QueenieOfficially/videos/292638264854491
Love for Dawson and teacher Kim Simard
When Queenie thinks back to Dawson, she fondly remembers teacher Kim Simard in Cinema | Communications. "I loved her! Her classes were my favourites. She encouraged us to be conscious of diversity and different things in the world, not to just stay in our bubble. She motivated me to put myself out there," Queenie said.
Queenie also remembers being part of the African Legacy Club and enjoying the campus life activities, like Women's Week and 90s Music Night. She is now married to Carl-Elie Fortuné (Class of 2017, Civil Engineering Technology), a former Dawson Blues Basketball player.
Dawson community support requested
Queenie would like to call on the Dawson community of teachers, students and alumni to support her on Star Académie. The public can vote for their favourite performers to help them stay in the show and move toward victory this spring.
Watch and vote for Queenie this Sunday, Feb. 14:
Star Académie
Gala show
7 p.m. on the TVA network
Follow Queenie on her social media:
For news about the show, follow Star Académie: