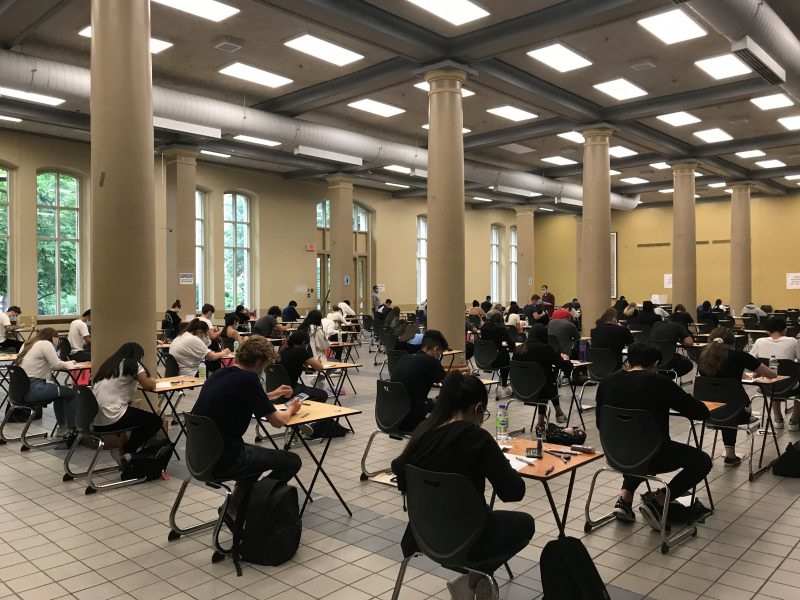 Dawson passes test of summer exams operation
About 650 summer students in Math, Chemistry and Physics wrote exams the week of Aug. 3 on campus at Dawson College.
"It was a big test for the College," said Katherine McWhaw, Coordinator of the Quality Assurance and Planning Office, who oversees operations for exams. "It went very well."
Aug. 21 marked the end of the two-week monitoring period. No students or staff reported that they had contracted COVID-19.
30 staff members on duty
Usually, five occasional staff members work the exams. This year, about 30 staff members were on duty. All staff who worked the exams had training about safety and sanitary protocols. They were also given disposable masks, face shields and gloves.
Plans for running the exams were reviewed by the Direction de la santé publique de Montréal and Dawson College went beyond the requirements. Students were seated two metres apart and wore masks for the duration.
"If a student was anxious and needed a break, a staff member could accompany the student to the bathroom and the student could enter a stall and take off the mask for a moment," Katherine said.
Check-in points and protocols
Staff were at the entrance for check in and then at additional check-in's at the three exam locations (3C.1, Conrod's and 4F.1). The 3C.1 room can usually accommodate 280 students for exams. This year, the maximum was set at 120.
Students had to disinfect their hands at both the entrance to the building and the entrance to the exam room, wear masks and answer COVID-19 screening questions. They brought in their own pens and paper.
At the end, students placed their exams in boxes, which were given to the teachers with instructions to not touch them for 24 hours.
Great job
"Staff did a great job," Katherine said. "They were so conscientious and efficient."
The Fall Semester typically has at least 6,000 course seats in exams at the end of the semester. The planning for fall exams will take into account all of what was learned during the summer operation.