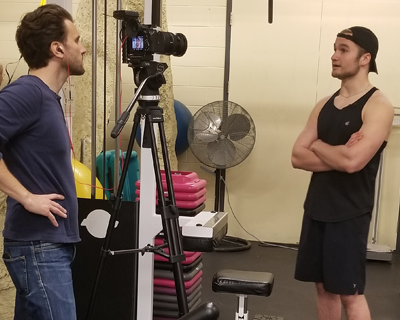 Exercise is the prescription for success for Dawson student with ADHD
Nicolas Evans had a challenging year when he turned 15. He was diagnosed with ADHD (attention deficit hyperactivity disorder) and had become quite overweight. School was overwhelming.
To help others struggling with ADHD and learning challenges, Nicolas shared his story publicly. His story is featured in a report about ADHD in Canada by France 24, a French international news channel that broadcasts in four languages in France and internationally.
The year he was 15 was a turning point for Nicolas. He decided to start doing more physical activity after having stopped playing rugby due to injuries. Medication helped with his ADHD as did the after-school program at Loyola High School. "My parents offered me the chance to change high schools to make it a little easier on me academically," he recalled. "But I was determined to pursue my goal and not give up."
"Look at me now, Dad," was an encouraging phrase his father would use to motivate him. "He would tell me that one day, I would overcome the challenges and be able to tell him: 'look at me now, Dad.' He would tell me: 'you're going to get past this and you're going to get into an industry you love. Focus on what you love.' "
The second-year student in Social Science at Dawson College began doing more serious and regular training in Secondary V. "A balanced life is very important, we have to take care of the mental, the physical and the spiritual life," he said.
Nicolas does resistance and cardiovascular training, and works on his endurance. He can be found in the gym five to six times per week and credits exercise with helping him overcome the challenges related to ADHD. His exercise regime is his only medicine since he is no longer taking any medication for ADHD.
Having ADHD doesn't mean something is wrong with you, it means something is different, Nicolas says.
"ADHD is biological, it is not because of bad parenting," he said. "Once you know you have it, you can make a plan and do something to overcome it." Nicolas explained that parts of the brain are more dormant in a person with ADHD.
Nicolas is one of the over 800 students assisted by the Student AccessAbility Centre (SAAC) at Dawson College. When Nicolas arrived at the College, he had an intake consultation with the centre to determine what would work best to help him succeed. A quiet space is offered to Nicolas for tests and exams as a special accommodation arranged by the SAAC. On exam days, Nicolas goes to a space provided by the centre instead of his classroom.
Susie Wileman, a psychologist at Dawson, says that the AccessAbility staff see themselves as "service providers." "We help students like Nicolas access support and services," she said. "We are here to find ways to lower/reduce the barriers they face."
Physical exercise and sports have long been promoted by the Student AccessAbility Centre. "We have a terrific Phys. Ed. department at Dawson and they are so creative in finding ways for all our students with challenges, even those with severe mobility restrictions, to participate in Phys. Ed.," Susie said.
There is a growing body of research, including studies out of the Montreal Children's Hospital, which shows the positive impact of exercise on mental health issues and learning problems, Susie said.
Surprisingly, it is often the students with challenges who perform better than the average student, according to Dawson Psychology teacher Catherine Fichten and the Adaptech Research Network. "Often, the most motivated students are those who struggle," Susie said.
Nicolas was not surprised to hear that. "Some kids have always been good at school and they get too comfortable. Kids who haven't done well have to continue improving and advancing. I will not allow myself to fall back," he said.
Nicolas has one last semester at Dawson in the fall of 2019. "My counsellor at high school told me that cégep goes by in a flash and it dictates a lot of your future. I decided to put school first," he said, adding that he plans to continue his studies and work toward his dream job at a hedge fund.
The support Nicolas has had at Dawson was made possible by an assessment that his parents had done when he was in high school.
According to Ministry of Higher Education regulations, a student has to have a documented disability or health issue in order to receive accommodations and services from the Student AccessAbility Centre. The Assessment for ADHD and other learning challenges, such as dyslexia, can be costly and hard to access. The Dawson College Foundation is opening the Educational Assessment Fund to collect donations so that more students can succeed like Nicolas.
You can watch the feature report on ADHD in Canada including an interview with Dawson student Nicolas Evans here: