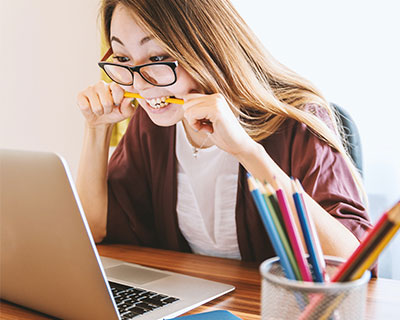 Faculty Hub supported teachers in pandemic emergency
On March 11, the World Health Organization declared COVID-19 a global pandemic. Two days later, classes ended for spring break and Dawson College closed for what turned out to be the rest of the semester. Teachers and the newly launched Faculty Hub were plunged into an education emergency: completing the semester for about 9,000 students.
When the College shut down on March 13, it was not known when or how operations would recommence. The Faculty Hub was galvanized into action when the Ministry of Education announced on March 23 that CEGEPs must deliver courses remotely. The Hub needed to find solutions and support teachers to resume the semester through alternative modes.
Resilience was remarkable
In just a few days, the Faculty Hub mobilized online resources and expertise to help more than 700 teachers deliver 2,180 course sections!
"The resilience of the Dawson community in responding to this crisis was remarkable," said Academic Dean Diane Gauvin. "With little notice and preparation, the faculty was expected to change its whole teaching approach. I would like to thank the pedagogical counsellors who, with considerable energy and dedication, very quickly and skillfully marshalled content and resources to support the teachers through that transition."
Launched just before the pandemic
Launched in January under the coordination of Julia Lijerón and the overall direction of the Office of Academic Development (OAD), the Faculty Hub is an online professional development and support space for Dawson faculty. Now temporarily focused on online teaching, the Hub is a one-stop shop for help with course design, student engagement, assessment, tools, technology, one-on-one consultations and more.
Chantale Giguère of the French Department said that Dawson was very lucky to have the new Faculty Hub. Chantale, as lead of the E-learning Community of Practice, provided considerable support to her peers as a Faculty Hub collaborator.
"The pedagogical counsellors in both the Faculty Hub and the rest of OAD deeply felt the magnitude of the challenge facing faculty: having to suddenly shift their teaching online," said Dean of Academic Development Catherine LeBel. "They anticipated needs and responded to requests as they arose. In responding to this emergency, all the pedagogical counsellors pooled their diverse talents, including teaching experience, and fashioned themselves into a remarkable team."
Support before classes resumed
The Faculty Hub website was overhauled by March 26 and the first webinars went live that same day to support teachers who were beginning to resume classes on March 30.
From her many interactions with teachers, Chantale observed that "having access to the Hub encouraged a feeling of community, so that teachers felt less isolated."
Overcoming the learning curve
Francis Lardy, an English teacher, attended several workshops. At the beginning, it was to learn how to use Zoom and later it was to prepare for the fall semester, which will also be mostly conducted online.
"This training allowed me to overcome the initial learning curve," Francis said, "and provide stable and consistent interactions with my classes. I've gained new strategies for how to approach remote teaching and practical skills with Zoom and Microsoft Teams, such as how to facilitate small group activities online. I also appreciate how the webinars foster a sense of community and support between teachers and pedagogical counsellors for the shared challenge of adapting to the fall semester."
Extremely helpful for the fall
Davina Mill in Psychology said that the second half of the winter semester went reasonably well, given the circumstances. "I tried to keep things as simple and organized as I could," she said, "and the Hub played a supportive role. I am finding the Hub extremely helpful now that I am in the midst of completely re-designing my courses for the fall."
Wealth of knowledge
Elias Katsaros of the Radiation Oncology Program said his department worked as a group to brainstorm ways for students to have remote access to treatment planning software. "We needed support with the pedagogy in order to successfully transition to online teaching," he said.
"We tapped into the wealth of knowledge, support and help from the Faculty Hub site. The one-on-one help that was provided by the OAD team members and the online resources on the Faculty Hub were key to the success," he said.
Elias especially appreciated the Teaching with Moodle course developed by OAD, which he said is "a handy tool in preparing for next semester." According to Elias, it offers great notes, links and examples for:
learning outcomes
engaging students
formative and summative assessments
online quizzes and feedback.
Gathered in one spot
Pauline Morel of the English department "appreciated that the Hub was so easily accessible and everything was gathered there in the same spot." The drop-ins were very useful to address more specific individual difficulties, she said and added that she "found it was important to have someone whose face I could see on the other end rather than, say, simply a PowerPoint presentation or an article."
Since March 26, the Faculty Hub has provided:
71 webinars facilitated by the pedagogical counsellors in OAD, IST and HR and faculty, many of whom were E-Learning and DALC coordinators and fellows
9 DALC drop-ins or webinars (made available through the Hub website)
Tutorials, documents and videos developed by pedagogical counsellors and faculty
A mentor program, which matched about 60 teachers, pedagogical counsellors and other staff who volunteered to help teachers
Curated resources and articles related to online teaching
Individual support
Support to specific disciplines
The Faculty Hub has shared its expertise and resources with other CEGEPs. Teachers from Heritage College have attended webinars and resources have been exchanged with the anglophone CEGEPs and with other CEGEPs in the network.
Coming up on the Hub
Over the coming weeks, the Faculty Hub will be curating and developing new resources to support faculty with online teaching. Pedagogical counsellors will be available over the summer for questions about course design, pedagogical approaches and technology.
There will be a full schedule of webinars starting in August, as well as Ped Days in October.
Note
Who is behind the Faculty Hub? Under the leadership of the Dean of Academic Development Catherine LeBel and the coordination of Julia Lijerón, the Faculty Hub is made up of team members from the Office of Academic Development (OAD), Information Systems and Technology (IST) and Human Resources (HR). The pedagogical counsellors are Madeleine Bazerghi, Ildikó Glaser-Hille, Einat Idan, Karina Leonard, Monica Lopez, Azra Khan (HR) and Rafael Scapin (IST). They have been ably assisted by other professionals, support staff and faculty collaborators, especially from the communities of practice.
To consult the resources on the Faculty Hub, or seek one-on-one assistance, please follow this link.