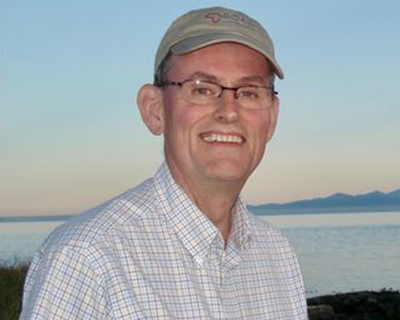 Farewell Patrick Woodsworth: a beacon of higher education
After a storied career in higher education, from his PhD studies in German at McGill University, to 25 years of service at Dawson College and five years at the helm of the Regroupement des collèges du Montréal métropolitain (RCMM), Dr. Patrick Harold Woodsworth, the former Director General of Dawson College, has passed away peacefully at age 72 at home on January 18 after a long illness.
His dedication and passion for education never wavered in all his years of service, always putting students first above all else, starting with his time as Director of Continuing Education (1981-1986), then as Academic Dean (1986-1991) and finally as Director General (1991-2004). Even after his retirement from Dawson, he heeded the call to lead the RCMM, the conglomeration of the 12 on-island CEGEPs including Dawson, Vanier College, John Abbott College and nine French-language CEGEPs.
Patrick ushered Dawson into several new eras, including consolidating the move from several campuses into the building Dawson now occupies, representing Dawson on a number of bodies such as the Fédération des cégeps and the RCMM, making impassioned presentations to various Quebec governments and education ministries over the years in the fight for recognition of and resources for the CEGEP network in general, and Dawson in particular, facing many challenges with respect to funding, especially during times of draconian budgetary compressions, its consequences on the Dawson workforce, and ensuing syndical and management upheaval that Patrick handled in his customary reasoned manner, which some found frustrating and many found reassuring.
He also ushered in the era post Y2K, presiding over the hysteria at the time over impending technological changes. He may not always have been an early adopter of new technology, but he saw its future implications and lent his support to ensuring that Dawson measured up in this respect not only in keeping with the rest of the network, but being ahead of the curve.
Patrick loved learning in all its forms, he loved to listen to people's views and opinions, and could engage in debates on any subject, such was the breadth of his knowledge. His closest friends can attest to the vigour with which he could defend a viewpoint, while remaining respectful and open to other arguments being presented.
On a personal level, Patrick was fiercely loyal to his friends, his College, his work and his principles. He adored his family. The loss to them and the wider community of friends and former colleagues is tremendous.
Director General Richard Filion in announcing Patrick's passing called him a man of great stature that went beyond his physical height, although it was imposing. His contributions to higher education and to Dawson will be felt for a long time.
The Dawson Community expresses its deepest condolences to Patrick's family and friends, and a debt of gratitude for his leadership for a quarter century.