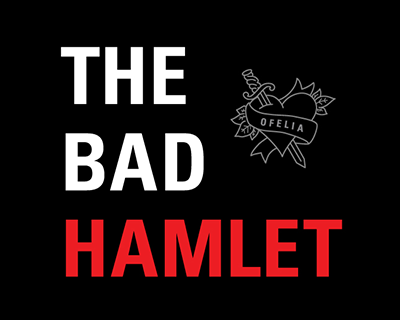 Get Thee To A Nunnery, And By A Nunnery I Mean The Dawson Theatre
An Interview With Cast Members Of The Bad Hamlet
By Julia Bifulco, The Plant

Singing, sword fighting, and more surprises: the three S's of The Bad Hamlet . "It's just an alternate text of the same Hamlet that everyone knows," says Jake Cohen, who will be playing Hamlet, "but a lot crazier" than the longest tragedy written by William Shakespeare. Directed by Stéphane Zarov, The Bad Hamlet is on at Dawson from Nov. 13 – Nov. 23.
Costumes and props on set are "a mix of both" Elizabethan and modern design, says Vanessa Aparicio, who is also playing Hamlet but in an all-female cast. "Hamlet's gonna pull out his phone at some point," says Boris Kirimidtchiev, who will be portraying Horatio, "and the king is wearing a Hugo Boss suit." The cast members agree that "there are a lot of anachronisms" in their play, meaning that items will appear in a time period that isn't their own; in this case, 21st century objects in an Elizabethan setting.
Each year, the third-year students of the professional theatre program at Dawson put on a performance of a Shakespeare play, alternating yearly between a comedy and a tragedy. Regarding the choice of play, Elisa Belle, who will be playing Gertrude the queen, claims "they don't let us in on the secrets."
According to the cast members, Zarov "definitely chose a challenging one," but all agree that they are pleased with the work they are doing.
"We have music, we have onstage combat—it's never gonna be boring," Cohen assures. Both casts are performing a shorter version of Hamlet , which runs for an hour and 40 minutes, as opposed to the original script, which has a four-hour-long runtime.
"It's all the interesting parts," Cohen says. Belle confirms that their version is "unedited, so it's shorter to begin with."
Aparicio, lead actress of the all-female cast, states that many scenes for both casts are "similar," but they have "different blockings," as well as "ways that [characters] interact with each other."
Cohen confirms that both casts rehearse separately, performing diverse versions of the play. "If you come by on one night and enjoy yourself, you know that if you come back another night, you're getting a new thing," he says.
Casts don't watch one another's rehearsals: "both of our interpretations are very much our own," says Belle. "One is a lot more comedic, and one is a lot darker," Aparicio remarks, but cast members will not reveal which one is which. If one were to watch the play twice, they would get two very different experiences.
"It's something that kind of happened naturally," says Aparicio of the development of the all-female cast. The program already consists of more women than men, and when the two casts were formed, originally, one had only two male actors, so Zarov decided to make it fully female.
"Even to this day there are productions that are put on with all-male casts," Belle says, just like it was in Elizabethan times, "Since this play is already turned on its head, it would be cool to inverse that idea." Cast members agree.
"Shakespeare is very hard to read when you're just looking at it," Belle says, "and I think seeing a show, especially this one, is very visual and is a great way to introduce yourself to Shakespeare." She hopes that students who watch their show "end up understanding it and having a newer appreciation for it."
"I feel like it's very accessible," Cohen agrees, "If you aren't into Shakespeare, a clown's gonna come on, someone's gonna fight someone—whatever your relationship to Shakespeare is, there's something for everyone."
The cast members aim to "appeal to the 80 per cent," according to Aparicio, meaning those who "understand Shakespeare a little bit more" but the other 20 per cent are definitely not neglected in this performance. Aparicio confirms that it is fast-paced and action-packed enough to hold everyone's interest: "it's Hamlet on running shoes—literally, we're all in running shoes on stage."
"It opens a lot of people's minds when it comes to Shakespeare," Kirimidtchiev remarks of the play. Prior to joining the program, he felt a degree of separation to Shakespearian characters: "They were a bunch of aristocrats that spoke beautifully, and I was a completely different human." Thanks to the anachronisms, Kirimidtchiev believes that they are able to draw a link between Shakespearian characters and the modern audience: "You're not gonna feel drawn away from them," he says.
"This is the first time that this edition of the text is being performed in Montreal," Cohen points out, "which is rare for a Shakespeare play." If you'd like to be a part of history and see the first ever performance of this edition of Hamlet in Montreal, go to the Dawson Theatre from November 13 -23! Don't forget your running shoes (and your skulls—alas, poor Yorick!).
Note
Dawson College is proud to highlight the work of our students. This article is published in the Nov. 14, 2019 edition of The Plant, the student-run newspaper of Dawson College since 1969. Pick up your print copy of The Plant in the Upper Atrium on Thursday, Nov. 14. The newspaper is also released digitally at https://www.theplantnews.com/