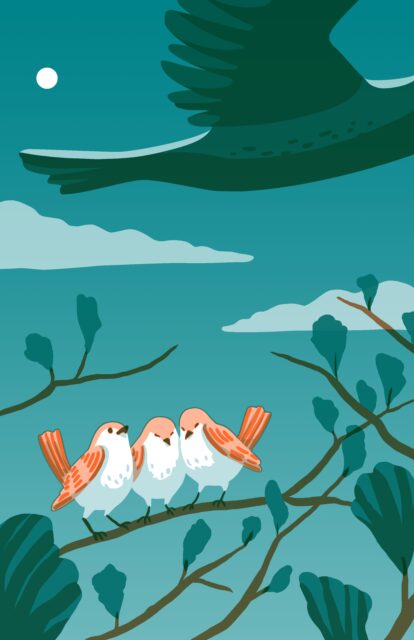 Illustration students capture flight of migratory birds
The Illustration Program, the Sustainability Office and Taking Root Inc. collaborated on a project to capture key events of the migratory flight of two species of native Quebec birds from urban forests near Dawson College to the newly replanted forests of Nicaragua.
Second-year students in Stéphanie Aubin's two classes were each assigned a bird, the Chestnut-sided Warbler and the Wood Thrush, and each student was assigned a specific migration challenge or event these birds go through during their migration.
Not only were the students given the opportunity to collaborate on a project that will have a life outside of the class, as these beautiful illustrations will be shared with children in rural Nicaragua, but they were also introduced to riso printing, a soy-based ink printer. The use of vegetable inks resulted in a very special project that truly represented well-being for all through the message and the production process.
Taking Root Inc. is a non-profit international carbon offset organization that has helped Dawson plant over 30,000 trees in Nicaragua. These trees absorb the equivalent CO2 that the College produces each year. In doing so, they have also increased the wintering grounds of these two species of birds, both of which nest in the forests of Mount Royal.
The Chestnut-sided Warbler was seen singing in Dawson's gardens several times last year. In May, the two species are expected to return to Quebec and can be observed around Montreal.
The online books from the two classes can be viewed here:
https://issuu.com/saubin_dawsoncollege/docs/booklet_-_color_-_section_1
https://issuu.com/saubin_dawsoncollege/docs/booklet_-_color_-_section_2