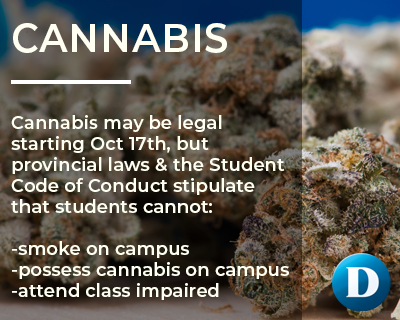 Legalized cannabis: What does it mean for Dawson?
Canada is poised to usher in a new era with the legalization of cannabis, and Dawson College will respond to its social responsibility by informing its young population of students about the health, social and legal implications of this new law governing use and possession.
It is clearly expressed in the provincial counterpart of the federal act that it is strictly prohibited to possess cannabis in college-level institutions (except residences, which Dawson does not have). Dawson's own policies and practices also come into play. Since July 1, 2018, smoking is forbidden anywhere on the campus, its building and grounds; this includes tobacco products, electronic cigarettes and cannabis. The Student Code of Conduct stipulates that a student cannot attend class intoxicated or high, guidelines that have been in place for decades.
The College's responsibility goes well beyond policing the use of cannabis. There are many other issues that affect a young person's life and legalized cannabis use is just one of them, although it has the potential to leave a mark on other areas of their lives. That is why Counselling Department as well as Health Services and Student Services generally, which oversees the Student Code of Conduct, have teamed up to present a Information and awareness program that gives students the tools and information they need to make reasoned decisions.
Dawson College's Counselling department will be hosting a Drug and Alcohol Awareness Fair for all students and staff on Wednesday, October 24 from 11 a.m. to 2 p.m. in the Lower Atrium on drug and alcohol with a number of community groups including MADD, Head & Hands, and GRIP Montreal.
Teachers are encouraged to bring their classes to this event. The event will be interactive in nature with many opportunities for students to have meaningful exchanges with the various professionals on site. There will be interesting activities, games and prizes.
Students and employees have been issued a directive on what legalization of cannabis means at Dawson. It was delivered to employee e-mail inboxes and to students on the Dawson portal. Messages contain links to the two applicable laws, as well as instructions for those authorized to use medicinal marijuana and where to go for further information.