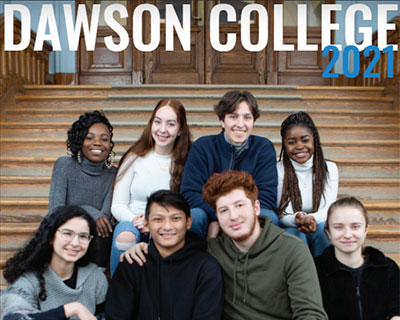 New Viewbook features Dawson programs offered in Fall 2021
Dawson College is proud to present the 2021 Viewbook: www.dawsoncollege.qc.ca/viewbook
The Viewbook, sometimes called a prospectus, is a presentation of all the programs offered at Dawson College. In the Fall of 2021, the College is offering five pre-university programs and 22 technical programs. Medical Ultrasound Technology will be offered for the first time.
Key recruitment pages on the Dawson College website, including program and profile pages and the "How to Apply" section, are being refreshed with a streamlined menu, new content and a modern design.
It will be the key tool for the mostly online recruitment season for Fall 2021 and the Open House, which will be a series of virtual events Oct. 20 to 22 and Oct. 25.
The new Viewbook opens with a fun two-page spread about the Top 10 reasons you'll love Dawson. It features a new design and presents the programs and program profiles in a brand new way.
Appealing and scannable pages
Each page begins with an engaging list entitled "If you would like to," which gives potential students an idea of what they will study or do in a career following their studies. There is also a representational photo, a brief program or profile description and bulleted text for potential students to find out what they will learn and where this will lead them. Students and recent graduates provided testimonies, which are featured in every program and profile.
More on the web and less paper
Significantly less copies will be printed of the large comprehensive Viewbook, which will mainly be given to high school Guidance Counsellors as a professional resource. That decision is based on a web-first approach and a commitment to the environment.
The handout for potential students is a new condensed 12-page Viewbook, which contains the essential information and promotes visiting the program and profile pages on the website.
Work of a collective
Communications Counsellor Dana Dragomir, who managed the project, worked with a Recruitment Documents Advisory Committee including representatives from faculty, the Deans, the Registrar's Office, the Academic Dean's Office and the Communications Office. These individuals contributed their expertise and provided strategic direction throughout the redesign.
"The list of people to thank is really lengthy," Dana said. "At the top of the list would be the program and profile coordinators, who worked closely with the Communications Office to create enticing new content for their Info Sheets. In addition to the coordinators, at least 30 people worked on some aspect of the project."