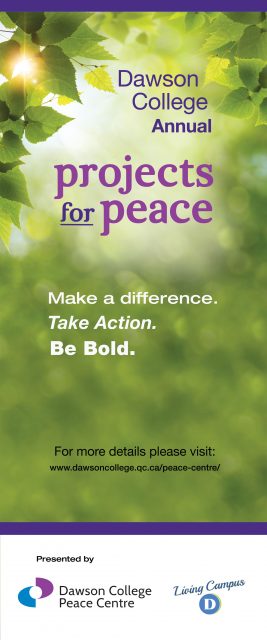 Peace Week brings acclaimed speakers to Dawson
The mission of the Dawson College Peace Centre is to achieve peace and nonviolence through education and action. To that end, this year's selected theme of Reconciliation and Restoration exemplifies our mission, vision and values. This year the Centre will focus on projects and activities that engender healing, understanding, compassion and collaboration.
The spirit of this theme is captured in our first major event this year, Projects for Peace. From September 14th-16th, the Dawson College Peace Centre will be running a three day event where three project teams will work on three different projects simultaneously. The outcomes of these projects will be shared or implemented throughout the course of the 2016-17 academic year. The leitmotif of this initiative is peace in action.
In addition to the three projects, the Projects for Peace initiative presents two acclaimed speakers in their respective fields, Dr. Samantha Nutt and, Dr. Abdennour Bidar. On September 14th at 7pm in room 5B.16, Dr. Nutt, co-founder of War Child Canada, medical doctor and author, will be addressing community engagement and visioning change for the world. On September 15th at 7 pm in room 5B.16, Dr. Bidar, a well-established French philosopher and author, will be discussing his most recent book, Les Tisserands which addresses the links between positive human relationships, social harmony and the many ongoing worldwide conflicts.