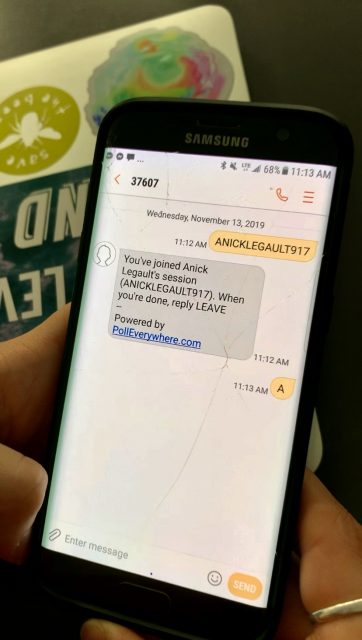 Phones as teaching tools in the classroom
Just before this semester began, the Adaptech Research Network completed a one-year ECQ-funded project entitled "Smart Phones: a Neglected Pedagogical Tool."
"We produced 10 deliverables including four tutorial videos about using smartphones in the physical and/or virtual classroom," said Anick Legault, a psychology teacher from Dawson College. She added that the virtual classroom had to be included in the project when the COVID-19 pandemic hit.
Anick has found that using phones in her class allows students to participate who are otherwise shy or reluctant to speak up. Also, when discussing sensitive topics, Anick has appreciated using an app called Poll Everywhere. This app was recommended by Rafael Scapin of Dawson's IST team and she has used it for about five years.
"I hope our work and the short videos we produced will help inspire my colleagues who are looking for new tools and tricks to spice things up," Anick said.
Adaptech is based at Dawson and its team of academics, students and consumers conduct research involving college and university students with a variety of disabilities in Canada.
To access the smart phones videos and for more information, visit https://adaptech.org/research/smartphones-a-neglected-pedagogical-tool/