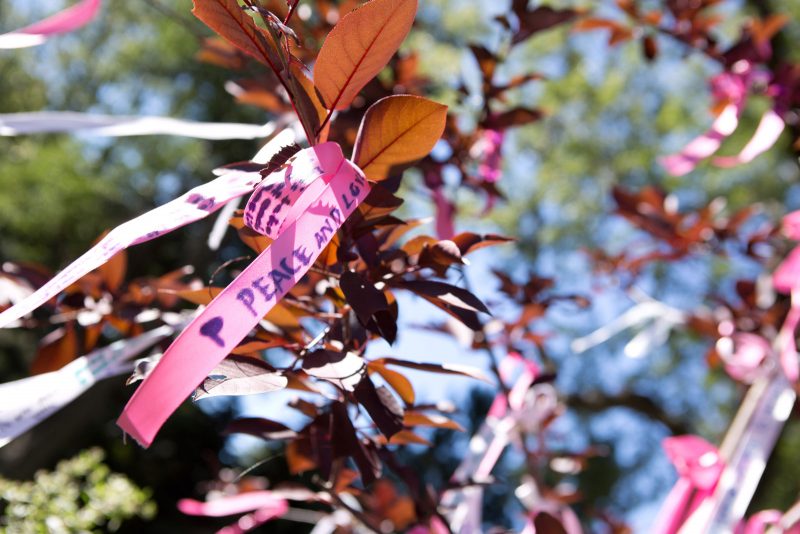 September 13: A Time to Reflect
Commemoration services on Tuesday, September 13 gave the Dawson Community and the greater Montreal community at large a chance to look back in remembrance, but also to look toward the future with hope. The 90 minute ceremony contained some somber moments marking the day first-semester Dawson student Anastasia De Sousa lost her life in a senseless act of violence, but it was also a celebration of her indomitable spirit, so vividly described over the years by her family, of the strength and resolve of the Dawson Community and the strides we has taken to move beyond sorrow toward peace and nonviolence, innovation and collaboration.
Speakers included the Director General Richard Filion who spoke of Dawson's past, present and future, Dawson graduate Charles Brenchley, who led the Dawson Student Union to partner with the College in the immediate recovery phase, current students and DSU representatives Anthony Williams, Chair, and Anne-Marie Quadros, Sustainability, and from the political arena, Chief Ghislain Picard of the Assembly of First Nations, Quebec and Labrador, Montreal Mayor Denis Coderre and representing the Prime Minister, Member of Parliament for Vaudreuil-Soulanges, Peter Schiefke, Parliamentary Secretary to the PM for Youth.
Chair of the Board of Governors Sylvain Richard closed the ceremony, but not before the more than 500 people assembled heard three moving musical performances. Graduate Cherylyn Toca sang a unique version of John Lennon's Imagine, Inuit throat singers Nina Segalowitz and Taqralik Partridge performed three pieces including one called appropriately Love Song. The service ended with Dawn Tyler Watson's powerful and emotional rendition of Forever Young by Bob Dylan.
The entire ceremony is still available online at http://montreal.ctvnews.ca/video?playlistId=1.3071082, including the release of a dozen monarch butterflies in the Peace Garden by members of the De Sousa family and by Dawson's guests from Mexico who are here to participate in Peace Week's Projects for Peace.
Prime Minister's statement on 10th anniversary