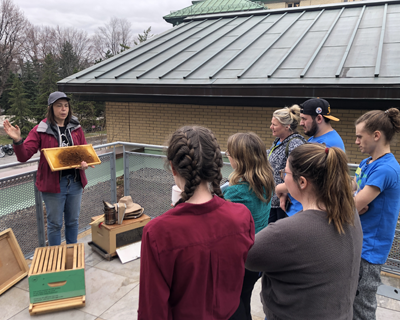 Sharing sustainability at Dawson during Earth Week 2019
The first Earth Week at Dawson College since making a commitment to being Carbon Neutral Forever unfolded over four days of promoting, learning and celebrating sustainability and well-being for all.
A Hidden Tour of Dawson brought visitors to see the systems that regulate heating, ventilation, cooling, water and electricity up close. Waste management was also a part of the tour since it is a major achievement over the last year. In 2018, 80 % of the waste at Dawson was destined for the landfill. Today, 65 % of waste goes to the landfill. Richard Dugas, Dawson's Information Technician in the Sustainability Project, is determined to continue improving the waste management results.
"The community buy-in makes it all possible at Dawson College," Richard says. "The administration, facilities, and the whole community are on board."
The next challenge will be to reduce the use of disposable coffee cups. These cups cannot be recycled and contribute a lot of waste, not to mention the leftover beverages contaminate the paper that could be recycled when the cups go in the wrong bin.
The public transit figures are very impressive as well. "90% of students and 60% of staff are on public transit," Richard says. "However we would like to get more of our community walking and biking. We have a special rate for Bixi bicycle membership and we are getting more bike racks."
Over the past 11 years, with significant investments from the federal and provincial governments, the College has been replacing and improving its heating, air conditioning and ventilation systems. This past fall the lighting system was upgraded throughout the College. "It has been a huge investment, which was done in phases," Richard explained. One of the most interesting features is that the College has 1,000 sensors throughout the school that monitor, through CO2 emissions, the number of people in a room. Based on that data, the ventilation systems turn on and off as do the lights in particular rooms.
Other activities over Earth Week included learning about the Dawson honeybees who are housed in beehives on the 4H rooftop. A talk about pond life included a visit to the pond on the roof of the gym accessible through Conrod's on the second floor. In just one drop of water, 5-10 species can be found, said Brian Mader, a Biology teacher. Participants learned that ponds clean the air and water and provide a habitat for a diversity of organisms. Dawson's pond was established as part of several micro-habitats that include a field and decomposition area. This area now attracts all kinds of life, including a duck that has nested 5 times!
The line-up of events during Earth Week was diverse and provided many opportunities to see how Dawson is truly a Living Campus. A special thank-you to Jenn de Vera of the Sustainability Office, who put together a week for all kinds of interests.