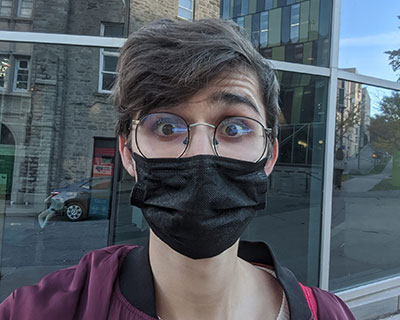 Student sets up mask-recycling initiative at Dawson
You can now recycle your disposable procedural masks at Dawson thanks to Dawson Professional Theatre student Nathan McDonald, Facilities Management, the Sustainability Office and the Green Earth Club (Dawson Student Union).
Four drop-off boxes are located at:
the 2E wing entrance
2E.19
the Atwater metro station entrance
the Information Desk beside Conrod's
Nathan says he is terrified about the environmental impact of all these masks and was determined to do something.
Thousands of masks a day
"Masks are omnipresent in our lives," Nathan said. "Many people use two or more masks a day. For Dawson's student body as well as its faculty and staff that means upwards of 1,500 masks a day are being used and thrown away!
"I recognized that, when facing a problem much larger than ourselves, we can only start with ourselves and those around us. With the help of Go Zero, I have found some peace in improving the Dawson community's eco-sustainability. The final objective is to recycle all masks disposed at Dawson until they are no longer needed."
Student found the supplier
Nathan did his own research to find Go Zero Recycle, a Quebec company located in Magog. They disinfect and sort the various materials, separate them into raw components with specialized techniques, and transform 100% of the mask components into new recycled material that will create new recyclable products.
Go Zero guarantees that the recycling process ensures the maximum environmental and social benefits.
"When I knew that the Facilities Management department would finance the pilot project, recycling our first 7,500 masks in six boxes, I reached out to the Green Earth Club," Nathan said. "They are currently helping to decorate the boxes and maintain them."
About Nathan
Nathan moved to Montreal from Trois-Rivières to pursue his studies in English. "After one year in the Health Science Program, I recognized my deeper need for energy, passion and, well, happiness so I switched to Dawson's incredible Professional Theatre Program," he said.
During his three years at Dawson, Nathan has rowed for the Dawson Blues, been a member of the Green Earth Club and has served as a representative of technical programs on the Dawson Students' Committee.
Find out more about Dawson's mask recycling supplier by visiting their website.