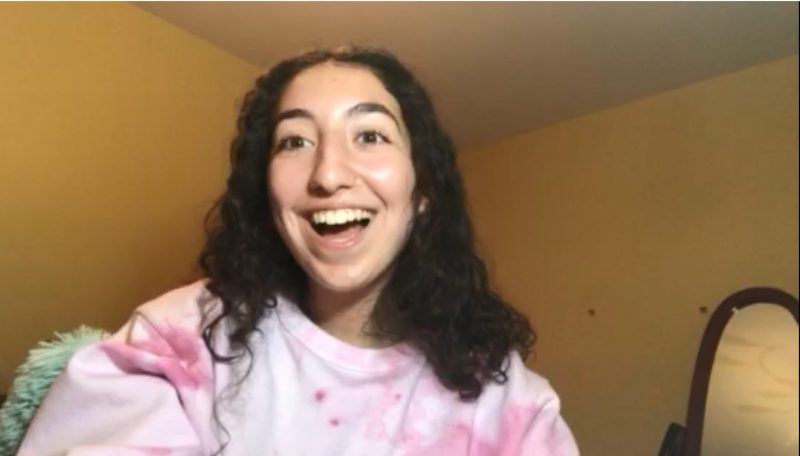 First-year Health student Eleanor Greenspan-Ardman enjoys having more free time and more time for doing homework.
Students and teachers share online learning experience
While being online is not the ideal learning environment for students or teachers, there are positive things about the experience at Dawson College.
"There is no better experience than teaching and learning in a live classroom setting," said 3D Animation and Computer Generated Imagery teacher Raymon Fong. "I definitely miss the in-person engagement of the classroom, but until then, we need to continually find new ways to connect with students and for students to connect amongst themselves."
Moving on from surviving to thriving
Psychology Profile Coordinator Selma Hamdani also misses teaching in a classroom but believes much of the adaptation to the online environment has already taken place. "This semester, I would say we are moving on from surviving to thriving online. We are ok and we are comfortable online," she said.
New School Coordinator and teacher Cory Legassic acknowledged that it has been a challenging time for teachers. The positive thing for him is that "several generations of teachers are on a fast track learning curve around new technologies. Teachers are also getting a boot camp on student engagement. There are new opportunities and a-ha moments. I look forward to carrying on with some of these new things when we go back to in-person classes."
Our faculty and staff have done an impressive job reimagining the delivery of our courses over the last six months according to Maxwell Jones, Assistant Dean of Science, Medical Studies and Engineering. "Online education on this scale is not something we had planned to do," he said. "It's important to learn from these experiences in preparing for the future. We will eventually return to normal, but that may not be the same normal as before the pandemic."
Less calls for help; focus now on improving the experience
Rafael Scapin is Dawson's Coordinator of Educational Technology and he says that the learning continues but the rush is over. "There are less calls for help," he said. "The teachers have learned how to adapt classes and use the platforms. Now they are working on making the experience better."
Improving student engagement is a key priority for everyone. "We have to engage the students," said Selma, who teaches psychology. "A class cannot be just me speaking to a screen," she said. "I try to add fun things, like dress-up days, fun quizzes and soon I want to organize an online scavenger hunt. At some point during a class, I will tell the students that I am going to get a coffee and leave the camera on so they can see I am not there. This gives them space to talk amongst themselves."
She was pleasantly surprised that first-year students were already familiar with online platforms. "They knew their way around Zoom and had been in breakout rooms before," she said.
Student impressions
First-year General Social Science student Erica Ruffolo said that her first semester is entirely based on education and that she feels "more prone to feeling isolated." However, being online did make her feel more comfortable to engage: "One thing I did enjoy was being comfortable enough to open my camera and engage in the class conversations, which is something I'd be too shy to do in person. I was able to make a few friends from the breakout rooms on zoom during class. It allowed us students to be able to start conversations in an easier way."
Francesco Salvo, also in his first year of General Social Science, calls the online learning experience at Dawson "great" and likes skipping the commute to the College: "My teachers are very easily accessible through a direct message platform called MIO or email. Most of my teachers also have times where you can have a private online meeting with them."
Eleanor Greenspan-Ardman enjoys having more free time and more time for doing homework. The first-year Health Science student feels supported by her teachers and the College as a whole. She especially likes being able to refer to lectures posted online.
Andia Moshari, a second-year student in Health Science and a member of the Blue Ring Society, appreciates having more freedom in choosing when to study and when to listen to the class. "Since the classes are recorded, I absorb all the information the teacher says during the class because I can pause and rewind the videos," she said. "This new method allows each student to learn at their own pace."
Making space for social life
Teacher Cory Legassic feels that online learning is going well. This semester, he is trying to make space for his students to have a social life during his classes. The moments students socialize have to be intentional now that there is no time to hang out before class begins.
"The first 10-15 minutes, I put them in breakout rooms," Cory said, "and give them time to talk to each other. The first week or two was awkward and now they look forward to these moments to connect with other students."
French teacher Laurent Duval chases away the isolation with interactive activities that foster collaboration and conversations. Supporting students and helping them feel they are not alone is a key priority for Laurent.
Easy access to teachers and support
"Students must know they have easy access to their teacher if they need help," he said. "There are various tools that help us interact. I like to connect to our virtual classroom to have discussions with students there and I also like to work on shared documents in real time and asynchronous time to give them personalized feedback. Sharing videos, documents and other resources is much more fluid in this new reality. Students feel they have what they need and that it is accessible, which is very reassuring for them."
Chemistry teacher Yann Brouillette feels that interactions between students and teachers are easier and faster. He tries to lighten up the class by asking an off-topic attendance question at the beginning of the class. "We are building relationships and that is important," he said.
Practicing compassion and being open-minded
To get through this extraordinary time, Cory advises that both teachers and students need to practice compassion – to ourselves and to others – and be open-minded.
Messages from Dawson students, teachers and employees for high school students wondering about online experience
Currently, most classes at Dawson College are online. It is expected that this situation may continue. As high school students consider CEGEP programs, we offer these messages straight from the Dawson community to you.
"If you're organized and you've learned to study independently, you can do this! If not, Dawson has resources in every possible category that can help you, whether it's personal problems or you don't understand the material. If you don't understand something and you need help, you can ask your teachers through MIO (direct messaging platform) and usually they will be very happy to help you. If you don't want to do that, there are many tutors available at Dawson who can help you for free. You can meet new people by joining different clubs and the Blue Ring Society. Don't forget that you can randomly ask your classmates questions through MIO and people will be glad to help you (since they are living the same situation as you)."
-Andia Moshari, second-year student in Health Science and a member of the Blue Ring Society
"It is normal to be nervous about starting college online. Most people are new to it, including some teachers. Once started, you will get used to the routine."
-Francesco Salvo, first-year student in General Social Science
"My advice to new students starting their college experience online is to always stay on track and get organized. Online learning can be very confusing and demanding. However, it can also be fun to engage in and make it a pleasurable experience. Familiarizing yourself with the school platforms can help a lot. Also, new students should not be afraid to engage in classroom discussions since it increases your learning capabilities. Another point of advice would be to take it day by day. It can be challenging to adapt to, but all the resources are available to ease into the unfamiliarity of online learning. Lastly, don't fall behind, it gets overwhelming and is not beneficial to anyone."
-Erica Ruffolo, first-year student in General Social Science
"My advice to high school students who are nervous about learning remotely would be to stay organized and to focus."
-Kiana Liautaud, first-year student in Social Science
"It is nerve wracking but everyone's in the same position as you. Everyone is friendly. You can make group chats and help each other out. Being online is not that different. You still have tests and studying. You can use office hours (all teachers are available at set times). If you have questions or concerns, you can speak to your teachers."
-Eleanor Greenspan-Ardman, first-year student in Health Science
"It is a better online experience now. Teachers and students know how to use the tools and have adapted. In a way, the pandemic came at a good time in history because we have the tools and the technology to continue."
-Rafael Scapin, Coordinator of Educational Technology
"Let the teacher know who you are, let them know you are there. Ask questions and participate. Be present to your teacher and your fellow students."
-Yann Brouillette, Chemistry teacher
"Apply, join us, Dawson is an amazing community! You can find a group at Dawson to connect with no matter your interest. Being online is not our ideal, but it can still be fun, interesting and enjoyable nonetheless."
-Selma Hamdani, Psychology teacher
"The new students will benefit from the fruits of our labour! We have had to learn many new things about living online. There is a spirit of compassion and empathy here. Students will find a new era of teaching at Dawson."
-Cory Legassic, Coordinator of New School; Humanities and Sociology teacher
"Dawson College has created a learning space that is safe and enjoyable. This also applies to our virtual environment. More than ever, we feel the need to look out for each other. There are many collaborative activities to give students a chance to socialize, which makes learning more engaging and active. We must remember that the agility we are developing to succeed online is a competence in itself. We will use this learning all our lives – teachers also. We are all learning together!"
-Laurent Duval, French teacher
"Online learning is difficult, and students will need to recalibrate their focus and overcome at-home distractions for the benefit of their education. I highly encourage students to begin building a community and participate in online group activities with their classmates. CEGEP is one of those times where students can build lasting friendships. Don't let isolation prevent you from making new friends."
-Raymon Fong, 3D Animation and Computer Generated Imagery teacher